THIS week's property review includes a wrap up of recently completed sales, and a separate article on interesting recent listings across the country.
Coal miner secures Blackall's Mt Harden aggregation for $13.5m
$17m buys Guyra's Tenterden
Eastern Riverina's Lake Midgeon sale among district's highest
District record for Kyeamba Valley grazing property
Riverina's Delta Station's $10.025m result 'uncharted territory'
Negotiations underway for Siwa
Myrnong on the market
Coal miner secures Blackall's Mt Harden aggregation
Coal miner and rich-lister Tony Haggarty is expanding his cattle property portfolio paying $13.5m (WIWO including plant and machinery) recently for Central Western Queensland's well-grassed Mt Harden aggregation.
The former managing director of Whitehaven Coal is also a northern NSW cattle producer who owns Goonoo Goonoo Pastoral spanning 27,000ha. It includes the New England's historic Goonoo Goonoo Station near Tamworth, Pera and Linton Station at Barraba, Warrah Ridge at Quirindi and Rockley near Murrurundi.
The 34,004ha Mt Harden aggregation, located 72km southwest of Blackall, was offered for the first time in more than 100 years by the Greenhalgh family who are downsizing.
The country is predominately heavily grassed Mitchell and buffel shaded downs, pulled gidgee and channels, dead finish and lighter brigalow/gidgee country rising to ridges. Mt Harden is watered by bores and dams and the entire property is exclusion fenced.
Josh Phelps from Winton-based Brodie Agencies said the dedication to pest and land management were a credit to the vendors and the consistent throughput of heavy grassfed bullocks a testament to the country. The total aggregation is estimated to carry between 3000 to 4000 adult equivalents, season dependant.
When the property was listed in July, Mr Phelps told Beef Central, "rarely does a holding of this scale come on the market in such a highly regarded area. Blackall is renowned as some of Queensland's best sheep country."
Mr Phelps said there was strong enquiry for Mt Harden.
"It came from well-established farming families from Central Queensland to sheep producers from NSW chasing feed, as well as super funds and syndicates."
When Mt Harden came up for sale three months ago, the Haggarty family had 1500 head of cattle on the road at Tambo. When they heard about the listing, they moved quickly to secure the property.
Qld buyers pay $17m for New England gem
Surat-based Miramar and Riversleigh Trusts in southwestern Queensland have paid $17 million ($11,328/ha) for the well-known Guyra property Tenterden Station.
There were six registered bidders at Ray White Rural's auction, with the opening bid starting at $9m.
Situated midway between Armidale and Glen Innes on the Northern Tablelands, the 1500ha of highly developed arable land features a mix of black, chocolate and red basalt soil types.
Tenterden, pictured below, is currently established as a high-performance grazing enterprise equipped with irrigation. More than 1300ha is developed and sown down to perennial high-performance grasses and pastures, supported by870mm average annual rainfall, plus an equipped centre pivot.
The paddock sizes and layout are designed for rotational grazing aimed at maximising livestock production while maintaining pasture longevity. A feature is the water security provided for livestock. Water is supplied via an extensive reticulation system, irrigation bores, a main water storage dam plus regular dams and creek frontages.
Selling agent Andrew Starr said the strong price reflected the quality and capital expense the vendor had injected into the property.
"It was unrivalled in our area for what it offered. I have never seen a place completed to such a high standard."
"The two Queensland grazing families who secured the holding were seeking a strong backgrounding block in higher rainfall country that could produce higher kilograms of beef per hectare to expand their current Angus operations," Mr Starr said.
There is significant opportunity to expand the infrastructure on Tenterden with further development of approved licences and water storages (600ML of entitlement in total).
Interestingly, the property lends itself for future subdivision with frontage to four public roads. Mr Starr said the current LEP for rural land permits 200ha minimum lot sizes with dwelling entitlements on each.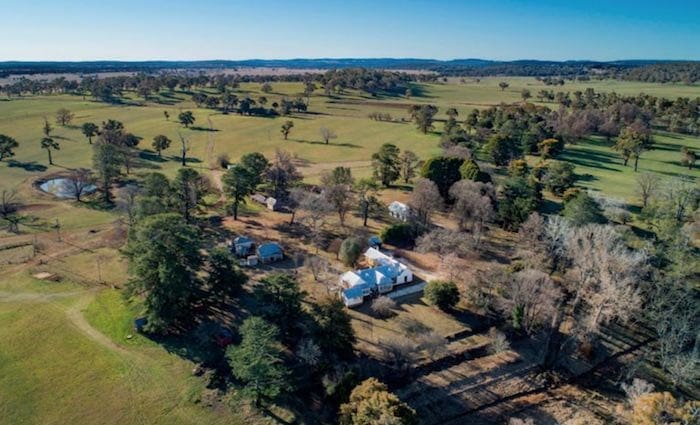 Eastern Riverina's Lake Midgeon sale among district's highest
Strong results continue in Riverina, with the sale of the historic and iconic Lake Midgeon regarded as the most significant this year in the New South Wales' Eastern Riverina district.
Offered via a public tender process, the aggregation is a modern cropping, cattle, sheep, wool and lamb production enterprise comprising 8739ha of typically flat freehold land spread over four lots – 5620ha Lake Midgeon, 2065ha North Berembed, 643ha Summerleigh and 411ha Lismoyle.
Lake Midgeon, pictured below, is known for its Australian pastoral history dating back to the 1860s as the relocated homestead and working centre of the 240,000ha Narrandera Run, held by colonial politician and land speculator Edward Flood.
From 1898 to 1949, the station was held by Albert Austin, co-owner of the famous Wanganella Merino stud and a string of other properties across NSW and Victoria.
Geoff Palmer from Ray White Rural Wagga Wagga said the property attracted 16 interested parties during the six-week campaign.
"Lake Midgeon sold two ways to two NSW-based buyers for an undisclosed price, but it was one of the region's highest. The purchasers of the respective properties will continue to broadacre farm and expand their existing sheep and lamb operations."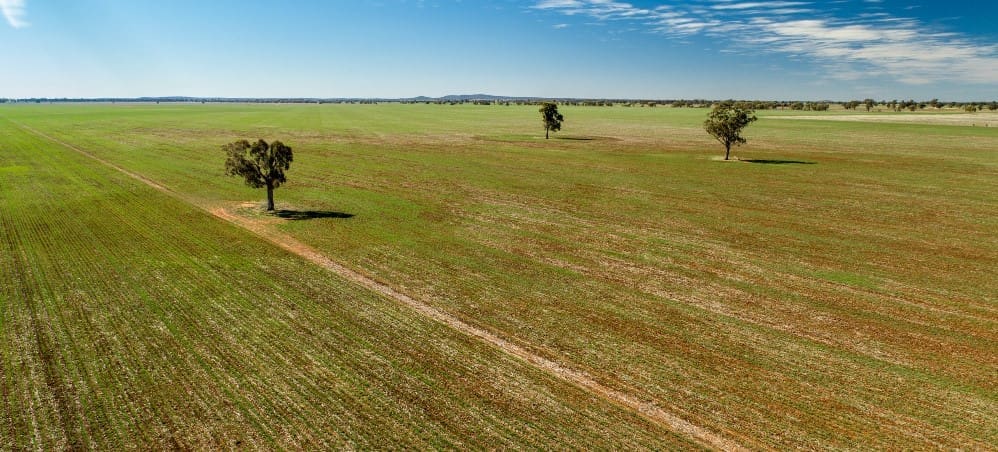 A district record was paid at auction for the Kyeamba Valley grazing property Jandera, located midway between Wagga Wagga and Holbrook.
A family from Young looking for a feed bank for their cow herd paid $3.7m ($10,882/ha) for the 340 hectares of breeding and grazing country boasting productive creek flats and Kyeamba Creek frontage.
RWR's Geoff Palmer said Jandera, which presented to the market in absolute pristine condition, attracted strong interest.
"Jandera is a well-developed and low maintenance block, ideal for any form of livestock production. It has a long-standing fertiliser regime resulting in high performance perennial pastures and is well watered by 28 dams and a 625mm annual rainfall."
Vendors, David and Jill Middleton have held the property, pictured below, for 25 years and are looking forward to the next stage of their lives, moving into nearby Wagga Wagga.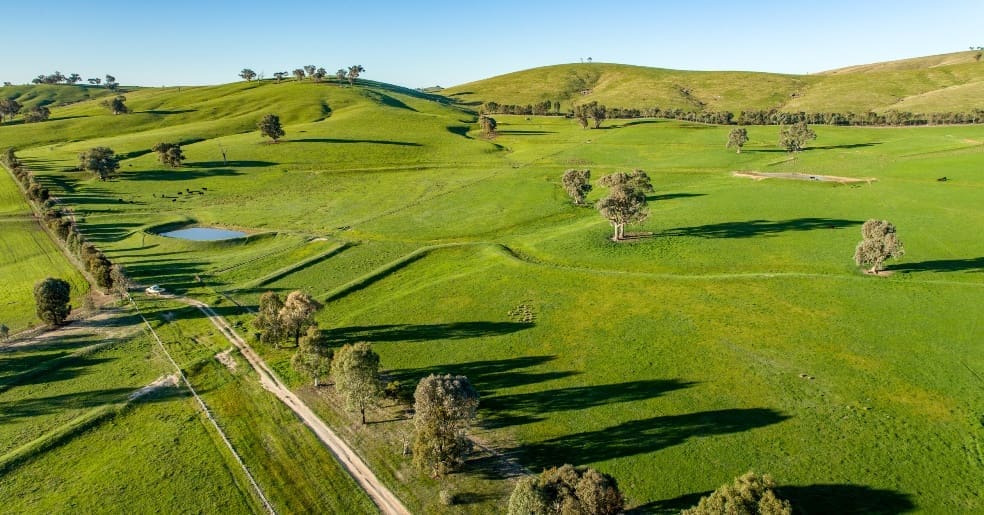 In other Riverina property news, Scott Fuller from Herron Todd White has analysed the $10.025m sale of Delta Station, 55km north-west of Jerilderie and 50km north-east of Conargo.
The 8381ha mixed irrigated and grazing property sold in May with 550ha of laser levelled flood irrigation, with a balance consisting of mostly open to lightly timbered good grazing country.
Mr Fuller said allowing for the developed irrigation country, it appears the open-hay plains grazing country reflected a value of $975/ha ex buildings.
"This is seen as a very strong result and indicates $780/DSE when viewing the grazing country in isolation. This is uncharted territory for the Riverina and indicative of the strength of the current market."
For the past 20 years, well-known cattle breeders Ross Morton and Sally Williams bred Angus and Charolais-cross years on Delta Station.
The new owner, MB McKinnon & Co (a family operation led by Colin McKinnon from Brewarrina in Northern NSW) is now running Merino sheep on the property.
Passed-in: Negotiations underway for QLD's Siwa
Rob Wildermuth from Ray White Rural Roma is negotiating with interested parties for the well managed and well-developed Maranoa certified organic grazing property Siwa, which was passed-in at auction for $7 million.
The 4975ha enterprise pictured below, located 100km south Roma and 80km west of Surat, is capable of producing 15,000 lambs a year.
Mr Wildermuth said the property also offers diverse income streams.
"It is a mixed cattle and fodder block with opportunities for sheep and or goats and cropping, including grain, forage and hay. It also has the added advantage of being organically certified."
The country is relatively flat, comprising brigalow, belah dark soils with melon holes throughout. There is a dense coverage of buffel grass plus natural grasses and herbages. Siwa is securely watered by 13 dams plus a share bore and most of the fencing is in good to very good condition – predominately a dog proof boundary and internal ringlock.
The vendors, Adrian and Marg Tiller, want to downsize after 15 years ownership and concentrate on their other property – the 18,200ha organically certified Mitchell property Leinster.
The Tillers are offering early access for 500 adult equivalents on signing the contract.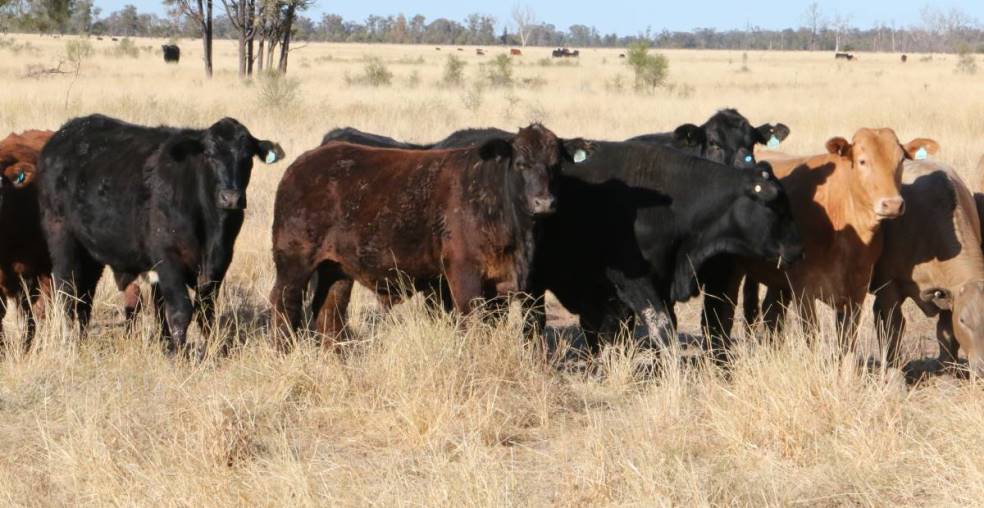 NSW: Myrnong on the market
Myrnong, the 24,864ha rangeland goat enterprise in New South Wales' far north-west, is being offered for $2 million bare after failing to sell at auction.
Located 60km south west of Wanaaring and 250km west of Bourke, Myrnong is a Western Lands lease holding comprising soft red mulga country running into some harder mulga stone country in the south eastern corner.
The property is watered by three bores (one of which was sunk last year), six ground tanks and 12 main watering points servicing 17 paddocks.
Myrnong, pictured below, has been owned by Nuffield scholar Christine Ferguson since 2001. During that time the principle enterprise has been goat production, with some trading of sheep and cattle. With a Western Lands rated carrying capacity of just under 5000 DSE, the property has been running 4500 breeding does and followers, 2000 to 3000 mixed trade goats and sheep, as well as cattle in season.
Ms Ferguson has been managing the grazing under holistic principles and the infrastructure facilitates this.
Myrnong has access to both southern and northern goat markets, as well as the new $60m small stock abattoir being constructed in Bourke. There is also an opportunity for the purchaser to become involved in carbon farming.
Greg Seiler from Landmark Walsh Hughes said despite presenting well, potential buyers were deterred by the current seasonal conditions.
"There was strong southern interest in Myrnong, but producers were shy of stepping forward due to the drought."
Earlier, Mr Seiler told Beef Central that the property had performed consistently year-in year-out regardless of how dry it had been.
"This is largely due to the way the property has been stocked and managed over the past 17 years. The benefits of the holistic grazing management practices are clearly evident by the good body of feed."