McGavins offload Theodore's Acacia
Wallumbilla cattle country attracts solid interest
Cattle or sheep option on Traprock's Brooklyn
Rain prompts Surat's Cooraki sale
Grassed up Greenoaks attracts wide interest
Diversity in western NSW country
Yatton pioneered by late Cattlemens Union heavyweight
Sick of chasing cows? Here's an option further along the supply chain
THIS week's property review includes a wrap-up of interesting recent listings across the country, and a separate article of recently completed sales of note.
McGavins offload Acacia
Rob and Kate McGavin have listed Acacia, their highly-developed irrigated cattle enterprise in Queensland's tightly held Theodore region.
Earlier this year, the McGavins purchased the 46,735ha Barcaldine Downs, Barcaldine – a large scale sheep property – one of the seven outstanding grazing properties offered last year by Clark & Tait.
Located on the banks of the Dawson River 180km south west of Rockhampton, the 1076ha Acacia comprises 204ha of flood irrigation, 216ha of irrigated leucaena, 161ha of dryland leucaena and 427ha of grazing.
The property has been jointly listed for sale by JLL and TopX via an expressions of interest campaign closing on May 27.
Tom McLeish from TopX said during their six years of ownership, the McGavins had invested a significant amount of capital and transformed the property from a cotton and grain operation into an intensive cattle growing and finishing enterprise, combining both beef production and irrigated farming.
His counterpart Brett Christie said Acacia was a highly developed enterprise that represents a viable standalone operation or a logical addition to an established supply chain providing a tangible hedge against seasonal risks.
"Grazing areas are underpinned by 220ha of irrigated leucaena while irrigated farming areas have the ability to grow a range of summer and winter crops including forage, cereals and cotton," he said.
Chris Holgar from JLL said Acacia's land and soil types were highly productive and were what made the Theodore region one of the most diverse in Queensland.
"The property benefits from significant water licences (totalling 3215MG) by district standards, which underpin the operation and provide production security year-in, year-out, irrespective of the prevailing seasonal conditions."
"Significant investment has been made into irrigation infrastructure, for leucaena, and livestock handling facilities which minimise labour and increase efficiency," Mr Holgar said.
Wallumbilla cattle country attracts solid interest
Wallumbilla cattle breeding property Forest Grove, in Queensland's Maranoa region, is being offered to the market for the first time in 20 years.
Cattle producer and well known farm issues lobbyist Lee McNicholl and his wife Megan, who also own Arklow and Melrose near Dulacca, are selling as part of the family's planned succession process.
Earlier this year, they offloaded another block, Borally.
Since owning Forest Grove (pictured top of page), the couple has undertaken major improvements including adding three flowing bores plus stock dams, near new fencing, clearing and pasture development featuring excellent stands of improved pasture mixes.
The 3384ha block has been destocked since late 2019 and now boasts an excellent body of feed following recent rainfall and recovery from drought conditions.
Phillip Kelly from Colliers International reports a high-level interest from a broad geographic area.
"It has attracted widespread inquiry from interstate, locals and producers from Queensland's Central, North Queensland and coastal areas. There has been strong activity on any properties that have come to the market since Christmas, particularly in the wake of rain," he said.
Expression of interest for Forest Grove close on May 4.
Cattle or sheep option on Traprock's Brooklyn
The well-located Brooklyn Aggregation, on Queensland's Southern Downs, is expected to generate plenty of interest.
The 6808ha block, suitable for both cattle and sheep, is located 2.5 hours west of Brisbane, one hour to Toowoomba and 50 minutes west of Warwick.
The open grassed flats run up to large open undulating soft trap rock and timbered areas, and can carry 11,000 DSE.
There is 81ha of ex-cultivation and 90 percent of the internal fences, including exclusion fencing, have been recently renewed.
A highlight of the property is water security. There are 45 dams, two bores and permanent and semi-permanent waterholes in the Macintyre Brook, Oakey, Branch and several small creeks.
Additionally, there is a signed lease agreement in place to provide passive wind farm income from 2021.
Owned by Brendan and Sandy Frith for six years, the couple has decided to sell to pursue other interests.
Angus Corke from Ray White Rural said the property is boasting an abundance of feed and plenty of water.
"The Brooklyn Aggregation will appeal to a wide range of people, including producers, investors and those seeking closer proximity to Brisbane or the Gold Coast," he said.
The property will be auctioned online by Ray White Rural on May 22.
Rain prompts Surat's Cooraki sale
Another property that should sell for more than $4.5 million is the mixed farming property Cooraki, near Surat in southern Queensland.
Featuring 2128ha of undulating heavy black soil downs to undulating Bauhinia and Griman Creek frontages, it is grassed with Mitchell, Flinders, blue and buffel grasses.
The 404ha of cultivation consists of good heavy, self-mulching soil suited to forage crops for backgrounding or fattening sheep and/or cattle. However, it is equally as suitable to cropping wheat, sorghum and pulses.
Cooraki is watered by six dams plus semi-permanent holes in the Griman Creek, as well as bores and troughs.
It has been owned by David Waldron since 2014, who is selling to dissolve a family partnership.
David Benham from McGrath said Cooraki has received substantial rainfall and the property is presenting extremely well.
"There's been good interest from locals seeking expansion and producers who want a backgrounding block," he said.
In November 2018, a similar property, the neighbouring 1860ha Cambridge Downs, sold at auction for $3.95m ($2123/ha).
Cooraki is being offered for sale via online auction on April 30.
Grassed up Greenoaks attracts wide interest
Mitchell (QLD) backgrounding property Greenoaks, boasting an abundance of feed, is generating plenty of inquiry.
Carl Warren from TopX Australia said interest was coming from far and wide.
"Producers from across Queensland and down into New South Wales are seeking expansion, chasing grass and value for money," he said.
Located 65km south west of Mitchell and 150km from Roma, the 5099ha of lush, soft feed is suited to beef, sheep, wool or goat production.
Greenoaks comprises soft melonhole/gilgai country with brigalow, belah and running into softer red soil types of box, kurrajong and ironbark. There are also areas of open and low mulga with good stances of buffel on sweet pebble country.
This year has seen an abundance of seasonal soft summer grasses and legumes.
Vendors, Chris and Nolene Francis who have owned the property for seven years estimate Greenoaks can carry 950 cattle and 1800 goats.
It is the headwaters for the Johnson Creek and Neabul Creek catchment and is well-watered by nine dams.
Located within a cluster fence, Greenoaks will be auctioned online (bare) on May 22.
Diversity in western NSW country
Windella, a mixed grazing and farming operation in western New South Wales, is being offered to the market for the second time in 90 years.
Located 60km north of Nyngan or 15km north of Girilambone, the 7947ha features red and grey clay loams running to heavier gilgai country.
Windella is suited to sheep, wool, cattle and cropping and after receiving terrific recent rain, is now ready for sowing the 1400ha of cultivation.
The grazing country can support 2500 breeding ewes or 4000 DSE and around 300 goats per annum.
Most of the fencing is in good condition, with 30km renewed in recent years.
Fronting the Bogan River for 5.5km, Windella is also watered by 18 dams.
Recently, considerable capital has been invested into land development and infrastructure, with the potential to further progress.
Richard Gemmell from Elders Real Estate and Shaun McHugh from Carter Lindsay & Weber are handling the sale, which is being offered by expressions of interest closing on May 29.
Yatton pioneered by late Cattlemens Union heavyweight
A highly productive Central Queensland grazing property once owned by beef industry heavyweight, the late John Purcell, is on the market.
Offered by the Purcell family, Yatton, 200km north of Rockhampton near Clarke Creek, was long associated with the hard hitting industry representative, who served as Cattlemens Union president from 1984-86 and again from 1994-97. He was also the chairman of the Property Rights Australia lobby group from 2005-09.
Drawn in 1959 by the Purcell family as one of the original brigalow blocks, the holding is in one freehold title with an area of 2823ha (6976 ac).
Country is mostly developed brigalow, softwood scrub and downs country, with bluegum and coolibah floodplains, established with buffel, bambatsi, and green panic.
There is a three-bedroom heritage-style homestead and a two-bedroom cottage, providing a unique benefit being close to a fully sealed bitumen road, school and community facilities. With year-round supply of water from the Isaac River and three permanent water holes, established yards, tracks and fences, close to commercial feedlots, three export abattoirs and numerous saleyards.
The purchaser has the option to purchase the property's quality Droughtmaster/Brangus herd.
Yatton sells by virtual auction on 28 May through Ray White's Richard Brosnan.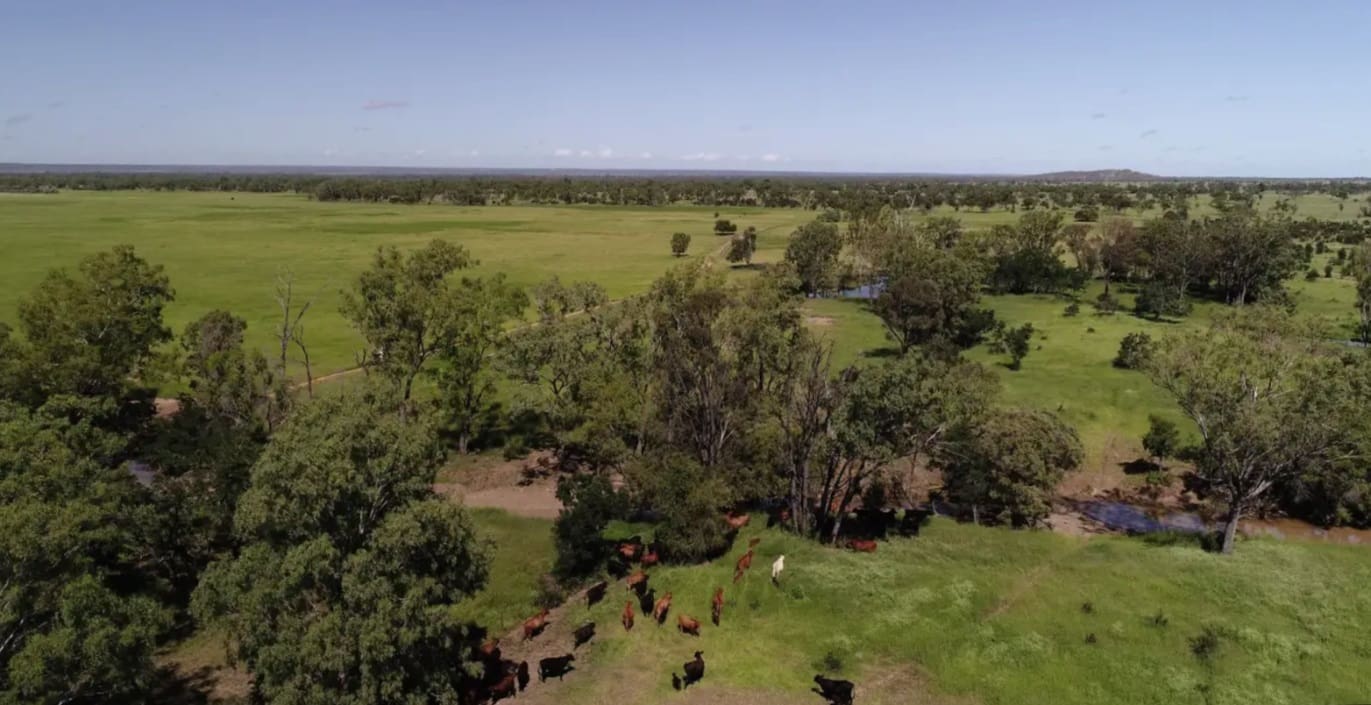 Sick of chasing cows? Here's an option further along the supply chain
Sick of chasing beef on the hoof and prefer to sell it on the plate? Here's your chance to own your very own butchery.
Blackall's Barcoo Butchery has been listed after more than 30 years of ownership by the Davisons, who are selling to dissolve a family partnership.
Well positioned on the Landsborough Highway, capturing passing traffic and local consumers alike, it is the only business of this kind operating in town.
It's being offered for sale on a walk-in walk-out basis, with modern up-to-date facilities and well-established clientele.
David Hardie from Blackall-based David Hardie Real Estate said the Barcoo Butchery has a large and diverse customer base, it supplies the local IGA supermarket meat cabinet on a daily basis and transports refrigerated product to Brisbane every week.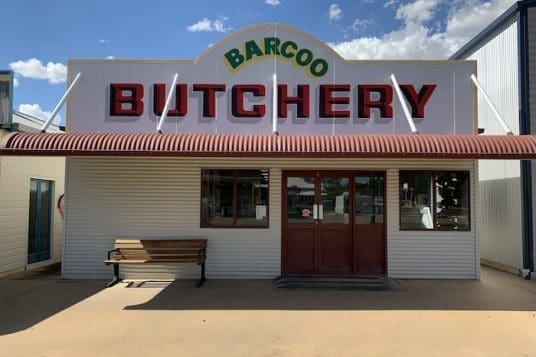 Click here to access more properties listed for sale.