Sydney China trade and investment conference
Foreign investment in Brazil on the increase, but mostly JVs
Sydney China trade and investment conference
Property agents promoting Australian cattle station assets have attended this week's China-Australia Agribusiness SME Trade and Investment Conference in Sydney.
CBRE regional director agribusiness Danny Thomas and head of agribusiness NSW/ACT Col Medway attended the meeting and described it as well-organised and insightful.
The conference promoted Australia as one of the top favourable places for Chinese investors.
The recent signing and execution of the China-Australia Free Trade Agreement represents a new milestone for bilateral economic partnership, particularly in the agriculture sectors, the audience was told.
ChAFTA is expected to unlock significant opportunities for both Australia and China producing freer trade flows, encouraging investment, enhancing co-operation and increasing productivity.
The Bank of China, which sponsored the one-day event, said it was keen to foster business, trade and investment partnerships between Chinese and Australian agriculture enterprises via business-matching services.
Mr Medway said hundreds of one-on-one, face-to-face business discussions and networking opportunities were held during the conference. In addition, there were sessions covering the investment environment, financial services, regulations and other requirements in China and Australia.
Mr Thomas said despite the favourable comments, Australia was in danger of losing Chinese investors to South America.
"China is very serious about investing more money into South American cattle properties which can also produce large amounts of beef to support its growing population," he said.
Foreign investment in Brazil on the increase, but mostly JVs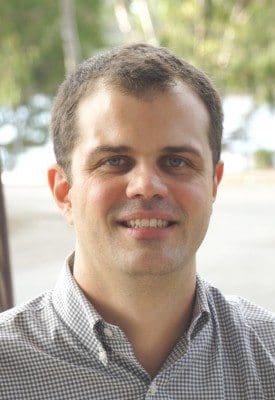 Visiting Brazilian economist Adolfo Fontes provided some comment to Beef Central during his recent speaking engagement at the World Brahman Congress in Rockhampton on the extent of foreign investment occurring in his country's beef industry.
"Foreign investment in Brazilian beef is certainly increasing," Rabobank's Sao Paulo-based senior analyst said last Thursday.
"But Brazil also has some restrictions over outright foreign ownership of land. Overseas buyers cannot buy a 'really big' area of land, for example," he said.
For that reason, joint ventures and partnership models, working with local investors and landowners, were becoming increasingly popular, Mr Fontes said.
In contrast with the situation in Australia, where the merits or otherwise of foreign investment had commanded  broad public attention over the past two years, he said there was little concern evident within the Brazilian beef industry or broader community over foreign investment.
Most of the investment in Brazil to this point had come from Europe and North America, rather than China, he said.
Much of that was at the beginning of the supply chain at production level, but also in feedlots. Meat processing was still 'very much Brazilian,' he said – partly because of the strength of the big players like JBS, Marfrig, Minerva and Brazil Foods.