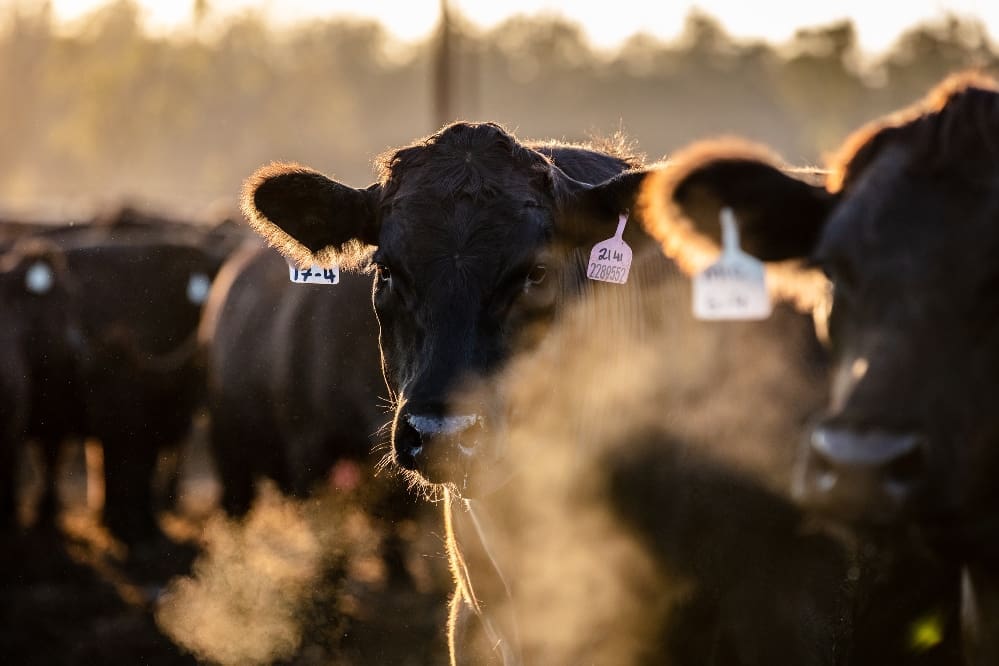 QUEENSLAND lotfeeder Mort & Co is in an expansionary mood, launching a campaign this morning to unearth a site for a new feedlot to complement existing operations at Grassdale on Queensland's Darling Downs, and Pinegrove, near Millmerran.
Australia's largest privately-owned cattle feeding business has launched a search for its next property development target, less than a year after completing a major expansion at its Grassdale site near Dalby, now operating at a capacity of 77,000 head.
In a statement, Mort said that following another strong financial performance in FY20, and in line with its aggressive growth strategy, the business intended to increase operations even further, entering the market for a new property that will be utilised for a greenfield feedlot development and broadacre farming.
"The 2020 year has definitely been challenging, and it continues to present a range of scenarios that we hadn't considered twelve months ago," Mort & Co chief executive Stephen O'Brien said.
"While we have found ways to overcome these obstacles, as a business, we remain committed to executing our long-term strategic plan, of which feedlot growth remains a key pillar."
The last couple of years have demonstrated the company's appetite for growth with the Grassdale expansion in 2019 yielding a 36pc increase in cattle capacity for the business. Mort is also continued to explore expansion possibilities for its Pinegrove Feedlot at Millmerran, aiming to increase its capacity from 9600hd to 25,000 head.
Additionally, the company is also moving ahead with its Grassdale Fertilisers project, which will provide both compost and a unique granulated fertiliser option to the broadacre and horticultural markets. Given it is a greenfield site, Mort & Co will custom-build its operation from the ground up, in much the same way Grassdale was created.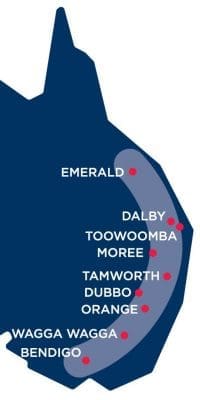 For its new feedlot development project, Mort has identified an extremely large target area, stretching north as far as south of Emerald in Central Queensland, all the way to northern Victoria (see map).
If the broader plan is fully executed, it would take Mort & Co's feedlot capacity to around 130,000 head, rivalling JBS Australia as the nation's largest lotfeeder. Beef Central's Top 25 Lotfeeders report shows that JBS's current feedlot capacity in five feedyards is around 150,000 head.
Target criteria
Mort & Co has assembled a set of criteria to help narrow down the search for a new feedlot development site.
These include:
A significant parcel of land of at least 3000ha in size, that must be up for genuine sale
Secure ground water entitlement with a minimum of 1000ML allocation
Onsite clay/gravel deposits/resources
Existing three-phase power or nearby access to it
Close proximity to key transport corridors with heavy vehicle access
Within 40km of a regional centre
An existing mix of land types including cultivable land suitable for cropping and irrigation, and ridge country for feedlot development.
Mort & Co's general manager of feedlots and farms, Scott Braund, said the business had a good understanding of what the 'ideal property' looked like.
"Our business has been built on the back of our expertise in lotfeeding beef cattle. We have purchased pre-existing sites, incorporating our own systems, as well as having built feedlots from greenfield, achieving solid success using both methods," he said.
"Based on these experiences, we now can be quite prescriptive about what it is we need from a property to be able to run an effective operation."
Big impacts on regional economies
Mr Braund noted the flow-on effects such developments have in regional areas.
"While projects such as these deliver benefits for our business, they simultaneously produce positive outcomes for the immediate and surrounding communities where they are undertaken," he said.
A 2015 report reviewing Regional Feedlot Investment, prepared by Deloitte Access Economics and published by Meat & Livestock Australia, illustrated this positive impact.
The tables below suggest a typical 30,000 head SCU feedlot adds about $63 million in direct and indirect impact to local and state economies, and 733 direct and indirect full-time equivalent jobs.


Mort & Co is inviting landowners with properties that fill most of the above criteria above who are interested in exploring possible sale, to contact Brad Robinson on (07) 4639 6049 or via email brad.robinson@mortco.com.au
See yesterday's report detailing expansion at Smithfield Cattle Co's Sapphire Feedlot near Goondiwindi