A RECENTLY completed expansion of Smithfield Cattle Co's Sapphire feedlot near Goondiwindi is a good example of the long-term confidence being shown in grainfed operations in Eastern Australia, despite difficult trading conditions over the past couple of years.
Industry capacity in the September quarterly feedlot survey reached 1.45 million head, about 84,000 higher than this time last year, and more than 170,000 head higher than the corresponding September quarter three years ago.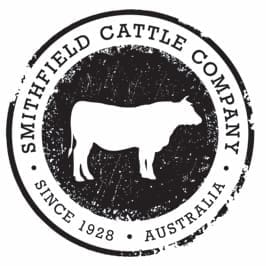 Part of that industry growth can be attributed to Smithfield's Sapphire yard, which has grown from an original operational capacity of 6000 head to 20,000 head following recent infrastructure investment.
The redevelopment and expansion at the Sapphire feedlot site not far from the NSW border virtually doubles Smithfield Cattle Co's grainfeeding capacity, including the company's original 20,000 head SCU Smithfield feedlot neat Proston, further north in southern Queensland's South Burnett region.
Stakeholders had their first real chance to look over the expanded Sapphire facility during a producer field day held at the site today by Macintyre Ag.
Design and construction at Sapphire has been heavily influenced by productivity, efficiency and animal welfare considerations.
Smithfield bought the Sapphire site in 2016 (link), with an existing built capacity at the time of 6000 head, and an undeveloped license approval for 8700 head.
Since purchase, Smithfield was successful with an application to expand to 20,000 Standard Cattle Units, which over several development stages, has now been completed.
Stage One was completed in October last year, taking numbers out to 12,000 head, with the remainder completed in the past month or two.
At the time of purchase four years ago, Smithfield Cattle Co managing director Jason Shearer-Smith said the company had been looking for some time for a second site to either build a greenfield feedlot on, or to buy a smaller existing feedlot with capacity to expand.
"The challenge with buying a bare property is that there is basically a two-year lag before you start filling the new pens and start generating an operating cash flow," he said. "This way, we have cash flow from day one."
The Sapphire property originally included 1750ha of country, about 500ha of which was irrigated for forage or grain production, 1000ha for dryland farming and the balance grassed for backgrounding purposes. Smithfield has since aggregated more cropping country nearby, now farming about 2500ha of country for silage and grain.
Access to farming country was an attraction, Mr Shearer Smith told Beef Central – but water security, power and good road infrastructure to get stock and feedstuffs in and out of the site in all weather were the 'big considerations' when selecting the development site.
The location of Smithfield's original feedlot so close to the town of Proston prohibited further expansion at that site, and a second motivation was in seeking some 'geographic diversity' for the grainfeeding business.
As it now stands, Smithfield's Proston yard primary takes feeder cattle from areas further north and west, including those from ticky areas, while the second yard at Sapphire takes cattle from further south, including large parts of NSW, and Queensland's west.
"Even through the two yards are only 400km apart, they handle very different styles of cattle," Mr Shearer Smith said.
Sapphire is being utilised for a range of programs, from 100-day grainfed, to a 120-day Angus program, a 170-day midfed Angus program, 400-day F1 Wagyu program and Fullblood Wagyu fed on to 500 days.
In addition to its own cattle which make up around a third of total numbers, Sapphire is also feeding for several large custom-feeding clients, including Jack's Creek and another large Darling Downs grainfed supply chain.
Yard expansion at Sapphire has included major milling and livestock handling infrastructure improvements, as well as the construction of new pens.
The original, basic dry-rolling grain-processing set-up has been replaced by a tempering system using four 75-tonne tempering bins and wetting system taking grain to 20pc moisture, and the installation of two new R&R mills, each 24×48. The system is now set up for the installation of steam-flaking, likely to happen before the end of next year. An additional 4000 tonnes of grain storage has also been added to the site.
Two large stationary batch boxes are used to mix finished ration before loading into a trio of Roto-Mix feed delivery trucks, linked to the milling facility via Digi-Star feed management systems. The system is currently batching and delivering around 43 tonnes/hour (around 290t/day), with two batch boxes being installed in January that will take the batching and delivery system up to 70 tonnes/hour. Liquids are added to each batch via computer controls.
The system will allow feed trucks to be loaded with 11 tonnes of mixed ration in less than a minute, minimising turnaround time. Currently there are three feed trucks in use at the site, with one used mostly as back-up.
A new Thompson Longhorn designed and built set of cattle yards and induction/processing facility, including six-way air-operated draft has been installed, for efficiency and optimum animal welfare outcomes. Included is a foot-trimming crush, with a plan to hoof-trim all Wagyu feeders at between 150 and 200 days on feed. Flooring in traffic areas is all rubber matting on concrete.
Feeding pen sizes are mostly 50m x 60m, giving a capacity of 150-180 head per pen. Pen shade is provided in all feeding pens. All internal service roads are bitumenised, to suppress dust.
Livestock water is provided through a secure underground source, using a 500Ml license from Gubramunda purchased two months ago. The irrigation development includes storage and channels serviced by a 565ML allocation via river frontage to the Dumaresq River, with additional water harvesting limit of 405ML. The cropping development includes a lateral move irrigator and underground mains.
Recently appointed by Smithfield to manage the Sapphire feedlot was James Guest, who previously worked in feedlot operations with Stanbroke as a trainee manager. More details in an upcoming People on the Move column.
Total staff numbers since the expansion has been completed have grown to around 30 full time personnel.
Depending on seasons, it is hoped to produce around 6000t of grain each year on the Sapphire property itself, with the balance of cultivation used for forage production. Additional grain in normal seasons will be sourced from nearby cropping areas in northern NSW and southern Queensland. Total annual grain requirement will likely be around 66,000t.
All pen manure is currently used on surrounding cultivation, and the business aims to complete a composting facility next year, for internal use on farming country.
Today's Macintyre field day at Sapphire includes presentations from UNE's Dr Peter McGilchrist on eating quality, Sarah Strachan from MSA, and Andrew Wilkie from Objective Livestock Marketing, and a presentation about the Four Daughters branded beef program.
Click the links below to view videos during Sapphire's construction