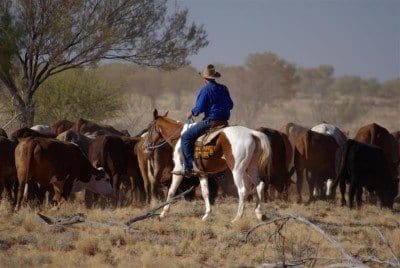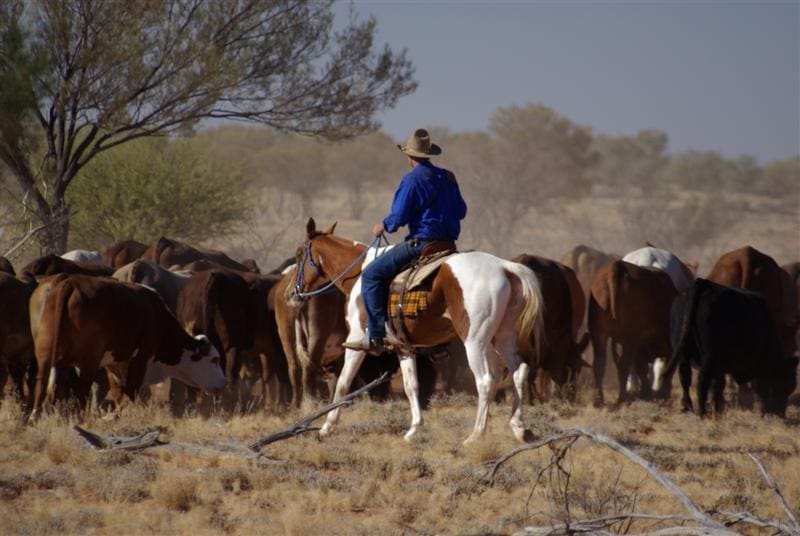 The board of S. Kidman & Co this afternoon recommended that shareholders vote in favour of the bid by Gina Rinehart and her Chinese joint venture partner to buy the iconic cattle company.
It comes after the Australian Outback Beef Joint Venture of Mrs Rinehart's Hancock Group (67pc) and Chinese owned Shanghai CRED (33pc) lifted its bid from its initial $365 million offer to $386.5 million.
The higher offer brings the group's bid above the rival $386m bid launched for Kidman by the "BBHO" consortium of wealthy Australian grazing and farming families earlier this week.
Mrs Rinehart has also advised that her Hancock Group will bid for full ownership of the company if the Foreign Investment Review Board rejects the current Australian Outback Beef JV, which involves a 33pc Chinese equity partnership.
"I stand behind the bid and should FIRB or PRC approvals not be achieved, then Hancock will proceed with the acquisition on a 100% basis," Mrs Rinehart said in a statement.
"I hope this provides shareholders with significant comfort and that when they consider the offer they can do so in the knowledge that there is no FIRB or PRC execution risk, and further that we have the money to invest to properly maintain the stations and their hard-working staff."
The path now appears to be clear for ABO to complete its planned purchase of Kidman, after the developments of Thursday afternoon were followed by a BBHO statement saying it is has now withdrawn its offer for S.Kidman and Co and wishing the partners of AOB well.
Profit result
On Thursday afternoon S. Kidman & Co reported a solid after tax profit of $26.7 million for the 2016 financial year.
A company statement said the profit was derived entirely from normal operations it took advantage of strong cattle prices in the face of variable seasonal conditions.
"The big Queensland drought continued to affect Channel Country properties for the first half and forced a further 4% sell down in the herd to 151,000 branded cattle," the statement said.
"Significant rain in the second half returned the Channel Country and northern South Australian properties to a very good season.
"Previous above average seasons across the East Kimberley and Barky Tablelands properties allowed their stock numbers to be maintained, which is now facilitating herd rebuilding in the Channel Country.
"The modest cropping areas on Rockybank near Roma and Tungali near Adelaide have excellent winter cereal crops in production."
Kidman board endorses Rinehart bid
At today's meeting, the S. Kidman & Co directors unanimously endorsed and recommended the increased Australian Outback Beef Pty Ltd (AOB) offer, 'in the absence of a superior proposal".
AOB also today lodged documentation with the Australian Securities and Investment Commission (ASIC) to launch its takeover offer.
The Kidman board has previously indicated it would welcome a bid that does not involve breaking up the historic cattle empire.
The AOB bid would benefit all Kidman shareholders, the board said.
"Under the Hancock JV offer the core Kidman business will remain intact and the Kidman staff and legacy will be looked after," board chairman John Crosby said.
Mrs Rinehart said the potential to acquire the Kidman business meant a great deal to her personally.
"As I have said earlier, I hold in high regard the legacy of the great Australian, Sir Sidney Kidman.
"Sir Sidney Kidman has special meaning to me given our families' historical ties dating back more than a hundred years when my grandfather, James Nicholas, owned stations together with Sir Sidney Kidman in South Australia and they jointly owned a successful coach business in the East as well as in West Australia.
"And more to they respected each other and were friends.
"I am from a station background, having grown up on Mulga Downs and Hamersley stations both in the outback– a childhood that develops resilience and that I loved, indeed I still have Mulga Downs station today."
Mrs Rinehart said AOB was committed to investing and growing Kidman.
"AOB has the capacity and ability to access additional markets vital to any credible plan to grow Kidman in a sustainable way and without breaking up the core business.
"This will result in valuable jobs being retained in Adelaide and also importantly create more jobs in rural communities where they are so desperately needed."
The Kidman board said more than 600 interested parties have held discussions with sale manager Ernst & Young since the iconic Kidman landholding went on sale almost 18 months ago.
Kidman & Co Ltd is one of Australia's largest beef producers, with an average herd carrying capacity of 185,000 cattle.
The company has pastoral leases covering 101,000 square kilometres across South Australia, Western Australia, Northern Territory, and Queensland.
Katter
Katter calls for pre-sale assurances 
Katter Australia Party leader and Federal Member for Kennedy Bob Katter has called for "unequivocal assurances" that a majority Australian stake remain in the company following its now likely purchase by the Hancock Group-Shanghai CRED joint venture.
 "There cannot and should not, be any Foreign Investment Review Board (FIRB) or Government approval for the sale, unless and until, there is a guarantee provided by the Government that there will be no movement of a majority shareholding of this bid across to Shanghai CRED," Mr Katter said today.
"Unless that assurance is given, then Australians will quite rightly assume that they were deceived by the Government before the election.
 Mr Katter said he will co-sponsor legislation in the House of Representatives with NXT party Member Rebekha Sharkie MP (with Senator Xenophon and fellow NXT Senators doing the same in the Senate) to amend foreign takeover laws to ensure any commercially equivalent Australian bid gets priority over a competing bid with foreign interests