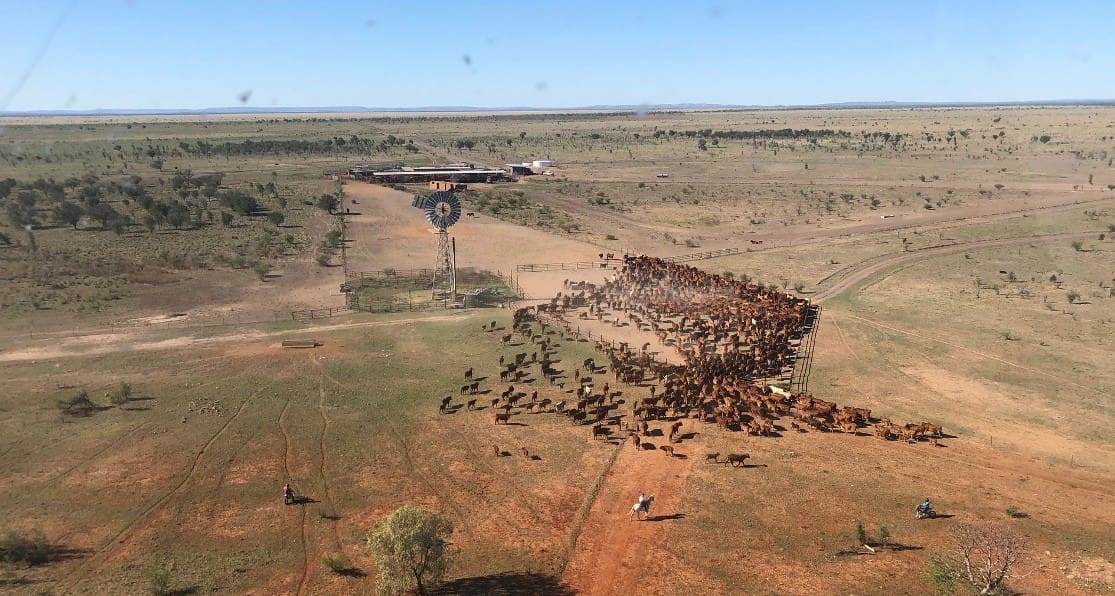 Hancock Agriculture and S. Kidman & Co have activated a plan to divest a group of eight properties from both portfolios totalling about 1.9 million ha.
The move is described by the companies as "looking to complete our investment cycle and focus on other areas of growth in our agricultural operations."
In November last year, Hancock confirmed that it planned to divest a number of pastoral holdings from its portfolio, to focus on other agricultural and cattle opportunities. Click here to read earlier Beef Central story.
The assets identified at the time were:
Extensive Victoria River District (NT) cattle stations Riveren and Inverway, purchased by Hancock in 2016 from Indonesian owner, Japfa Santori. The properties are located southwest of Katherine covering 550,000ha, with a herd of 40,000 cattle.
147,000ha Aroona Station, near Katherine, bought in 2017 for $24 million including 15,000 head of Brahman cattle.
171,000ha Willeroo Station, adjoining Aroona 120km west of Katherine, which Hancock purchased the same year from Indonesian owners Agri International for $33 million including 21,000 branded Brahman cattle and full working plant.
Nerrima Station, 203,000ha located in the West Kimberley and adjoining the Fitzroy River. Carrying capacity around 15,000 head.
480,000ha Ruby Plains and 316,000ha Sturt Creek in the Kimberley region in Western Australia, which run about 25,000 head of mainly Brahman cattle. Ruby Plains and Sturt Creek are part of sister company, S. Kidman & Co.
Phoenix Park live export depot and holding facility near Katherine, 3500ha, which was purchased by Hancock in 2016 from Steve and Cindy Bakalian, NFC.
The portfolio of properties listed for sale, spread across the Kimberley region of WA and the western and top-end regions of the Northern Territory, currently carry about 108,500 head of cattle, plus progeny, with capacity to turn off up to 45,000 head of cattle per annum.
Based on the location and purpose of the properties earmarked for sale, some onlookers have interpreted the move as a decision to wind-back the companies' exposure to the live export trade, and focus more heavily on Australian-slaughtered beef production.
Principal Gina Rinehart, who owns the Hancock portfolio outright and is the major shareholder in S. Kidman & Co, has demonstrated a heightened sense of responsibility over animal welfare issues since starting her investment charge seven or eight years ago, and has instituted a raft of measures on company properties to optimise welfare outcomes.
Remaining Kidman NT properties like Helen Springs and Brunchilly on the Barkly Tableland have a long history as calf factories, supplying young cattle back onto company properties further south and east, for finishing and domestic slaughter.
With more than 30 properties in its portfolio, Hancock Agriculture is the second largest producer of beef in Australia, behind the Australian Agricultural Co. The individual stations are all well regarded beef production enterprises.
Elders has been appointed to market the property portfolio, via an expressions of interest campaign starting in coming weeks.
"This sale is a refinement of Hancock/Kidman's overall portfolio following a period of value creation through further investment and strong management," Elders real estate general manager Tom Russo said in a statement issued on Friday.
"Our client's intention is to reinvest in the growth and improvement of their larger agricultural enterprise, continue to focus on innovation and maintaining high standards throughout the supply chain for employee safety and animal welfare," he said.
Since acquiring each of the assets, Hancock had undertaken an extensive and comprehensive capital works program to make further improvements, Elders said.
This has focused on water storage and distribution infrastructure, deploying innovative technology (including digital communication networks and improved connectivity) employee safety, animal welfare and improving cattle herd quality – particularly through the significant reduction in the age profile of the breeder herd.
"This represents a rare opportunity to acquire a strategically constructed portfolio of assets at scale during a period of unprecedented growth in demand for quality Australian protein," Mr Russo said.
"The geographic locations of the individual stations, coupled with the completion of an extensive and high-quality capital improvements program and a refinement of the breeder herd, allows for the operation of an efficient beef production enterprise which enjoys economies of scale and operational flexibility," he said.
The addition of the Phoenix Park feedlot and export depot near Katherine assists with the wet season growing program, providing flexible live export market timing options and allowing for sale weights to be maximised.
The portfolio was being offered to the market during very favourable seasonal conditions for northern cattle producers, Elders NT and Northern Queensland area manager Paul McCormick said.
"The return of a more conventional wet season in the Northern NT this year has been a significant confidence boost for the industry," Mr McCormick said.
"This, coupled with better than average rainfall in Northern Queensland, continues to drive unprecedented livestock demand and an increasingly favourable outlook for producers."
Parties invited to submit offers
As part of the expressions of interest campaign, parties will be invited to submit offers for all or part of the portfolio, Elders' head of agribusiness investment services, Mark Barber said.
"Given the strategic advantages and operational efficiencies that can be achieved by operating the portfolio as an integrated beef production enterprise, we anticipate receiving offers for a whole of portfolio sale from both domestic and international investors," he said.
"Having said that, there will undoubtedly be strong interest from parties looking to acquire individual assets or larger components of the portfolio – particularly from existing operators seeking to expand their holdings or achieve geographic diversification," he said.
The flexible EOI structure will therefore allow all interested parties, from single asset buyers to whole of portfolio investors, to participate in the process."
Hancock remains committed to beef
Despite the current property sell-down process, Hancock Agriculture said it remained committed to Australian agriculture and intends to retain and grow its remaining portfolio, which includes operations in Queensland, South Australia, New South Wales and the Northern Territory.
"Across these operations, Hancock will continue to be an industry leader in the application of innovative technology, and in identifying and incorporating ways to improve employee safety and animal welfare," the company said in Friday's statement.
"Hancock will continue to invest in its numerous cattle stations, maintaining its management basis, 'happy healthy cattle are the best cattle' and strategically targeting technical and genetic improvements."
World's largest Wagyu herd
Hancock's east coast Wagyu operations, which currently form the largest Fullblood and Purebred Wagyu herd in the world, will continue to grow through additional production and broadacre cropping properties, the company said.
Its multiple branded premium beef product lines, including 2GR Wagyu, are sold both domestically and internationally into high end food service outlets.
Through its majority shareholding in S. Kidman and Co, there is a focus on improving productivity through genetic improvement and expanding its backgrounding and feeding capacity to deliver a range of branded beef grainfed and grassfed products.
"Hancock Agriculture will continue to be one of the largest beef producers and agricultural companies in Australia," Friday's statement said.