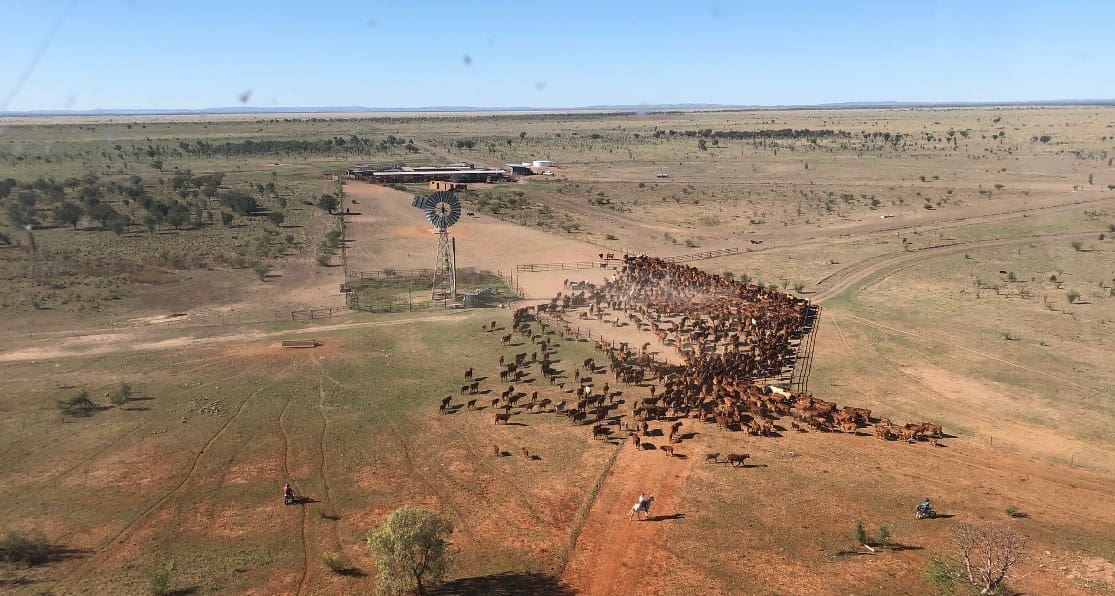 Northern Australian beef producer, Gina Rinehart's Hancock Agriculture, has confirmed that it plans to divest 'several' pastoral holdings from its portfolio, to focus on other agricultural and cattle opportunities.
Up to six holdings in the Northern Territory and northwest of Western Australia could be sold, because of the "difficulty of managing so many rural land holdings."
The earmarked holdings included:
The 20,000-head Phoenix Park live export depot and holding facility near Katherine, which was purchased by Hancock Prospecting in 2016 from Steve and Cindy Bakalian, NFC (Editor's note: Since corrected – see reader comment below).
147,000ha Aroona Station, near Katherine, bought in 2017 for $24 million including 15,000 head of Brahman cattle.
171,000ha Willeroo Station, adjoining Aroona 120km west of Katherine, which Hancock purchased the same year from Indonesian owners Agri International for $33.05 million including 21,000 branded Brahman cattle and full working plant.
Extensive Victoria River District (NT) cattle stations Riveren and Inverway, purchased in 2016 from Indonesian owner, Japfa Santori, are also said to be earmarked for divestment, The Australian suggests. The properties are located southwest of Katherine covering 550,000ha, with a herd of 40,000 head of cattle.
Another is 4800sq km Ruby Plains in the Kimberley region in Western Australia, which runs about 24,000 head of mainly Brahman cattle with an infusion of Charbray, Coolibah Composite and Wagyu.
Ruby Plains is owned and operated by S.Kidman & Co – not Ms Rinehart's own Hancock Agriculture business – suggesting the selldown is not limited to Hancock Prospecting owned properties, but also to the Kidman joint venture run with Chinese investor Shanghai CRED.
After making inquiries, Beef Central was issued with the following Hancock Prospecting statement this morning.
"Under the direction of executive chairman Gina Rinehart, Hancock Agriculture has experienced significant growth in recent years. Property acquisitions have been followed by significant investment focussed on improving cattle herd quality, employee safety and animal welfare, using technology and innovation as a key platform for improvement across the portfolio.
Given inter alia (legal department jargon for among other things) the significant improvements and value creation that has been achieved from these investments, the company will now look to divest several properties to focus on more agricultural and cattle opportunities."
Call to action over National Agriculture Day
Hancock Agriculture also used its statement to draw attention to National Agriculture Day, being marked this weekend, 21 November.
"We encourage Australians to celebrate the importance of this primary on National Agriculture Day, and to remind governments the importance of our industry and the many businesses our industry supports, and to make better known the government red-tape that is hampering our productivity, investment and future," it said.
"Government red tape has increased 80-fold since the 1970s when the first environmental legislation was passed and tellingly, in that period, production has only doubled. Initially, 57 pages, now, there is something like 4000 pages of legislation, regulation, green tape and red tape that impacts on what farmers do and our capacity to grow food for the rest of the world," Hancock said.
"To be able to reach the government's agenda for 2030 of growing the industry to $100 billion we must be more proactive and let government better understand the changes to government tape and taxes, that need to firstly occur."
Did you know?
Within its broader readership, the Beef Central website averages 12,500 visits per month from readers overseas. Many are interested in content to do with property, grazing land sales, processing  and Australian export beef sales, our traffic data shows. If you have a property asset worth putting in front of prospective international buyers as well as locals in 2021, consider a highly-targeted marketing campaign with Beef Central. Contact business development manager Rod Hibberd for details – rod@beefcentral.com or phone 0437 870 127.