AFTER a period where corporate and institutional investors were much more prominent in the grazing property buying landscape, 2018 was regarded as the 'Year of the Family Buyer' – and circumstances look like changing little in 2019.
That was the view delivered to a property industry stakeholder audience in Brisbane last week, where valuer Herron Todd White delivered its annual Northern Australian Rural Property Outlook.
HTW's Rockhampton-based valuer Will McLay said family-scale buyers had filled the void left by fewer grazing property transactions to corporate and institutional investors over the past two or three years.
Splitting the corporate/institutional and family buyers into separate categories, HTW's annual data clearly shows that corporates have started to withdraw, in terms of total value of sales since 2016, while family-scale buyers have been very active.
"When looking at the buyer profile in terms of number of sales, a similar declining trend is evident since 2016, when corporates outlaid around $600 million on grazing property, and families not far behind," Mr McLay said.
"What has scared-off the corporate buyers? The obvious factor is returns," he said.
Overlaying the Eastern Young Cattle Indicator across the Queensland broadacre property sales graph showed a clear trend between the rise and fall of corporate buying activity over the past five years, and the declining cattle market.
"Put a corporate investor trend-line in the graph as well (see graph below), and there is an almost perfect correlation between the EYCI and the value that institutional investors are spending in the market each year," Mr McLay said.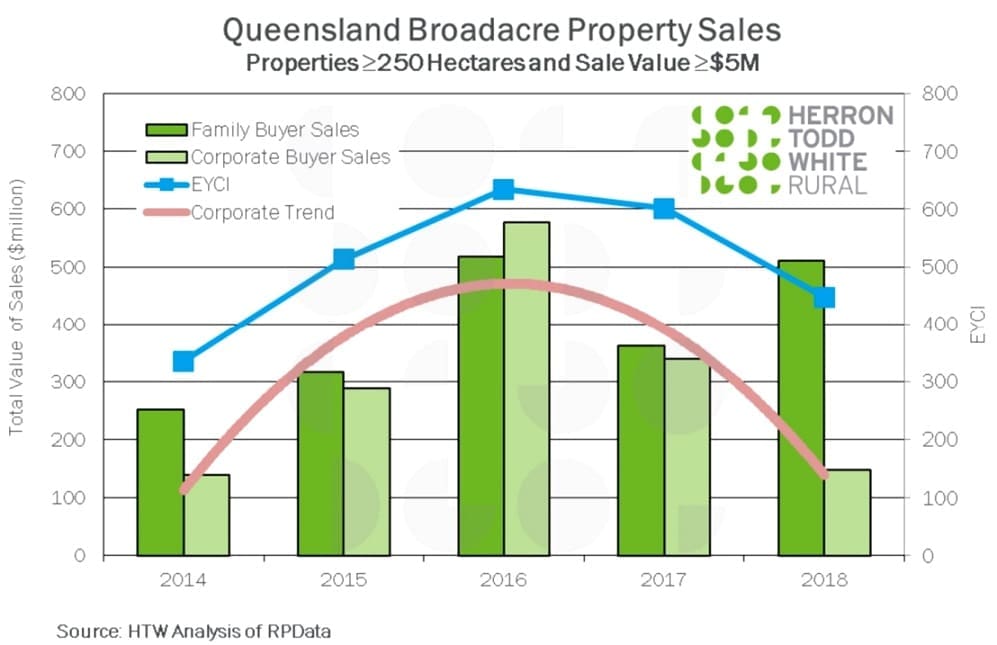 "I hesitate to say that the corporate buyers for northern grazing land have left, but they are certainly sitting, watching and waiting at present. There's still plenty of corporate and institutional investment money out there, but as the statistics show, a contraction in activity is happening at present."
In contrast the family-scale investor segment appeared to be seeing-through the current cycle of drought and lower commodity prices, and remained keen to play in the property market, Mr McLay said.
"In this environment there is very low supply of listings, met by pretty sound family-scale enterprise buyer demand – so the fundamentals are there to underpin the market, in the short term at least."
Mr McLay said he did not think the recent property market dynamics would change greatly in the next 12 months.
"Family buyers remain very active. But the number of buyers this year could halve in number, and I think the supply/demand balance for grazing property in northern Australia would still be OK," he said.
Australian Grazing Property Index
Herron Todd White also presented latest data from its annual Australian Grazing Property Index during the Brisbane gathering – a measure of pastoral sales greater than 2000ha across the country, launched back in 1980.
Over that 38-year period, the index has indicated a trend of an increase of about 4.5pc per year, on average.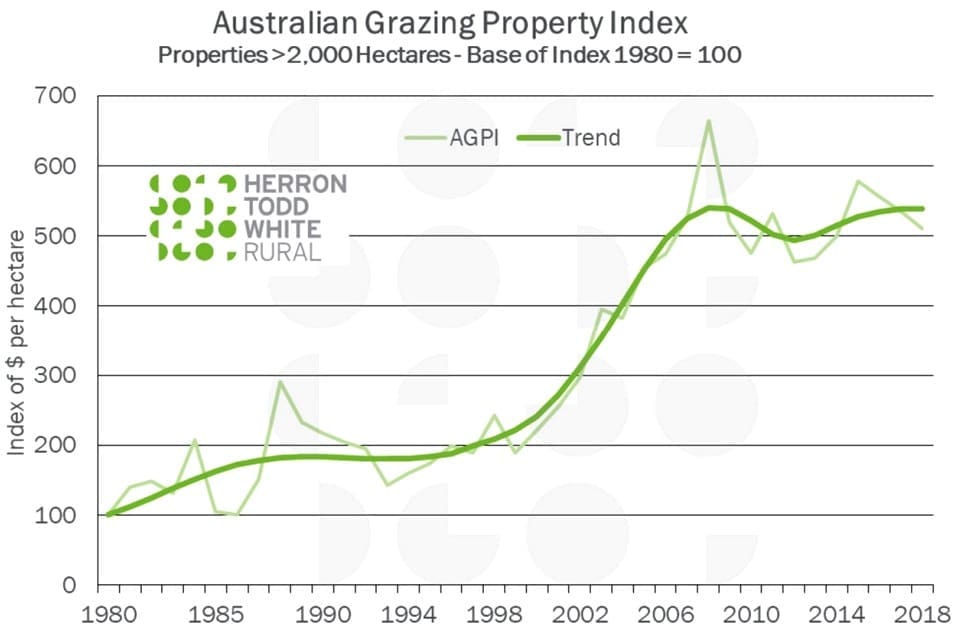 The most recent ten years had 'shifted sideways' and firmed a little, Mr McLay said.
"While this is perhaps a little contrary to messages that HTW has been sending clients in valuation reports about acceleration in the market, the reason is that the index is a median measure of rural land values on a rate per hectare basis. As the market in more recent times has shifted to larger pastoral assets being sold, the median price has actually softened. That's what has tended to hold back the trend line," he said.
Illustrating the same data on a state-by-state basis, Mr Mclay said SA and NSW were the only states showing a positive trend over the past ten years – but again, the result was being distorted by the shift into the larger pastoral holding market.
When smaller properties are included down to 250ha, the trend line became 'closer to what people might expect,' with land value per hectare continuing to rise over the past few years (see below).

Meanwhile the number of sales transacted (properties greater than 250ha) has shown a declining trend over the past four years (see graph above).
"The number of sales has contracted, and that is really due to lack of supply, rather than demand factors," Mr McLay said.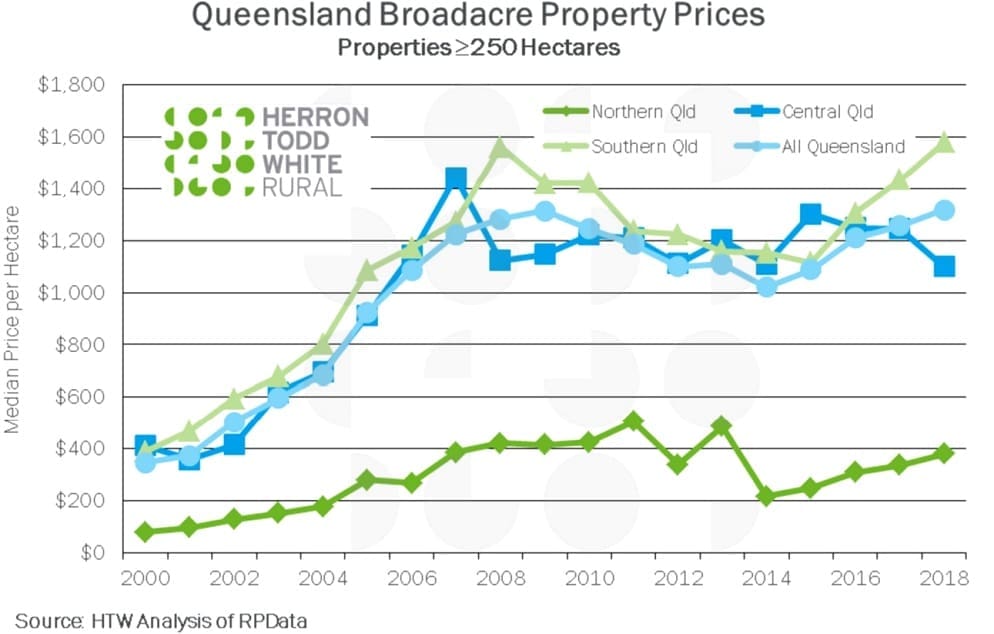 Focussing on the Queensland market, a rising trend can be seen on the overall Queensland market (light blue line in the graph above), while the Central Queensland regional line (dark blue), shows a negative trend.
"That is due to greater sales activity in the central west and far west (where land prices are cheaper), and fewer sales in the (more expensive) inner Central Queensland area. That has in effect reduced the median per hectare rate for central Queensland," he said.
"But if you separate out the data, the inner Central Queensland region has firmed about 9pc over the past 12 months, while the west has firmed 30pc on average."
Biggest years since 2008
Looking at the size of the rural market by total value of sales in Queensland going back to 2000, the cycle shows that the past three years have been bigger than any since 2008.
"There has been an obvious and substantial change in the value of transactional activity in the market in the recent past," Mr McLay said.
Using a series of individual Queensland property sales last year to illustrate recent trends, Mr McLay highlighted:
In Queensland's north, the market attracted southern grass buyers in the early part of 2018, however they tended to withdraw as the season went on, heading east of the ranges. Cressy, an open downs country property sold for about $2800/beast area ($120/ac) to a Taroom cattleman to complement his operations further south.
Further east, near Middlemount in Central Queensland, Redcliffe attracted plenty of bidders at auction, being sold soon after auction for $11.6 million to a local grazier, representing a beast area value around $5400. Subsequent values in the area had broken through the $6000/beast area level, but again, underpinned by very light supply.
Further west near Blackall, Athol was offered through an expressions of interest campaign, selling to a local pastoral family for $23.7 million. "That price reflected about $4300/beast area, which is well up from where that country was a couple of years ago, around $3000 to $3500/AE. In the old school, that's about $265/ac," Mr McLay said. "It served to illustrate the depth and the capacity that family buyers do have."
In the far west, Nockatunga, in the channel country was put up by Consolidated Pastoral Co as part of its sell-down of assets. The sale was reported at $50 million, which if true works out at $1870/beast area. It was purchased by an established pastoral family, again showing the depth of that family buyer market.
Further south near Condamine, Moira Runda was purchased by Paraway Pastoral for $13 million, showing around $5200/beast area, or just over $1000/ac.
In the Taroom/Wandoan district, Ionathe sold for $6.8 million to a family buyer, representing around $7500/beast area, which again is a firming trend. Another property near settlement in the same area will show close to $4000/ha ($1600/ac) once completed.
"The quality area around Taroom Wandoan has been a really strong market over the past year," Mr McLay said.