WOULD Australia go in 'all guns blazing' to cull feral pig populations if an African Swine Fever outbreak is detected here?
The answer is likely to be no, a biosecurity expert told the Toowoomba and Surat Basin Enterprise/Food Leaders Australia Protein 2020 conference in Dalby last month, one of the last agricultural conferences to be held before COVID-19 restrictions put an end to large gatherings.
While the COVID-19 virus has obviously dominated headlines since that time, concern about African Swine Fever in Australia has only risen as well, following confirmation it has now been detected in the Southern Highlands of Papua New Guinea, just a few hundred kilometres from Australia's northern coastline.
The infectious, deadly disease and eradication culls aimed at preventing its spread have devastated pig herds across Europe and Asia, and could be equally catastrophic to Australia's pork industry if detected here.
There is no treatment or vaccine and, in its most severe form, ASF can kill 100 per cent of infected pigs.
An insightful session at the Protein 2020 conference last month involving Biosecurity Queensland's David McNab and SunPork Farms' Tong Park piggery operations manager Rob Martyn, and moderated by TSBE Food Leaders Australia general manager Bruce McConnel, provided some timely insights into the threat ASF poses.
ASF is spread by contact with infected animals' body fluids, and can be spread by ticks that feed on infected animals. People are also a source of spread as they can move the virus on vehicles or clothing, while it can also be spread by feeding pigs uncooked garbage that contains infected pork products (See more information here).
Mr McNab described ASF as "a massively infectious disease", explaining that "once a pig gets sick it will just ooze virus". The virus can survive on different products, faeces and urine for weeks and event months, he said. "That is why it is going rife through Asia."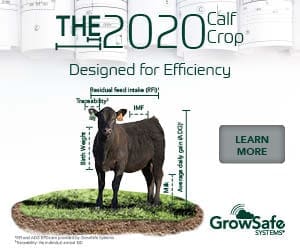 Its presence in PNG heightens the potential for the infectious virus to 'island hop' with people or animals across the Torres Strait and into Australia.
Just a single detection in a pig in this country – regardless of whether it was in a backyard pet or wild pig or in a commercially farmed herd – would devastate Australia's pigmeat and offal export trade, which was worth over $120 million in 2019.
In addition to the potential impact on Australia's commercial pig farming sector, questions from the audience, which included pig, cattle, sheep and grain producers, also went to how wild pigs would be managed in the event of an ASF outbreak, or another disease of major consequence such as FMD.
Mr McNab said a considerable amount of thinking and resourcing has been dedicated to feral pig management in recent years, which has included the appointment of a national feral pig coordinator by the Federal Government in November last year.
Would feral pig culls be ramped up?
He said that while many producers thought efforts to reduce feral pig numbers would be ramped up if a disease like ASF or FMD was detected in Australia, that was unlikely to be case in the initial stages at least.
"Queensland did a lot of thinking around FMD and feral pigs about 8-9 years ago," he said.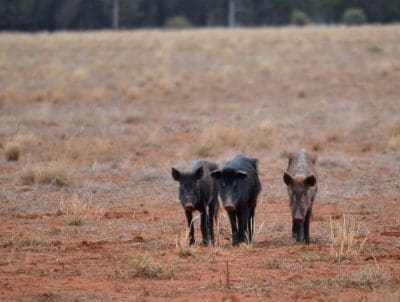 "And strangely enough – and producers regularly have great difficulty with this – if we get any of these diseases, we will not go in all guns blazing and start shooting feral pigs and getting rid of feral pigs, because that disperses them and that spreads your problem.
"ASF is so highly infectious and will probably result in killing 95pc of these animals naturally.
"We in fact are probably going to be far better just to leave it, and a lot of (feral) pigs die.
"We will concentrate on the good biosecurity you can do to stop the feral pig getting into your intensive piggery, and then after a period of time we would take actions and try to mop up the residual numbers, but a lot of thinking still needs to go into feral pig management."
Earlier in the session Mr McNab highlighted how serious the risk of catastrophic disease like ASF or FMD entering Australia is, noting that both diseases have technically already entered Australia, as documented by Australian Border Force testing of high risk travellers and detections of illegally imported meat products.
"That is mostly travellers bringing back in product from overseas," he said. "We tested a significant amount  in the past 12 months and we have had positive tests to ASF and FMD, scarily enough.
"But it hasn't transferred from that international traveller illegally bringing it in into other animals from there."
On-farm biosecurity now paramount
Mr Martyn said such detections meant that on-farm biosecurity was paramount now.
Biosecurity Queensland has developed an enormous amount of experience from dealing with exotic disease incursions in recent decades, which have included White Spot disease in prawns, panama disease in bananas, Hendra virus, Citrus Canker and Equine Influenza, among others.
Mr McNab said a key learning from those experiences has been the need for Government agencies to have strong working relationships with industry.
In the past 18 months since the emergence of the ASF threat globally, Biosecurity Queensland has been proactively meeting with pig farmers to ensure those strong prior relationships are in place, and he praised the industry for responding with "huge" producer engagement.
Backyard pigs a key risk
But he conceded that a weakness remains the unknown number of people in peri-urban areas with backyard pigs, who were very difficult to find and to communicate with.
"They are a high risk, but they don't see themselves as a risk because 'African Swine Fever is a problem for people who make money out of pigs'," he said.
"We have done quite a significant amount of social research in the past 12 months to delve into what their motivators are so we can communicate better with them, and we also have a significant swill feeding communications program.
"But they are notoriously difficult to communicate with because they are not part of normal industry, they don't communicate via the normal channels.
"We use the local Government channels, but even they are still not aware of everybody who owns a pig in their backyards.
"We do focus a lot of attention on them, but I can't say we have terrific engagement with them."
Mr Martyn said it would only take one positive test in a backyard pig operation for all exports from Australia to be shut down.
'it is a huge impact if one of those little fellas outside Brisbane tests positive'
"Then you have to prove that you are free before you can start to open those channels again, so it is a huge impact if one of those little fellas outside Brisbane tests positive."
Key takeawayes for other sectors
Asked for key takeaways for other sectors to take on board from a biosecurity perspective, Mr Martyn emphasised the importance of having a "very good biosecurity management plan in place", and, just as importantly, engaging with your State Government's biosecurity agency.
"Really engage with these guys, understand what your role as a producer is," he said.
He said producers should be doing everything in their control to minimise the risk of a biosecurity incursion. At Tong Park that included things like extensive buffer fencing around individual production units, shower facilities, rules on where people place their shoes, analysing every ingredient that goes into feed rations, and working with livestock transporters.
"It is the producers focusing on things we can control – get your fences up, get basic things right – and then start to worry about what do we do when this thing comes in."
Asked if the industry has done enough, Mr Martyn suggested that only time will tell.
"As long as we keep it out we will all say we have done enough, and as soon as it comes in we will say we should have done more."
PNG detection has triggered accelerated preparedness activities in Qld
Meanwhile, Queensland Agriculture Minister Mark Furner issued a media release on Tuesday saying the State was accelerating critical preparedness activities following the detection of ASF in PNG.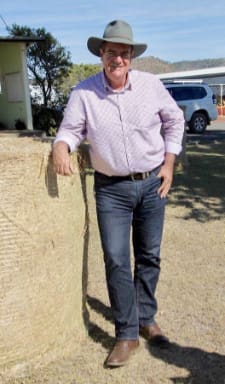 "Australia is free from African swine fever and we want to keep it that way," he said.
"If African swine fever became established in Queensland it would be difficult to eradicate and could significantly impact pork availability, jobs and the economy.
"That is why African swine fever prevention and preparedness remains a priority for Queensland and if it is detected here in Queensland we will respond."
Given Papua New Guinea was one of our nearest neighbours and the large feral pig population in Far North Queensland, it was important people were aware of how they could help reduce the risk of African swine fever.
"People illegally bringing pigs or pork products into Australia could introduce African swine fever, threatening our pork industry.
"While people can't be infected with African swine fever, it can easily be spread between pigs and can be spread on people's boots and clothing if not cleaned correctly."
He also added that COVID-19 restrictions would affect the way industry and government responds.
Biosecurity Queensland has considered the current restrictions and is prepared and ready to respond working within the requirements.
"It is crucial that all pigs, domestic and feral, must not have access to meat or food contaminated by meat. Food scraps and waste should be disposed of in a secure bin so pigs can't access and eat it.
"As COVID-19 is significantly impacting how we all go about our daily lives, the early detection and reporting of African swine fever is critical to stopping the spread of this disease.
"If you suspect your pets, farmed pigs or feral pigs have African swine fever, you must report it immediately to the Emergency Animal Disease Watch Hotline on 1800 675 888.
Learn more about African swine fever at qld.gov.au/AfricanSwineFever