TECHNOLOGY development company Xinova has signed a multi-million-dollar deal with Meat & Livestock Australia to help it find solutions and solve complex problems faced by the livestock industry.
Xinova, which was recently spun out of Intellectual Ventures, brings together a network of 10,000 experts from more than 100 research institutes, universities and companies with diverse qualifications. Its membership includes doctors, engineers and scientists, who collaborate to solve problems faced by a multitude of industries.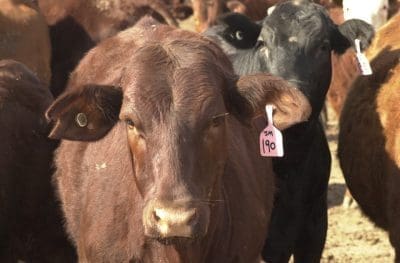 MLA has worked with Xinova since 2013, developing six projects to date, but the latest multi-year agreement gives the company the flexibility to tackle industry problems as they arise on an ongoing basis.
Two projects to emerge from the joint work over the past three years have focussed on better managing cattle stress to minimise dark-cutting, and removal of dags from grainfed cattle pre-slaughter.
To date it has been impossible for beef producers to identify whether or not an animal is stressed/glycogen depleted, but Xinova's research has developed a 'smart' tattoo to combat this problem.
The invention is based on a bio-sensor, applying a 'smart' tattoo. The tattoo uses a bio-reactive ink which responds, based on the animals blood-chemistry, to metabolic changes in the animal.
"A user will be able to look across his herd and if a cow has a red marker in its ear tattoo it will indicate elevated stress levels. Other markers might indicate a yellow if its temperature is elevated, or if a female is pregnant," Xinova executive vice-president and Australia and New Zealand head Paul Levins said.
"Usually an issue like pregnancy status can only be measured invasively," he said.
Using a progesterone-sensitive ink, when it comes time to pregnancy test breeding animals, producers could run the cows up the race and draft based on tattoo colour, providing significant labour efficiencies.
Another MLA/Xinova joint project focused on ways to manage dags (an accumulation of manure and dirt on the hide of an animal, particularly evident in British-based feedlot cattle after wet conditions). Dags may lead to greater risk of bacterial contamination in the abattoir as hides are removed.
Usually dags are hard to remove, so the organisations have developed a spray that's safe to use and causes the dags to dissolve, and slide off.
MLA donor company general manager Christine Pitt told the Financial Review in a recent article that MLA's latest agreement with Xinova was in line with the organisation's broader focus on "open innovation models."
"It gives us access to a large array of potential solution providers without having to find those people individually," she said.
"When we started the relationship with them we wanted to test it to see if it would work, so we did a range of projects with them from on-farm innovations, things that have been difficult for us to solve through the broader integrity system … then moving into issues that we think will help position the industry in the global marketplace like smart packaging."
Dr Pitt said the MLA and Xinova were still in the early stages of defining which problems it would tackle next, but the projects could be around issues such as how to use red meat as an ingredient in high protein snacks or developing smart packaging and increasing the shelf-life of meat.
She said the industry did not have a perfect track record when it came to adopting new technologies, but the whole sector was now looking at new, more innovative, business models around design thinking and rapid prototyping.