A Central Australian station is putting the question of how satellite tracking data from high-tech cattle ear tags can be used to the practical test.
Aileron Station is a 4116 square kilometre property 130km north of Alice Springs owned by Melbourne-based entrepreneur and investor Craig Astill and managed by Craig and Sarah Cook.
Over the past year the Cooks have been testing how movement data from cattle equipped with Ceres Tag and feed-on-offer data from Cibolabs satellite mapping of the same paddocks can be used to aid decision making on the property.
"We're taking our time and exploring what works for us and how we apply the tags," Sarah explained recently to an MLA BeefUp forum.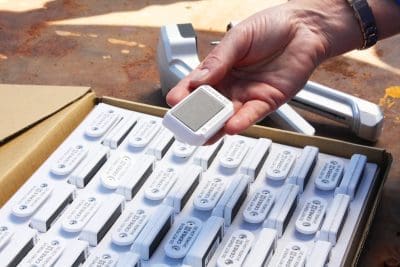 One question they wanted to answer was whether data provided by Ceres Tag and Cibolabs could help to provide greater clarity on the best time to move cattle from a paddock.
To help answer that question, four heifers with Ceres Tag were added to a mob that was moved into a spelled paddock at the start of Aileron's first round mustering season in May 2021.
Sarah said they felt that tagging four heifers would provide a good indication of what 60-70 percent of the mob was doing, based on observations by plane and on ground..
Further small loads of heifers were gradually added to the same paddock through to August, taking the total number to 360 head, each weighing around 300kg on average.
By September the heifers were starting to noticeably slip, she said, prompting a decision to move them.
However, two rain events then temporarily stabilised feed in the paddock, meaning the heifers were eventually walked out in late October.
"It is a learning curve for us at the moment, but on reflection, when we moved the heifers out, we thought we should have moved them a fair bit earlier," Sarah explained.
"So we asked ourselves, can Ceres Tag together with Cibolabs help us understand when we should have done that, and what does the satellite imagery tell us?"
To answer the question she displayed an accelerated-time video which showed how the tagged cattle moved around the paddock, as tracked by satellite, over the five month period they were there.
It revealed that for the first four months the cattle remained largely within a 3.5km radius of the water point.
From September, however, they began walking out further, and by October were walking into the farthest reaches of the paddock, out to a radius of around 15km.
Pasture biomass data from Cibolabs over the same period showed how vegetation within the 3.5km radius declined from abundant to low by October.
Sarah said cattle start to walk out when Total Standing Dry Matter falls below a threshold of 300kg.
The data showed that feed clearly declined between mid-July and the end of August, and the decline then accelerated.
Clear signals
She said the behaviour data provided by Ceres Tag provided clear signals on the best time to move cattle.
"(On analysis) Ceres Tag behaviour did predict that we should have moved the cattle at that point (September) or before hand, which was backed up by the Cibolabs data."
She said that some of the ways in which they see the Ceres Tag and Cibolabs data being used in future include improving feed budgeting decisions, providing better visibility of bulls during controlled mating, and better understanding paddock utilisation for decisions around fencing and water infrastructure.
Geofencing had already proven to be a useful function, alerting them when a heifer moved out of a paddock it was supposed to be in.
The tags had also provided a positive experience during a recent bushfire, with the enhanced herd monitoring data able to provide assurances their cattle were not in danger from the fire.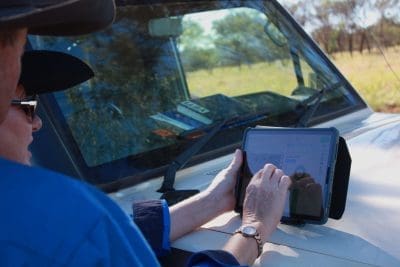 Owner Craig Astill said the Aileron Pastoral Holdings is accelerating its use of Ceres Tag, having started with 10 tags and moving to 90 tagged cattle last year.
The plan is now to increase that to another 200 cattle next quarter through mustering activities.
Aileron was the first cattle station in Australia to conduct a major application of the tags.
Ceres Tag tags are satellite connected and solar charged with a 10-year-battery life. They retail at prices starting from around a few hundred dollars per tag with prices changing depending on the volume purchased – more information on the Ceres Tag website here.
Fixing an 'Achilles heel'
Mr Astill said they began looking at different technologies a few years ago in order to better monitor, manage and appreciate what was going on across the remote property.
The 'Achilles heel' to that point had always been the difficulty of capturing information at the source down to the individual animal level on a daily basis.
"Ultimately, we want to be able to track the whole way through the supply chain from paddock to plate," he said.
"We scoured the world, but Ceres Tag was the only one from the point of creating a technology that could be used in a remote setting where communications are difficult.
"The data is transmitted directly from the ear of the livestock with constant monitoring, via a constellation of low earth orbit (LEO) satellites.
"This ensures data can be collected and stored securely without the need for any other costly infrastructure such as tower structures. It means we get supplied with information on a life of beast basis which is what was the key for us.
"It's great for farm efficiency and farm management. Even though I live in Melbourne, being able to remotely track, trace and find improves our understanding of what is happening on a daily basis at Aileron Station.
"We want to have visibility/transparency and able to have meaningful data-informed discussions with our station managers.  That's one of the key reasons we went down this path – stock loss, stock theft, stock roaming into neighbouring properties – there's cost consequences to all of that."