GINA Rinehart's Hope Dairies business has confirmed that its proposed $500 million powdered milk supply chain project in Southeast Queensland has been put on hold, with the land bought for the project now to be utilised for high quality Wagyu beef production.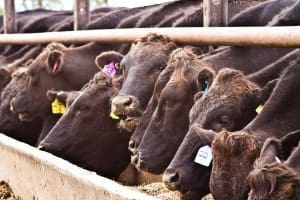 The exorbitant cost of accessing water for the dairy operation, and Queensland's movement restrictions on cattle, implemented to reduce the spread of Bovine Johnes Disease, have been put forward as reasons behind the change of plan.
Ms Rinehart's Hope Dairies last year bought more than 3000ha of quality grazing land in Queensland's South Burnett region to graze up to 16,000 dairy cattle for an infant milk formula manufacturing plant near Gympie. Ultimately the company wanted to acquire about 5000ha of farmland in the region, and was targeting first production in the second half of 2016.
Those land holdings will now be stocked with beef cattle or planted with forage crops, the company says.
A Hope Dairies spokesman said market conditions had become more conducive to Wagyu beef than powdered milk.
"We are continuing to invest in agriculture in Queensland, putting the land already purchased to use developing a beef cattle operation, producing both Wagyu cattle and feed to support backgrounding and growing operations for the cattle," the spokesman said.
"Market conditions are now more conducive to Wagyu than particular dairy products for one market," he said.
As reported earlier on Beef Central, Ms Rinehart made her beef cattle/land investment in Eastern Australia last December buying Dubbo district grazing properties Boogadah and Caigan, near Mendooran, from businessman Paul Saltieri, for a price suggested to have been around $25 million.
Perhaps more significantly, the deal also include Mr Saltieri's Greenhills Wagyu cattle herd, numbering about 3000 head, and including 1600 elite Fullblood females. It's possibly the world's second largest Fullblood Wagyu herd outside Japan, after the Australian Agricultural Co's operations at Surat.
That transaction was significant for two main reasons. It represented:
the first extension by Hancock Prospecting's growing beef cattle business outside of WA, into Eastern Australia, and
a major departure in the company's genetics and meat quality focus, from extensive 'commodity beef' produced in marginal regions of WA into the high quality premium grainfed end of the Australian beef industry.
Questions remained at the time about how, or if the Wagyu operations would integrate with Hancock Prospecting's extensive Pilbara/Kimberley cattle operations.
The Greenhills purchase represented possibly the largest Fullblood Wagyu herd transaction in Australia's history – roughly twice the size of the Australian Agricultural Co's $10 million purchase of Chris Walker's Westholme herd in 2006. The Greenhills business historically turned off about 600 longfed Fullblood slaughter steers and heifers each year.
Wagyu industry sources rate the genetics contained within the Greenhills herd as equal to the best in Australia, and every bit as good as AA Co's own Westholme cattle, which serve as something of an industry 'benchmark.'
Founded in 1997, Greenhills began with the purchase of elite 100pc Japanese Black Wagyu genetics from industry legend Shogo Takeda, from Takeda Farms, one of Japan's leading Wagyu breeders.
CQ breeders expanding Wagyu operations
In further evidence of the current momentum in the Wagyu breeding industry, Central Queensland beef producers Richard and Dyan Hughes confirmed to Beef Central during the Brisbane Show that they are substantially expanding their Wagyu breeding operations.
The Hughes' have run some Wagyu on their home property, Wentworth, near Clermont for the past 20 years, starting with a couple of American genetics bulls from Wally Rea's Overflow herd. The program scaled-up with an AI program over 400 females in 1997, and numbers on Wentworth built to around 2000 Wagyu-infused breeders ranging up to purebreds in the past few years.
The Hughes' are now shifting the genetic emphasis on their second, larger breeding property, Strathalbyn, further north on the Burdekin River, which will gradually move to Wagyu production.
Strathalbyn runs about 5000 crossbred cows in a normal year, but has been reduced in numbers because of the drought to below 4000 head.  Currently there are about 500 Wagyu F1s or better in place, and those numbers will rapidly grow with the introduction of more fullblood herd bulls.
"Originally we just liked the fertility of the Wagyu cattle – we weren't focussing so much on the meat quality traits for a few years, but that started to change as we put more focus on the Wagyu program," Mrs Hughes said.
"Fertility is a big driver of profitability, and being a moderate frame-score, easy-doing animal, they handle the dry conditions a lot better than what many might expect. With very little input, they'll deliver a calf every year."
"We've proven that at Strathalbyn now, to the point where we feel comfortable in introducing more Wagyu genetics in the breeding herd, than we have in the past."
Being in ticky country on Burdekin River frontage, the Hughes's are using rotational grazing to moderate the tick challenge.
"Everybody was talking about the positive feeling about the cattle industry that was evident at the Beef 2015 event back in May. But then we went on the World Wagyu Conference that happened straight after it at Yeppoon, and that dynamic feeling just went to another level," Mrs Hughes said.
"There was just an exciting buzz present among the delegates, about the future of Wagyu in this country. To me, the Wagyu is just the new Angus."
'Unbelievable' demand for bulls
Anecdotally, Wagyu seedstock producers across Eastern Australia are saying demand for Wagyu herd bulls has never been greater.
"It's unbelievable at present," one southern bull breeder told Beef Central. "In Victoria and southern NSW, yearling bulls carrying acceptable genetics are selling for at least $4500 in the paddock, and suppliers cannot keep up with demand."
"But the industry needs to be careful not expand too quickly. There could easily be a glut of Wagyu feeder cattle on the market in two or three years' time, if things go too far."