As leucaena pushes further south into areas previously considered unsuitable because of frost, learning which establishment techniques work best in each new area has been an exercise in trial and error for many producers.
At a Producer Demonstrate Site (PDS) field day at Bannockburn near Bell last Friday, property manager Steve Munge offered several practical insights into how the tropical forage has been managed in the Darling Downs location.
When Mr Munge and Bannockburn's owners Ranald and Sally Ferrier decided to plant 120 acres of leucaena on the property in 2006, they selected the Cunningham variety, because they'd seen how it had performed in the cool Wandoan district and locally.
They chose an elevated paddock to plant their first stand and treated it with Spinnaker herbicide to keep grass at bay for the first 12 months during the establishment phase. Mr Munge said the paddock was prepared in much the same way as country would be prepared to grow a crop of grain.
The planting of the first crop coincided with a "phenomenal" season which ensured that the leucaena struck well and got away to a great start.
The initial rows were planted at 6m wide spacings, a distance they soon found to be insufficient.
"We found when we came back to put pasture in between it, the leucaena had grown that much that we had a struggle to establish the grass between the rows, " he said.
"That was mainly because the roots from the leucaena had come across and they were drawing all the moisture out, and also the Spinnaker was still working really well."
That experience prompted Mr Munge to trial 8m wide row spacings when he planted the next plot in early summer. He then planted grass between the rows in late summer, but that proved to be a little too soon.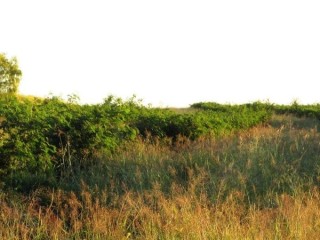 "We then found we got a great strike in pasture, and it actually held the leucaena back and prevented it from getting away as much as we would have liked."
In the most recent development phase, Mr Munge planted leucaena at 8m wide spacings, but prior to planting he confined Spinnaker applications just to the rows where the leucaena was to be planted, and cultivated between the rows to keep competition from grass at bay during the leucaena establishment period.
"In the next spring we put our pasture in, and that has been the greater success," Mr Munge explained.
Cattle are rotated between leucaena and grass paddocks on Bannockburn, and Mr Munge said he usually aimed to give most of the leucaena and grass paddocks a four to six week spell during the summer growing period to allow plants to bulk up.
He said it was surprising how much difference a few extra weeks of rest could make to leucaena during the summer growing phase.
"I have noticed that if you graze it hard and then spell it for six weeks, it seems to double its forage capacity in that fifth to sixth week," he said.
"If you come back too early you will get on top of it too quickly and it will halve the amount of feed you have got there, whereas if you just leave it for one or two more weeks it seems you can pretty much triple the amount of leaf you have got."
In terms of setting up leucaena paddocks, Mr Munge said he would be inclined in future to leave some sections of rows unplanted to make it easier to move through and to aid more efficient mustering of stock in mature stands.
The impact of colder temperatures on productivity was obvious in the height of the leucaena on more elevated plots compared to the leucaena planted on lower paddocks, and the longer time it took for plants in lower areas to regenerate leaf material in spring.
With frost in mind, Mr Munge said it was important to ensure leucaena in the lower paddocks did not enter winter carrying an abundance of leaf.
"That is when you kill the whole plant," he said. "It is my observation that if you get a really severe frost, and you have got a lot of leaf on you will kill that plant right back down to its base.
"If I can go into winter and keep a bit of leaf on, if it gets a frost it will only take those leaves off, and then come spring time we're ready go again."
Mr Munge said he was considering chopping back some of the longer established leucaena back soon in order to prevent it from diverting too much energy away from leaf production and into growing and maintaining timber.
He said it was also important to ensure that plants were grazed down before seeds were set to prevent plants from putting energy into seed production at the expense of leaf production, and to reduce the chance of seeds escaping to other paddocks through cattle manure.
After trialling various combinations of pasture, Mr Munge said he has settled on Bambatsi and Gatton Panic as the best combination for their specific situation.
"They certainly work the best, Bambatsi can really take a hard grazing and it comes back, it seems to be better if you keep it down and in check."