The efficiency of beef production (measured as kilograms of beef produced per adult equivalent per year) is one of the key profit drivers of a beef business. It is effectively a measure of how efficiently your beef operation and you as managers turn grass into beef.
The three main drivers of kg beef/AE are;
reproductive rate,
mortality rate and,
sale weight.
The Northern Beef Report found changes in each measure had the following effect on herd income (leaving stocking rates constant):
A five percent increase in reproductive rate will increase income* by seven percent (i.e. an extra 5 weaners from every 100 cows)
A one percent decrease in mortality rate will increase income* by two percent (i.e. one less death per 100 cattle run)
A five percent increase in average sale weight will increase income* by four percent (i.e. average sale weight of all animals sold increases by 5%)
(*Income in this context is gross profit, which is sales adjusted for purchases and changes in inventory)
In a breeding operation, the two main beef producing parts of the business are the breeding cows and the growing males, although value-adding of cull females can add a lot to productivity and the bottom line.
Using the Adult Equivalent methodology that Bush AgriBusiness developed for Meat & Livestock Australia, we can analyse breeding females and growing males separately, in terms of their efficiency of beef production.
In the first example a mob of 450kg composite breeding females are analysed over 12 months. They start and end the year at the same weights, so there is no weightgain from them. The analysis assumes a range of weaning rates, but assumes 5pc foetal losses from conception to calving and 5pc calf losses from calving to weaning. There is also a 5pc annual female loss included and they are weaning 180kg composite calves at 6 months of age. The graph below shows the kilograms of beef produced per AE per year from this scenario.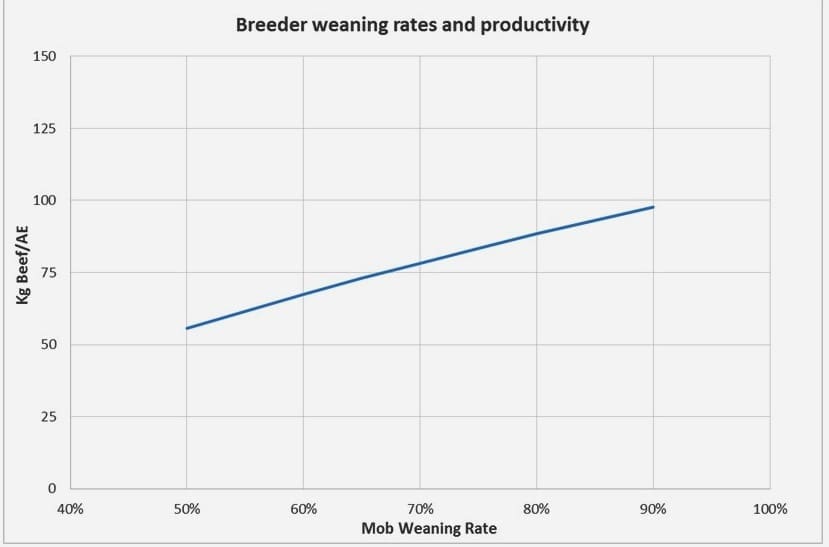 The efficiency of beef production goes from 55kg beef per AE per year at a 50pc weaning rate up to 100kg at a 90pc weaning rate. This indicates that the maximum productivity of the breeding females described, once fully grown, is around 100kg beef/AE/year.
To model the growing steers, we have taken the 180kg calves weaned at 6 months from above and analysed them over a two-year period, with weightgains ranging from 90kg/hd/year to 210kg/hd/year.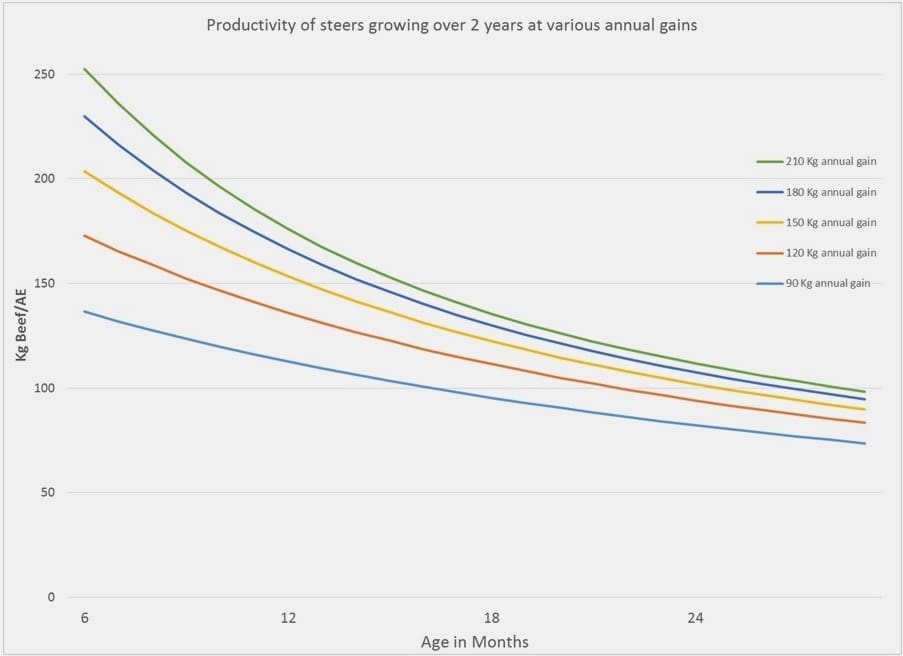 The above graph demonstrates that growing animals are more efficient at turning grass into beef than the breeding mob.
Even the lowest annual weightgain (90kg/yr) exceeds the maximum modelled from the breeder herd (100kg Beef/AE/yr @90pc weaning) for the first 12 months after weaning.
The graph also shows how the efficiency of the growing animals decreases as they get heavier, which is due to their increasing maintenance requirements as they grow. However the efficiency (Kg Beef/AE) of most annual weightgains exceed the calculated efficiency of the breeder herd up to (& beyond) the two and a half years of age modelled.
As well as grass, the other major input that must be considered when evaluating turnoff weight options is operating costs. A benefit of growing cattle in a breeding operation is that, generally, they cost less to run than breeders. A lot of the input costs and labour of a breeding business are associated with the breeders, and the growing cattle require relatively less time, effort and money.
The optimum point for any herd will be dependent on its genetics, the ability of its country and what its available markets are.
The principle is that breeding businesses should aim to maximise their reproductive rate, lower their mortality rate and turn cattle off at the heaviest weight that their country and available markets permit. This will increase the kilograms of beef produced per AE by the business, which is the most effective way for a beef business to increase income.
Growing out animals longer can mean receiving a lower price received, however the additional kilograms produced, which increases total income and lowers the cost of production ($/kg LW) of the business, more than compensate for this.
Financial analysis of beef businesses has consistently shown that cost of production is a key profit driver, while price received is not (refer to the Northern Beef Report for more information on this topic).
The above analysis also shows why trading or backgrounding businesses which buy young cattle and put weight on them can be profitable businesses.
However, it's not all beer & skittles for them. They also have to account for trading loss on cattle purchased (the kg they buy are usually dearer than the kg they sell) and the buy-in risk (being able to source quantity and quality of cattle required when they are required) as well as the amount and efficiency of liveweight production.
The number of adult equivalents (AE) run is a critical consideration.
Grazing businesses should know and plan around their long term carrying capacity, with adjustments made around this, based on available feed in the shorter-term. This will help the business maximise, and stabilise, the amount of beef produced over time. The AE tools which Bush AgriBusiness developed for MLA are accessible here.
Understanding and maximising the profitability of your beef business is the focus of the Business EDGE workshops, which Bush AgriBusiness conducts across Northern Australia. Two upcoming workshops will be held in North West Queensland at Hughenden on March 9-10 and Cloncurry on March 12-13. For more information on the workshops, Click here, or contact Ian McLean on 0401 118 191.