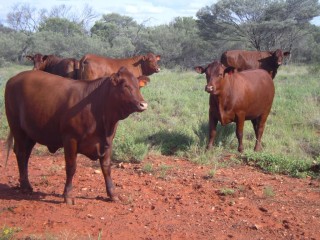 New research designed to better understand breeder cow mortality rates under extensive northern conditions is being undertaken under MLA's Northern Beef Program.
Breeder mortality and reproduction rates directly influence herd productivity and enterprise profit.
Past research and producer experience has demonstrated that annual breeder mortality in extensive grazing regions can often exceed 10 percent.
However these levels can be reduced to less than 5pc with strategies such as early weaning, botulism vaccination, supplementation including wet season phosphorus (P) and dry season urea (NPN), and conservative stocking rates.
Evidence suggests breeder mortality rates in the Northern Territory, Kimberley and Pilbara regions of WA, and possibly the north-west and north Queensland, could be much higher than many industry estimates.
Property benchmarking data analysis conducted last year by McCosker, McLean & Holmes suggested that breeder death rates are a major factor limiting profitability for many properties in the Alice Springs, Katherine and Pilbara regions (click here to see full MLA project report, B.NBP.0518, located in Beef Central's Industry reports section).
Property-level breeder mortality rates on extensive northern properties are particularly difficult, if not impossible to measure directly, which may partially explain the disparity between general industry estimates and emerging regional evidence.
Rather than attempting to identify dead or missing animals, accurate estimates of herd and breeder mortality can be determined indirectly from more readily available herd data such as male and female turn-off statistics.
As breeder mortalities increase (greater than 10pc annually) for example, there is a decline in the proportion of female turn-off (less than 40pc annually), an increase in proportion of heifers retained as replacement breeders (greater than 50pc) and a decrease in the proportion of total turn-off to calves weaned (less than 80pc).
The new Northern Beef Program project will investigate and report current rates of breeder cow mortality in extensive grazing regions of northern Australia. It will also provide guidance for future R&D investment decisions by MLA.
The project will develop a simple but robust indirect method of retrospectively estimating breeder mortality using property-level herd and turnoff data combined with simple herd modelling. Data will be collected from a sample of representative properties from each of several regions throughout the NT, Kimberley and Pilbara regions of WA and the northern and southern Gulf regions of Queensland.
Activity will involve direct collaboration with beef producers and individual property visits. All collected property data will be treated confidentially.
Contact: Project team member Alastair Henderson mirroongqld@bigpond.com 0427 729766.