BEEF producers from the New England region have earned the top awards at the 2017 Meat Standards Australia Excellence in Eating Quality Awards for New South Wales, presented at Tamworth last night.
The awards recognise producers who have achieved outstanding compliance rates to MSA specifications, as well as high eating quality, as represented by MSA Index results for beef carcases graded during the 2015-16 and 2016-17 financial years.
Jason and Ann Lewis, Jac Wagyu, Bingara, were judged the most outstanding MSA beef producers for the state. This award was open to any production system, with the exclusion of accredited grainfed beef.
Rangers Valley feedlot, based near Glen Innes, and owned by Japan's Marubeni Corporation, was awarded most outstanding grainfed beef producer. Cattle from feedlots accredited under the National Feedlot Accreditation Scheme that met the Australian Grainfed Standards were included in this category.
Central West beef producers, Angus and Lesley Tink, Tarawong, Mebul, were announced as the inaugural MSA excellence in eating quality progress award winners, for showing the greatest improvement in their MSA results since the 2014-15 financial year.
MSA program manager Sarah Strachan said NSW producers were to be congratulated for their commitment to produce beef that consistently achieves exceptional compliance rates to MSA's strict specifications.
"These producers are showing they are taking notice of that information to achieve results," she said.
The Lewis's from Jac Wagyu earned their title from a field comprising 5118 registered producers in NSW who consigned cattle during 2015-17.
During 2015-17, 51 percent of all cattle consigned to MSA from NSW were grainfed. Rangers Valley earned the grainfed title from a field of almost 100 registered producers who consigned grainfed cattle in NSW during 2015-17.
Throughout Australia, more than 14,000 producers consigned almost 5.9 million cattle to the MSA program during 2015-17, Ms Strachan said.
To be eligible for the awards, a producer's annual MSA-graded volume had to be equal to or above the average volume consigned for the state in which they were produced.
Each producer that met the eligibility criteria received a score out of 100 weighted on two factors – compliance against MSA minimum requirements, and eating quality performance as determined by the MSA Index.
The awards aim to raise awareness of best management practice from producers who consistently deliver superior eating quality beef in their state ultimately for the benefit of consumers and for the profitability of the industry.
Jac Wagyu wins NSW MSA honours
Crossbred Wagyu breeder Jason Lewis attributes much of his success to the use of Meat Standards Australia grading, and believes temperament is key to consistently achieving outstanding compliance rates to the program's specifications.
Jason and his wife Ann run Jac Wagyu as a vertically integrated operation in conjunction with Jason's parents, John and Lynne from their 2000ha aggregation, with the home base at Clevecourt, Bingara on the edge of the New England region. They market their beef within the Australian and export markets.
Last night's award came a year after Jac Wagyu was named as one of the top three finalists in the inaugural MSA NSW excellence in eating quality awards in 2016.
Jac Wagyu beef is sold in 14 Coles stores in NSW, Victoria, Queensland and Western Australia, and the Lewis's have successfully developed a premium line of rendered fat that is stocked in all Coles stores on the eastern seaboard.
Their breeder herd comprises 400 Angus and 100 fullblood Wagyu females that are used to provide replacement bulls. Cattle are usually turned off at weights of 650-700kg plus.
Jason Lewis said a major contributing factor to meat quality that has emerged from their past 10 years of MSA grading is temperament, and it has become a key selection criteria in the animals they keep.
"Wagyu were originally bred to work and they get around the paddocks a lot more than British breeds, so we've learned a lot about handling and educating the cattle throughout the growing period," Mr Lewis said.
"Even when we're transporting cattle to be processed, it's important to not send them in extremes of heat or cold because of the potential stress that in turn affects the meat quality as well."
Young cattle are yard-weaned for two weeks and started on supplementary feeding, and worked with Kelpie dogs to get them used to people and animals. Once in the paddocks, they are visited once a week on motorbikes and by the dogs, while grazing sub-tropical grasses and a hay/grain supplement.
Mr Lewis said 400 days later, they're a big, calm animal, and kept on a rising plane of nutrition in increasingly smaller free range paddocks with access to supplementary feed.
He said he's happy to keep learning about producing the perfect product, by constantly monitoring the MSA feedback.
"In this field (crossbred Wagyu) we are competing with some very large meat production companies, so we need to keep doing things better wherever we can," Mr Lewis said.
"We're dealing with a very high-value animal and asking quite a large premium from customers for our product, so it's important to aim for 100pc compliance."
MSA underpins brand integrity for Rangers Valley
For Rangers Valley managing director Keith Howe, Meat Standards Australia is the platform that underpins the company's beef brands and enables the company to build stronger, long-term relationships with domestic and global customers.
Mr Howe said MSA's science and practices ensure the back-end of the supply chain produces a consistent and premium product, and that gives him the freedom to work on the front-end of the business, including customers in Australia and the 30 countries to which Rangers Valley's beef is exported.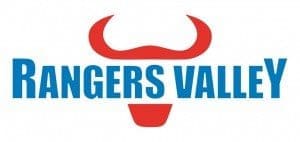 In Australia, Rangers supplies MSA-accredited Angus beef to the 'Coles Finest' program, turning off around 11,000 head annually for the brand from the company's base, north of Glen Innes in the New England region of NSW.
At Tamworth last night, Rangers Valley was awarded the 2017 MSA grainfed excellence in eating quality award. It is the second time Rangers Valley has won an MSA Award, having been judged 2016 NSW MSA Producer of the Year. Click here to view Beef Central's earlier profile on Rangers Valley published as part of our "Top 25 Lotfeeders" feature.
Mr Howe said Rangers Valley sourced young Angus cattle from breeders throughout NSW, Victoria and South Australia to go through the MSA program and supply the 'Coles Finest' brand.
"After being transported to Rangers Valley, the cattle are backgrounded in the feedlot's surrounding paddocks and depending on seasonal conditions, may be supplementary fed," Mr Howe said.
"The cattle are backgrounded for a minimum of three weeks as part of a pre-conditioning program allowing the cattle to settle, and very importantly, with their mob, before going into the feedlot to start their feeding term."
Low-stress stock handling is key to Rangers Valley's success in consistently producing cattle with high compliance rates to MSA. Among the initiatives the company has undertaken to further enhance animal welfare and boost productivity is the installation of woodchip bedding in pens to boost the comfort of their longfed cattle throughout the year.
"Our livestock procurement strategy is also an important factor in driving ongoing improvements into our MSA scores – working directly with our producer network focusing on a younger animal then our longfed program," Mr Howe said.
The cattle have the right genetics, good structural conformation and body condition before they start their 100-day feeding term.
He said underpinning the company's brands with MSA standards had been critical in building a platform that beef producers and companies could use to their advantage.
"MSA science has transformed meat grading and instigated good supply chain practices like breeding for temperament, low stress handling and welfare in the feedlot," Mr Howe said. "All of these things are incremental in making up the eating quality of beef at the end."
"We work with good producers to provide us with the genetics and deliver the cattle at the starting weight we require, when we want them. It takes a lot of collaboration."
Rangers Valley also exports grainfed Wagyu and Angus beef under its brands including Black Market, Black Onyx and WX to China, South Korea and European countries including France, Italy, Monaco, Switzerland and Finland.
Rangers Valley has about 40,000 cattle on feed, with 80pc of those going to supply the export beef market.
Source: MSA