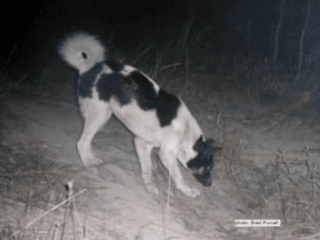 Which of the two dogs pictured contains the greatest percentage of dingo genetics?
These images were included in a presentation to a BeefConnect webinar delivered by Brett Carlsson from AgForce Queensland last Friday to illustrate the increasingly hybridised nature of Australia's wild dog populations.
The dog with the yellowish coloured coat was captured near Charleville in western Queensland. DNA samples confirmed it had 60pc dingo genetics.
The black and white dog was caught in the NSW Blue Mountains. DNA tests showed that it had 70pc dingo genetics.
The samples were taken as part of a national assessment of the extent of hybridisation across Australia's wild dog populations conducted by the Invasive Animals CRC in conjunction with WA's Department of Agriculture.
Their research showed that wild dog populations are now highly hybridized in the more intensively populated and farmed regions of eastern Australia, with populations containing more pure dingo genetics towards central western Australia (see map).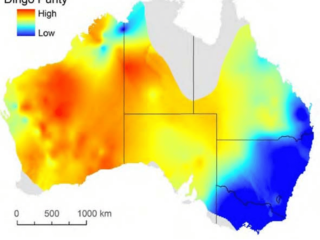 Mr Carlsson told the latest one hour FutureBeef/Beef Central webinar that the increasing hybridisation of Australia's wild dogs was changing the way control programs should be structured.
"The pest species that we're trying to control is changing, we are seeing a change in the dog," he said.
"We're (now) regularly seeing wild dogs breeding throughout the year in some places, depending on seasons of course.
"Rather than once a year, … it appears that multiple bitches in a pack may be producing litters rather than a single dominant female as you would expect with a purebred structure."
Footage provided by trail and remote cameras used throughout eastern Australia for monitoring wildlife and pest species was supporting that trend, with cameras now capturing images of wild dog pups every month of the year.
Hybridisation was effectively extending the breeding season, which had significant implications for management and control strategies.
Traditional management programs which were focused on using two major major coordinated campaigns to control wild dogs before breeding and again to control the litter after breeding were no longer adequate.
"Unlike in the past, where we could apply two coordinated control programs throughout the year to control wild dogs before breeding and then the second one to control the pups, in this case the first litter, we now have to apply control programs throughout the year to ensure we are controlling that second litter.
"We need to control dogs 365 days a year.
"Two big control programs still need to occur, but we need people to be on the job throughout the year."
In the webinar hosted by FutureBeef's John James (a full recording of which can be viewed by clicking on the video below) Mr Carlsson outlines:
Statistics showing that wild dogs are causing even greater losses to the cattle industry than the sheep industry;
The latest advice for using 1080 baits, including whether it is best to inject or roll baits;
Practical tips on improving the effectiveness of baiting, trapping, shooting, guardian animals and exclusion fencing;
Questions surrounding whether some dogs are "bait shy";
The progress of new dog control mechanisms including Canid Ejectors, lethal trap devices and PAPP baits (The PAPP baits offer the significant breakthrough of coming with an effective antidote. The active ingredient in the antidote is a substance called methylene blue, and has been appropriately trademarked under the name 'Blue Healer");
The critical need for management plans;
How the 'Nil Tenure' planning process is bringing a big picture approach and encouraging more unified, landscape-wide control strategies in each region.
To view webinar click on the image below