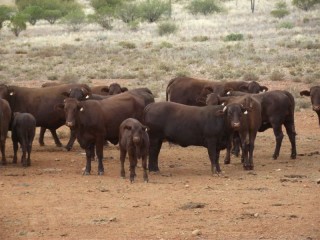 The confirmed sale of a large Alice Springs cattle station to a local pastoralist has underlined speculation that confidence is returning to the southern Northern Territory property market.
The 1200 square mile Erldunda situated 200km south of Alice Springs has sold for an undisclosed sum to a nearby pastoral operation, Landmark property agent Simon McIntyre confirmed to Beef Central yesterday.
Erldunda is considered one of the better developed properties in Central Australia with extensive infrastructure designed to support a low-labour and low-cost operation. 16 sets of cattle yards and an integrated network of connecting laneways for ease of stock movement are considered a feature of the property.
It is also strategically located with bitumen frontage to the Stuart and Lasseter Highways. Erldunda has the option of supplying the northern boat trade, however, like other Alice Springs region cattle stations, it is primarily geared to breeding cattle for eastern and southern markets and is not reliant on the live export trade.
The 6500 head Santa Gertrudis based herd bed over several decades by the Kilgariff family on Erldunda is considered a feature herd in the region.
Erldunda sold relatively quickly in a market that has been characterised by low sales activity this year. Registrations of interest were open over a seven week period and the property sold within that time.
"It has been sold to a pastoralist, a person that is already in the cattle industry who has purchased it as part of an expansion process," Mr McIntyre said.
"I'm not at liberty to indicate what the price was, suffice to say it was in line with the vendors expectations and in line with what we believe the market was prepared to pay by comparison to what was being achieved say three years ago, which is certainly less than $1000 a beast area."
Mr McIntyre said property was sold bare of cattle and plant.
He said that while many would describe the current market as tough, vendors who were prepared to put realistic expectations on prices would still achieve results.
"The reality is that business can and is happening and purchasers are willing to purchases, if you price something correctly this market will still deliver a result," Mr McIntyre said.
The Kilgariff family has conducted a Bed and Breakfast and tourism operation on Erldunda in the past which reflects its proximity on the main tourist route to Ayres Rock however tourism was not a significant component of this sale.
NT property trends
More than 20 properties are currently listed for sale in the NT, but sales activity remains low according to Herron Todd White.
In its October market review, the valuation firm said 14 cattle stations were for sale in Top End and another eight were on the market in the Alice Springs region.
The last period of major sales activity in the northern half of the NT occurred between 2008, when seven sales occurred (one corporate, six private) and 2009 when four sales were recorded (three corporate, one private).
The faster than expected resumption of the live export trade to Indonesia and the release of the Farmer Review had provided some reason for added certainty and optimism, however it would take at least 12 months and a full cycle of breeding and turnoff for producers to benefit from the revived trade.
While prices of the trade had returned to historically high levels, including $2.10/kg for steers, the strength was based on a lack of supply as many cattle had exceeded the 350kg weight limits for the Indonesia markets. Producers had instead been forced to sell cattle for lower returns to long-distance domestic markets to generate cash flow.
Another encouraging development AA Co's recent announcement that it will develop a processing facility south of Darwin within 12 months with the capacity to process up to 1000 cattle per day for export to the US, Europe and Asia.
Property prospects were currently brighter in the southern parts of the NT based on exceptional ongoing seasonal conditions and reasonable prospects for continued strength in the cattle market.
However HTW noted the cruel twist that has occurred with large areas of feed in central Australia having been lost to fire in recent months.
"Pastoralists are paying the price for the best feed reserves in twenty years with reportedly the worst fires in decades."
Two of the most recent NT property sales have involved the conversion of former cattle station into conservation zones.
The 405,000ha Henbury sold to RM Williams and the Federal Government in July for $13.5 million. Under the deal the property's 17,000 cattle will be sold off, with the land to be revegetated to generate carbon offset credits. Henbury will also be protected under Australia's National Reserve System.
Earlier this month the Federal Government partnered with the Indigenous Land Corporation, the Nature Conservancy and the Pew Environment Group to buy the 178,000ha Fish River Station on the Daly River 150km south of Darwin, also for $13m. It will also be gradually turned into a conservation reserve.
In June the 4410 sq km Marqua Station on the Plenty Highway near the NT/Qld border sold on a walk in, walk out basis for $7.22m.
• FREE DAILY NEWSLETTER: To receive Beef Central's free daily newsletter by email, enter your email address in the 'Stay up to date' area at the top right hand corner of the Beef Central home page