THERE is currently no Lumpy Skin Disease vaccine approved for use in Australia, according to the Department of Agriculture, Water and Environment.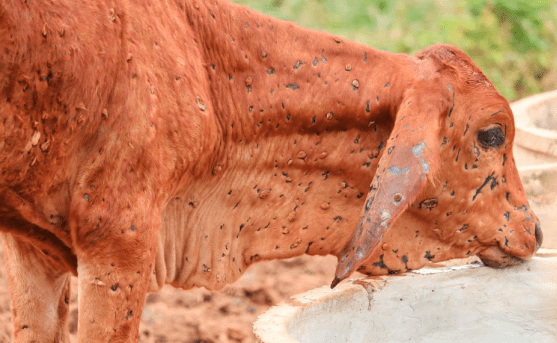 The Department says it is currently reviewing overseas vaccines to identify if any could be used on an emergency use permit.
"As the only vaccines available commercially contain attenuated live virus, Australia still needs to be able import live virus," a department spokesperson told Beef Central.
LSD has quickly become a front-of-mind issue for Australia's cattle industry since it was confirmed in Indonesia on March 3.
Its close proximity means there is now a heightened threat of the disease entering Australia's cattle or buffalo herds via windborne insects carried across the Timor Sea.
A single confirmed case in Australia would cause the immediate loss of live cattle export markets under existing trade protocols, Department of Agriculture, Water and Environment deputy secretary Andrew Tongue explained at the recent NTCA conference.
Live virus
The identification of LSD in nearby Indonesia has triggered debate over whether Australia should import the live virus to the CSIRO's Animal Disease Prevention Central high-level containment facility at Geelong in Victoria in order to develop an effective local vaccine and to strengthen diagnostic procedures.
Some have commented that importing the live virus poses too great a risk and Australia should instead use overseas research facilities to develop an LSD vaccine for Australia.
However, at a meeting last week the Cattle Council of Australia made the decision that Australia needs to throw its best resources at developing an effective vaccine, and is writing to the Federal Government requesting it approve the controlled importation of live Lumpy Skin Disease samples so CSIRO can start that work.
"If Australia can develop a safer, single-shot mRNA vaccine it will be a game-changer here and overseas," President Markus Rathsmann said.
Will the use of a live vaccine cut off market access?
One of the challenges with a live vaccine, and a reason they have not typically been allowed into Australia, Andrew Tongue from DAWE commented at the NTCA conference, is that once an animal is injected with the live vaccine, "we can't tell whether it is the real virus or the vaccine."
This meant that "the minute we stick a live vaccine in our cattle we have to declare to the OIE we have got LSD, that is the way the international system works".
Beef Central this week asked the DAWE for further clarification as to whether the simple act of vaccinating cattle in Australia against LSD with a live vaccine would result in the instant loss of trade access.
A statement from a DAWE spokesperson in response that was not necessarily the case.
"It is difficult to differentiate between vaccinated and infected animals, but not impossible.
"During a vaccination campaign, animals that are vaccinated would be identified via an ear tag or like.
"There are also diagnostic tests available that can assist during the acute infection phase.
"The OIE has recommendations for trade for animals infected with lumpy skin disease. LSD vaccination affects the time it takes to regain disease free status, it does not necessarily stop trade.
"The department would work with trading partners to try to maintain market access should there be an LSD outbreak."
Prevention measures
The DAWE spokesperson also outlined the prevention efforts Australia invests in to maintain its LSD-free status and to reduce the risk of incursion.
They include:
Stringent, scientifically informed import regulations for cattle skins and hides.
Rigorous inspection and quarantine protocols at Australia's national borders.
Strict import conditions to protect Australia from diseases entering through traveller, cargo and mail pathways.
(While these conditions are in place, LSD could enter Australia through natural pathways such as the translocation of biting insects).
DAWE constantly monitors the disease status of trading partners to manage the risk of importing products that may harbour lumpy skin disease.
It conducts evidence-based risk assessments which are used to set import requirements. "This helps mitigate the disease risk associated with certain imported products including bovine genetic material and dairy products."
Australia has nationally agreed response and cost-sharing arrangements in place to respond to exotic disease incursions, including lumpy skin disease. These arrangements are outlined at outbreak.gov.au.
The AUSVETPLAN response strategy for lumpy skin disease is part of Australia's national response arrangements. This document sets out the nationally agreed approach that would be taken to respond to lumpy skin disease if it occurred in Australia. The chapter includes an assessment of the role of vaccination in responding to an incursion.
Australia also actively engages with other countries in the region to address the emerging disease threat.