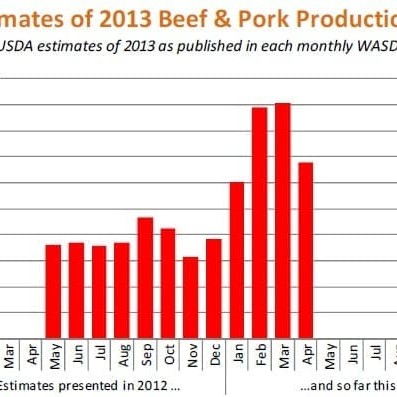 The US Department of Agriculture yesterday issued its latest monthly forecast for domestic beef production for the remainder of the year, suggesting a drop of close to one percent from the same report issued a month ago.
The chart published here, generated by Len Steiner and Steve Meyer at Daily Livestock Report, illustrates how the production estimate for US beef has evolved in the last 12 months, putting the latest forecast adjustment in some perspective.
Total US commercial beef production was estimated in USDA's April report issued yesterday to be 54.9 million tonnes, some 505,000 tonnes or 0.9pc less than the same forecast presented in March.
"The decline likely reflects expectations for a notable reduction in US cattle slaughter, especially in the second half of the year and a slowdown in cattle carcase weight gains," Daily Livestock Report said.
Smaller US feedlot placements will also continue to limit the number of cattle coming to market in the next few months. The slowdown in weightgains is also significant as last year the surge in cattle weights managed to offset a good portion of the decline in the number of cattle coming to market.
The USDA's forecast changes to imports and exports in yesterday's bulletin were relatively small, with import volume increased by 22,000 tonnes or 0.4pc, and US beef export volume reduced by 33,000t or 0.6pc.
The adjustments largely reflected trade flows based on USDA's February data and to a lesser extent the pace of weekly export shipments to date, Mr Steiner said.
In all, the latest WASDE report reduced the per-capita beef consumption figure by 0.7pc compared to its latest forecast and per capita consumption for 2013 is now pegged at 25.3kg, down 2.9pc compared to a year ago.
"Despite the reduction in meat availability, the price response at both retail and foodservice counter has been underwhelming," he said.
Mirroring this trend, pricing for Australian 90CL manufacturing beef exports to the US continue to disappoint. This week's MLA-reported price of 396.7c (Australian cents/kg, FAS) is down close to 7pc from the recent high point in December. That's despite earlier predictions of record pricing for imported 90CL in the US in early stages this year.
US live cattle futures dropped to contract lows in trading on the Chicago Mercantile Exchange on Wednesday. Canada also announced that it would impose about $1 billion in tariffs in US goods to compensate for the impact of Mandatory Country of Origin Labelling (MCOOL) on Canadian beef and pork coming into the US.
Canada is one of the largest buyers of US beef and the tariffs will likely impact US beef shipments to the Canadian market.
USDA's first forecasts for US domestic beef production for 2014 will be issued next month.