A target of "climate neutrality" appears realistically achievable by the Australian red meat industry by 2026, a report prepared by CSIRO scientist Dr Brad Ridoutt for Meat & Livestock Australia has found.
But on the question of "carbon neutrality" – the specific goal the Australian red meat industry has set itself to achieve by 2030 – the report's conclusions are less bullish (more below).
The purpose of the CSIRO report, which was completed in late March and published to the MLA website in recent days, was to identify and evaluate pathways for the Australian red meat industry to become climate neutral, whereby the radiative forcing (RF) footprint is stabilised or there is no net contribution to future warming.
The report describes "climate neutrality" as a target based on IPCC science and aligned with the goal of the Paris Agreement, involving the management of emissions to achieve climate stabilisation.
It says climate neutrality acknowledges that different targets are needed for greenhouse gases with different atmospheric lifetimes.
For methane, which has a short atmospheric lifetime, a goal of modestly declining emissions trajectory is consistent with climate stabilisation, the report states.
The project considered a range of interventions to reduce emissions and sequester carbon for their potential to help the industry achieve a goal of climate neutrality by 2030.
These included feed additives, forage crops, breeding for lower methane and improved herd/flock management, along with a number of vegetation management interventions including tree planting on farm (such as the Integration of shade and shelterbelts in southern Australia) soil carbon storage and savannah burning management.
A key point from the report is that the industry can continue to grow production while aligning with climate goals.
Climate Neutrality 'realistically achieveable by 2026'
The report concluded that climate neutrality appears "realistically achievable" for the Australian red meat industry by 2026.
Additionally, the goal was possible for the beef cattle and sheep meat sectors individually.
The feedlot sector had the potential to achieve climate neutrality by 2028.
"This distinction is most important for the Australian Red Meat Industry since biogenic methane is an important proportion of total GHG emissions.
"This approach differs from carbon neutrality, which usually involves reducing all GHG emissions to net zero."
The study showed that under a "business as usual" approach, the greenhouse gas footprint of the Australian red meat industry, calculated using the widely adopted GWP100 metric, would increase from 51.3 Mt CO2e (carbon dioxide equivalents) in 2020 to 63.5 Mt CO2e in 2030.
However, combining all of the various interventions listed above would enable the net GHG emissions to be reduced by 73 percent to just 17.3 Mt CO2e by 2030.
More than 80 percent of these GHG emission reductions were related to vegetation management, (i.e., tree plantings on farm, soil carbon sequestration, and savannah burning management), the report said.
While this was a substantial GHG emissions reduction, achieving Carbon Neutrality by 2030 (net zero GHG emissions) would require actions "exceeding those modelled in the study".
Carbon neutrality would require actions "exceeding" those in project
The Australian red meat industry has set a target to be carbon neutral by 2030 (CN30).
This means that by 2030, Australian beef, lamb and goat production, including lot feeding and meat processing, aim to make no net release of greenhouse gas (GHG) emissions into the atmosphere.
The report suggested the carbon neutrality target by 2030 is "realistically possible" for the sheep sector, but highly dependent on tree planting.
For cattle it would require actions beyond those modelled in the study.
The GHG mitigation and sequestration strategies chosen for consideration in the project were those considered to have a realistic potential for adoption prior to 2030, the report stated.
Climate Neutrality not a "lesser target"
The report states that a Climate Neutral target should not be considered a "lesser target" compared to Carbon Neutral or Greenhouse Gas (GHG) Neutral based on the GWP 100 climate metric.
There was increasing acknowledgement by the IPCC that the goals for short-lived GHGs are different from the goals for long-lived GHGs (IPCC 2021):
"Stabilizing the climate will require strong, rapid, and sustained reductions in greenhouse gas emissions, and reaching net zero CO2 emissions. Limiting other greenhouse gases and air pollutants, especially methane, could have benefits both for health and the climate." [Emphasis added by author of report]
The report said the Radiative Forcing footprint is based on IPCC science and is arguably more transparently aligned with the climate stabilization goal of the Paris Agreement.
"Indeed, there may be reason to reconsider the industry's current use of the GWP100 climate metric for GHG emissions reporting and target setting, as ongoing use of this metric by the industry affirms its applicability as a relevant measure of climate impact by the industry.
"It is also important to note that pursuing an industry Climate Neutral target does not interfere with individual producers or processors participating in GWP100-based reporting frameworks or labelling programmes should they choose to do so.
However, the adoption of Climate Neutrality as a standard by the industry would provide greater scope for producers to monetarise their GHG mitigation and sequestration actions rather than relying on these interventions to offset the biogenic methane emissions from livestock.
Importantly, the adoption of Climate Neutrality as a standard by the industry would provide greater scope for the industry to grow and contribute to global food supplies.
Meat & Livestock Australia response
Asked by Beef Central for its take on the findings, Meat & Livestock Australia managing director Jason Strong said it welcomed publication of the report, and provided the following written statement:
"This report uses published data, assumptions and modelling to track progress on the CN30 commitment and our journey ahead for reducing industry methane emissions.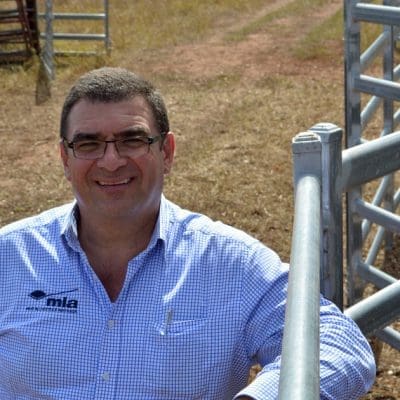 It is a valuable report as it helps MLA and industry to focus our investments and activities for maximum impact. The report also highlights that there are different methods and processes for accounting for industry methane emissions.
"We are very conscious of voices in the community/media/industry about:
different ways of accounting for methane;
challenges of how to commercialize new technology and support widespread adoption; and
questions around whether the targets are achievable.
We continue to listen to this information and remain firm that the CN30 target is delivering huge benefits for industry in its simplicity (easy to measure progress), clarity (easy to understand/aligned with global trends/targets), and purpose (to enable continued market access, community support, access to capital). We will continue to be open minded to the way that things change and progress.
MLA understands the challenges of CN30 and the need to rapidly bring new technologies to market. We know that it is possible to reduce methane by up to 90% by using feed additives; the next exciting step for research is making it work in the real world. Our commitment to this challenge is something that the industry should be proud of.
We have always reported progress to CN30 transparently and authentically.
The research report investigated potential progress based on a set of assumptions. It highlights where we need to focus investment over the next seven years to remain on a trajectory for success.
The report highlights the challenge ahead – but it also gives us the valuable opportunity to guide future steps for CN30.
CN30 has always been about setting an ambitious yet achievable vision for the industry. The original vision for CN30 was based on CSIRO modelling that showed CN30 was achievable with the right innovation, technology and adoption. This report goes to the core of what CN30 is about – investing in innovation to propel us to CN30. It shows we are on the right path and will help guide the industry over the next seven years.
MLA and the industry are absolutely committed to CN30. It is a globally recognised initiative and is having major traction with customers, governments and investors. CN30 is allowing us to demonstrate that the industry has made significant progress, having drastically reduced emissions since the baseline year of 2005. CN30 is continuing to drive innovation in our industry. It is also helping communicate that cattle, sheep and goats didn't cause the problem – but our industry is absolutely part of the solution.
This report focusses our efforts. It also reinforces the need for ongoing investment partnerships between the industry, government, and the private sector. Since 2017, MLA has co-invested $140 million in CN30 with plans to invest a further $150 million before the decade is out. MLA understands the challenges of CN30 and the need to rapidly bring new technologies to market. We know that it is possible to reduce methane by up to 90% through practices such as methane-reducing feed additives; there is more work to be done to apply this technology in the production system."