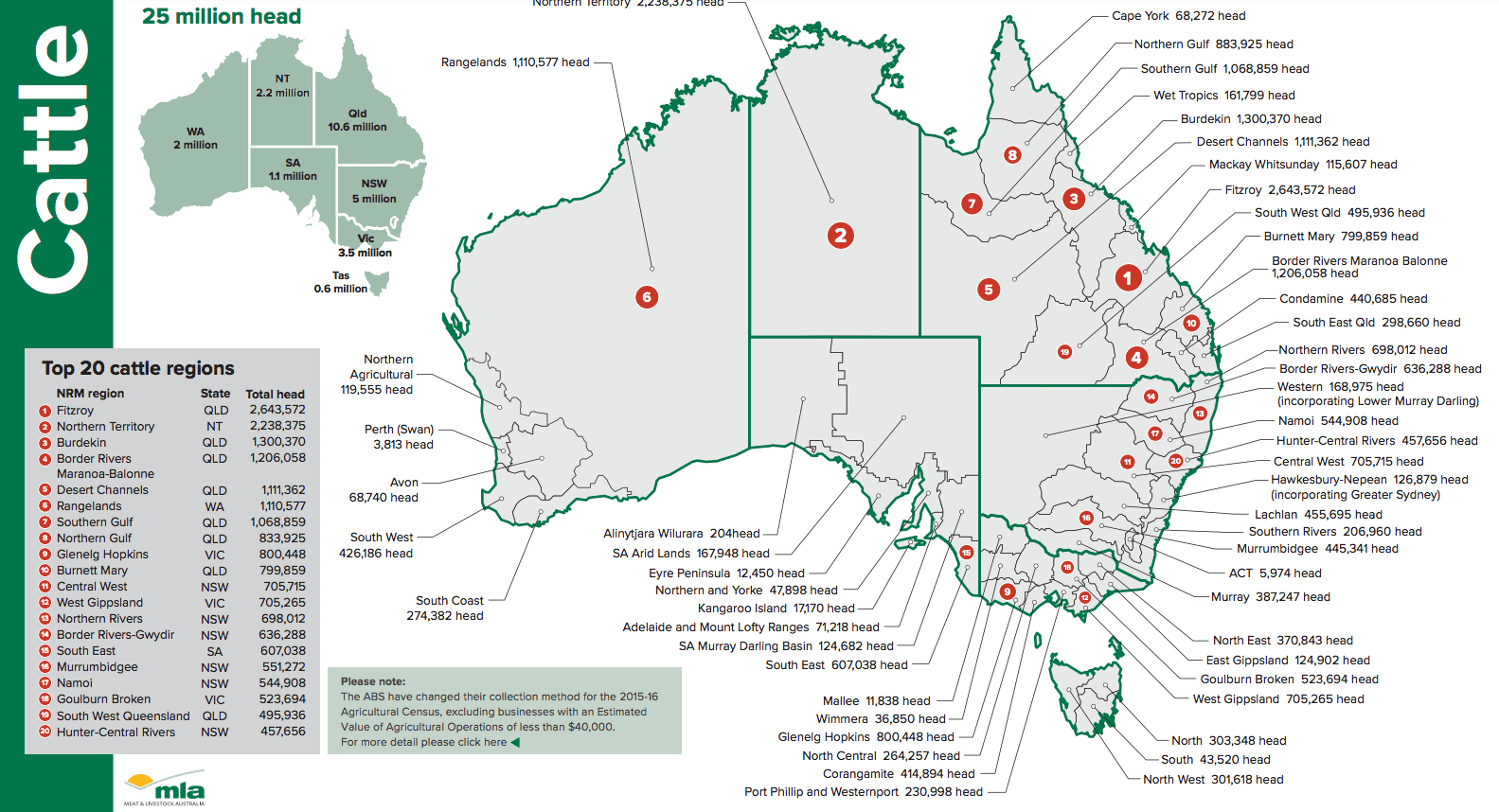 WHILE drought has stemmed some of the longer-term trend towards Australia's beef herd shifting north, Queensland retains its status as Australia's beef powerhouse, accounting for more than twice as many cattle as next largest state, New South Wales.
Meat & Livestock Australia recently put together a map of Australia's beef herd, broke down by 53 Natural Resource Management regions, based on the ABS 2015-16 Agricultural Census.*
It shows that Queensland (10.6 million head at June 2016) included seven of the top ten NRM regions for beef numbers, and eight of the top 20. Largest, at more than 2.64 million head, was Fitzroy, followed by the entire Northern Territory (a single region under NRM boundaries) at 2.23 million; Burdekin 1.3m; Border Rivers/Maranoa/Balonne at 1.2m; and Desert Channels 1.11m head.
As the accompanying map and table shows, New South Wales (cattle population of 5 million head) included six of the top 20 NRM region populations – the largest being the Central West region with 705,000 head.
Victoria (3.5 million head) accounted for three of the top 20 NRM regions, including Glenelg/Hopkins at number 9, with 800,000 cattle.
After the Northern Territory, the next largest state was Western Australia (2 million), which included the enormous Rangelands NRM region, occupying about 80pc of the state, accounting for 1.11m head. South Australia (1.1 million head) accounted for only one of the top 20 NRM regions – South East, in position 15, with just over 607,000 head. Tasmania's cattle population of 650,000 head, was concentrated in the North (303,000 head) and Northwest (301,000 head) regions.
Click this link to access the full map of cattle distributions across Australia.
* ABS has changed its collection method for the 2015-16 Agricultural Census, excluding businesses with an Estimated Value of Agricultural Operations of less than $40,000. The implications are discussed in this earlier Beef Central article.