BEEF producers will have the chance to 'steak' their claim on almost $60,000 in prizemoney in the Royal Queensland Show's 2017 RNA Paddock to Palate performance class competitions announced today.
Celebrating its 20th anniversary next year, the Paddock to Palate competition presented by Mort & Co Lotfeeders is offering $46,000 in prize money next year, making it the nation's richest beef competition.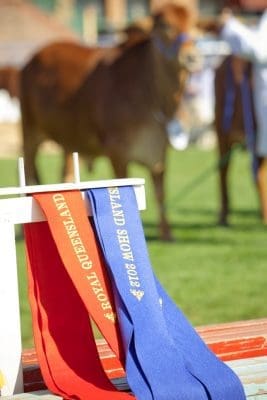 This year's Paddock to Palate 70-day and 100-day competition saw almost 800 head of cattle entered this year, with Riverglen Pastoral Co and RB & KK Lamoureux taking the major honours.
The three-phase competition comprises best aggregate feedlot weightgain over 100/70 days; a carcase competition and an MSA eating quality competition. The exhibitor who accumulates the highest aggregate score across the three categories is awarded the overall championship prize.
Entries for this year's Paddock to Palate competition must be in by Friday 3 February, but with the competition capped at 777 head of cattle for the 70-day domestic class and 518 head for the 100-day export class, beef producers are encouraged to nominate early.
New Wagyu competition reaches half-way point
Meanwhile, Australian Wagyu producers will also cash in 2017, with $10,000 in prize money up for grabs in the inaugural 2016/17 Paddock to Palate Wagyu Challenge.
The 330-day Wagyu competition, launched in March, is nearing the halfway mark after attracting 16 entries from three states in its first year. The winners for this, as well as the 70/100 day Paddock to Palate Challenge, will be crowned at an awards presentation breakfast at the Royal Queensland Show on Friday 11 August next year.
The Paddock to Palate Wagyu Challenge is also calling for entries into its 2017/18 competition, which will be held across 370 days, commencing in June next year.
The four phased competition comprises best aggregate weightgain; a carcase competition; carcase value and a beef taste test where a portion of striploin is cooked and judged.
Entries are open to pens of seven Wagyu and Wagyu-cross cattle (minimum F1) and nominations will be capped at 259 head (37 pens).
Entries close Friday 21 April, 2017, with the overall winner crowned at Ekka 2018.
RNA beef cattle committee chairman Gary Noller is encouraging producers of conventional and Wagyu cattle to get their entries in well before the closing dates, to avoid missing out.
"The competitions allow some of the nation's top beef and Wagyu producers to showcase their high quality stock and promote their product to the consumer, so they are well worth entering," Mr Noller said.
"The RNA is a proud champion of the Australian beef industry and our Paddock to Palate Competition and Wagyu Challenge set a benchmark for the industry, while also acknowledging the efforts of hard working primary producers.
"The competitions are regarded as the most comprehensive beef supply chain competitions in the nation, as they follow the product all the way from the paddock to the consumer," he said.
The feedlot phase of both the Paddock to Palate Competition and Paddock to Palate Wagyu Challenge will be conducted at Mort & Co's Grassdale Feedlot in Dalby.
Sponsors for the 2017 Paddock to Palate Competition include Mort & Co; JBS Australia; Zoetis; Elanco Animal Health; Rabobank; Grant Daniel & Long; Virbac; Performance Feeds; Thompson Longhorn; Super Butcher; Queensland Country Life; Black Truck Sales; Zee Tags and the Australian Wagyu Association.
Click here to access schedule information or to enter.
Source: RNA.