UNCERTAINTY over the impact that coronavirus will have on international meat demand is contributing to a dramatic 20-30c/kg decline on Queensland direct consignment grid offers this week, and up to 50c/kg in parts of NSW.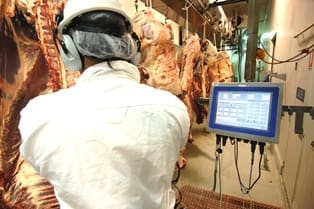 While Australia's export meat markets across north and south Asia, and North America were already flat prior to the arrival of coronavirus, the market outlook has only deteriorated further since escalation of concerns and government interventions over  the past week.
"Confusion" was the descriptor chosen by a large multi-state export processor contact to reflect the current state of play in the global beef market this morning, with increasing talk of recession and business paralysis ahead in many of Australia's key beef customer countries.
That comes on top of the 'disconnect' that Beef Central has written about a number of times in recent weeks, between rain-fuelled slaughter and store cattle prices, and what Australian meat can be sold for in international markets.
Southern and Central Queensland grids have dropped 20-30c/kg in one or two instalments since late last week, with heavy cows this week worth 530c-540c/kg and grassfed heavy ox, four-tooth, at 620c/kg.
Another large Queensland export processor has withdrawn from quoting altogether this week, confident it has adequate supply for the immediate future, and preferring to wait to see how market sentiment unfolds.
A large northern NSW export processor dropped its grids by 50c/kg in a single adjustment in the past week, with four-tooth heavy grass steer HGP-free now 550c/kg and heavy cows 500c/kg. That's a decline worth $160 a head on a heavy steer from prices offered last Tuesday.
Direct consignment slaughter cattle supply out of the paddock has improved over the past week, for a number of reasons:
Producers now appear to be sensing the 'top of the market', and are making the decision to sell now, to avoid further letdowns in price
Paddock conditions are drying out following earlier rain events across large parts of Queensland and NSW, allowing mustering of stock and consignment to get back to normal
Two short killing weeks are approaching with the Eastern break, reducing processor demand somewhat for slaughter stock.
Processors spoken to for this report indicated they are in a generally more comfortable position in terms of slaughter cattle bookings for the next couple of weeks, reversing a trend seen since around late February, when supply at times became a day-to-day proposition, leading to widespread daily closures.
"A number of producers are now sensing that we have seen the best of the current cattle market cycle, and want to secure kills in case offers slip further," one contact said this morning.
Meat sales outlook remains depressed
For most processors' meat sales desks, challenges remain on a number of fronts. Demand out of the US remains flat, and 90CL imported prices continue to contract, falling to 673c/kg CIF last week – down almost 300c/kg from the market peak seen in November.
Air freight services to Asia, which have played an important role in keeping markets like China supplied this year, have now been cancelled due to virus concerns.
While a 'mini-boom' has emerged in domestic retail sales in Australia in the past week (see yesterday's story), that is likely to be short-lived, once consumers reach the coronavirus-driven stockpile levels they feel comfortable with, one processor said.
On top of what Beef Central wrote about in yesterday's report, supermarket buyers were conspicuous this week in southern saleyards bidding strongly on slaughter cows that they can harvest quantities of trim from. Beef mince, produced from trim, has become the 'go-to' freezable item among spooked consumers seeking to stockpile foods in readiness for lock-downs due to coronavirus.
Despite that current elevated domestic retail demand for beef, that constitutes only a sub-component of overall demand for Australian beef production, and will not significantly offset export trade flatness.
"We think this domestic retail demand trend will be very short-lived, and could drop off a cliff in the blink of an eye, once consumers have to plough through all the frozen mince they have stockpiled in their newly-bought Tuckerbox freezers," a processor contact said this morning.
One the downside for supply, grain-finished cows that have been a significant part of some processors' kills recently are now about to run out, as the last of the cows that went onto feed before the rain impact set in are processed in the next week or two.
One Queensland plant said it was processing up to 1000 such cows a week in recent weeks, but that supply is now all but exhausted, as cows return to the paddock.
Kills fall further
Eastern states beef kills continued to decline dramatically last week as processors wind-back operations to match available livestock supply, and to keep prices in check.
The five-state kill for the seven days ended Friday reached only 111,138 head, down another 5pc on the previous week, and a dramatic 22,000 head or 17pc decline since this time a month ago.
All states recorded a decline in numbers, with Queensland's kill at 52,913 head down 36pc on this time last year.
NSW was down 4pc on the previous week at 29,201 head, while Victoria softened 13pc to 21,497 head. South Australia dropped 3pc to 3862 head, while Tasmania lost 22pc to 3665 head.