ONE of the startling features of the Eastern States beef kill so far in 2015 has been just how well slaughter numbers have held up, following the arrival of widespread rain.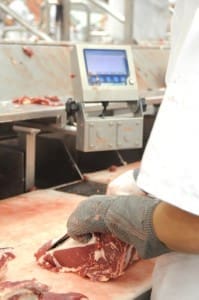 Despite a national beef herd decimated by drought over the past two years, the Eastern States weekly kills for the past four weeks have averaged 164,161 head.
That's about 5000 head per week higher than for the same four week period last year (includes the same public holiday allowance, and negligible impact from rain access issues either year).
There was widespread – perhaps universal – expectation late last year that processors would struggle for numbers from the get-go in 2015, because of the herd reduction, and determination to rebuild herds, given any sort of seasonal break.
The reason for the surprisingly strong start to the year is cattle price, supported by an A$ which has sat below US80c for the past month, and could still trend considerably lower.
While direct consignment slaughter cattle values have now come of recent highs (more on this below, and in a separate report on price influences tomorrow), they remain considerably higher than prices seen during the back-half of last year, when extreme cattle supply pressure applied, due to drought.
How long current slaughter numbers can be maintained remains the big question.
With the exception of Queensland, all Eastern states kills reported by NLRS last week remained well above where they sat this time last year.
NSW recorded throughput last week of 42,943 head, (up 4pc on the previous week, and +8pc year-on-year). Victoria killed 32,038 head, +11pc on a year ago, while South Australia was +8pc year-on-year at 10,162 head. Tasmania was up 1pc on last year, processing 5057 head for the week.
Unusual events hold back consecutive Qld kills
The outlier this week was Queensland, reporting 81,345 head for the week ended Saturday, unchanged from a week earlier, and down 3pc on this same week last year.
But there's some unusual contributors to that. As reported last week, there was a major stoppage a fortnight ago at JBS Dinmore due to IT problems that saw more than a day's kill lost at the nation's biggest beef plant. Beef Central can't remember the last time a Dinmore breakdown of that magnitude happened.
For the seven days ended Saturday, the impact of Cyclone Marcia in Central Queensland had a big impact on the state's most recent weekly kill, reported by NLRS yesterday.
As reported yesterday (click here to view earlier report), both JBS Rockhampton and Teys Australia Lakes Creek had dark-days on Friday, due to the loss of power. Teys Biloela killed only half a day on Friday before it, too, succumbed to localised flooding and power problems. That took an estimated 2300 off last week's Queensland kill alone.
This week, it will only get worse, with both Rockhampton plants unlikely to start the chain at all. Some reports suggest JBS Rockhampton may not kill for two to four weeks.
That means an estimated 10,000 head of cattle lost to the Queensland tally for the current week, at least, although some of those cattle will be diverted to other company plants. Logistics are still being sorted out, but it seems certain that CQ cattle will be relocated north as far as Townsville and south to Brisbane to die in coming days.
The loss of that killing capacity for the short-term in Central Queensland will inevitably further impact supply and demand characteristics in the slaughter cattle marketplace. The knock-on effect will be significant, contacts suggest.
Large Central Queensland saleyards including Gracemere and Emerald have already cancelled this week's sales.
Grids show big drop
Even before the impact of Cyclone Marcia took effect on Friday, there were signs that Queensland processor grids were coming under further pressure, and that has continued this week.
Many SEQ grids are back another 15-20c/kg dressed weight compared with this time last week. None of that appears related to the cyclone effect, but purely market sentiment. More in that subject tomorrow.
Some Queensland plants have ceased quoting altogether, for the timebeing, satisfied with the flow of direct consignment cattle they have in front of them.
One large plant is booked solid for the next two to three weeks, and that includes a Saturday boning room shift to cope. It is accepting booking only for week commencing March 19. Further north, some plants hold solid bookings through to Easter.
That's put SEQ grids this morning at 420-425c/kg for four tooth grassfed ox, 400c/kg for best cows. Those prices are back 35-40c/kg from the peaks seen just three weeks ago. That's $136 down on a 330kg heavy steer and $112 on a 280kg cow compared with early February.
Easter will provide the next obstacle to Eastern States beef kill throughput, with two days lost in consecutive weeks in early April – effectively wiping 20pc off processor requirements each week.
Producers will have to be careful they do not flood the saleyards markets in coming weeks heading into Easter, otherwise the physical market could come under some considerable pressure.