Against a background of declining slaughter numbers in southern states, Queensland's beef kill last week not only held-up, but actually advanced three percent on the previous seven-day cycle, to just short of 89,000 head.
The reason? Price.
Our weekly kill report last week celebrated some of the most spectacular Queensland/northern NSW direct consignment price rises seen in a generation, and it had the desired effect of flushing slaughter cattle to market in considerable numbers.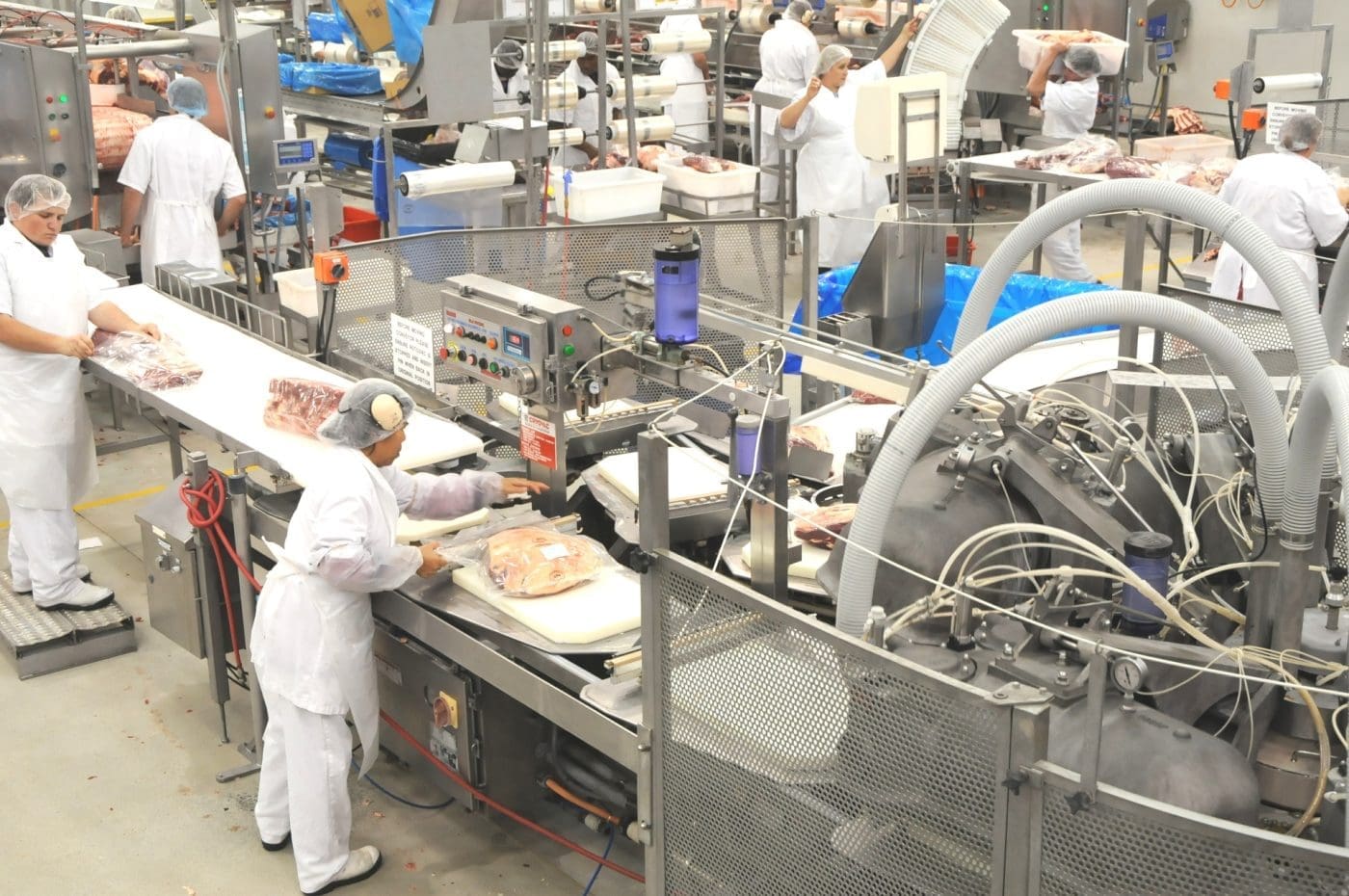 Whereas a week earlier, some Queensland export plants were looking at empty slots on their kill rosters less than a week in advance, bookings have since accumulated, taking at least a little of the urgency out of supply.
Some grid descriptions lifted 25-45c/kg in one hit last week, as processors reacted to sparse kill numbers. Grid offers have remained largely unchanged this week.
Here's a sample of some grassfed grid prices we've seen yesterday and this morning, for southeast Qld/Northern NSW kills in coming weeks: Best heavy cows – 485c/kg; milk and two-tooth heavy steer 500-505c/kg; four-tooth heavy steer 495-500c/kg; 100-day Jap ox 525c/kg.
Almost regardless of how much money is thrown at producers in coming months, however, eastern states kills will inevitably decline as the year wears on, as the collateral damage caused by two years of intense drought takes its toll. On top of that, August-September are traditionally hard months for processor livestock managers to manage.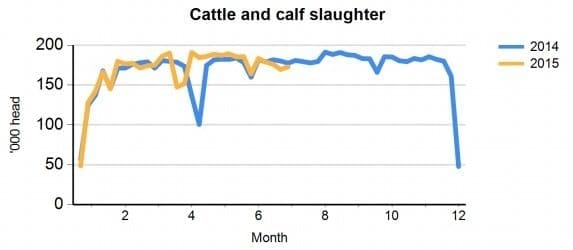 As this graph shows, the combined Eastern States weekly beef kills have recently crept below year-earlier comparative figures for the first time since a brief period in February (disregard the 'out-of-alignment' Easter windows). That will only continue to drop as the back-half of the year unfolds, processor contacts suggest.
Eastern states adult cattle slaughter has gradually reduced over the past two months, with last week's kill down 7pc from mid-May. However, to add perspective to just how high cattle slaughter still is, the average Eastern States weekly cattle kill from 2009-13 was 134,000 head – still 30,000 head below the current level.
In southern states, NSW last week recorded a kill of just short of 38,000 head, 4pc below the week previous, and -9pc on a year ago. Victoria was -3pc last week at 24,000 head, back 18pc on a year ago, while South Australia was -3pc at a little over 8700 head. Tasmania improved its numbers a little, shifting 5000 head, up 6pc on a year ago.
Prior to the huge drought-induced herd liquidation that commenced in 2013, the highest kill on MLA records was 155,000 head. Since the beginning of 2014, weekly slaughter has only rarely fallen below that figure – predominantly during weeks with public holidays.
There was a huge step-up in 2014, when the average weekly kill was 163,638 head, and for the year-to-date this year, the average is 164,549 head.
The southern states, and particularly Victoria, are where the most significant recent reductions have been, with last week's tally of 24,000 down 22pc compared with two months ago.
Looking forward, supplies are already becoming tighter in Victoria and as pasture conditions improve in NSW, the reducing trends are likely to continue. In Queensland, however, dry conditions may help sustain kills at relatively high levels until there is an improvement in feed and water conditions in the drought-affected regions. Rising, attractive prices in the north is the other factor that will stimulate that, but it can only happen up to a point.
Northern, southern prices starting to line-up
Queensland grid prices are now only 10-20c behind equivalent meatworks grids in some parts of southern Australia, after earlier being 25-40c behind.
But is it still profitable for processors to kill cattle at current rates?
Certainly a lot more of the supply margin is now being returned to producers, but while red ink may be being written on some cattle, other lines, including cows, remain at, or a little above breakeven, Beef Central understands. Further upside on meat prices, with the A$ sinking into the US72s over the past couple of days, is seen by some processors as the get-out-of-jail card.
This week's physical sales have seen yarding numbers drop away (Toowoomba was back 19pc, Tamworth down 12pc, Wagga down 27pc), perhaps partly due to softening in prices, which again are starting to line-up more with direct consignment rates.
Saleyards inevitably jump ahead of direct consignment at times of severe shortage as processors battle to maintain kills, but that now appears to have passed, with direct-committed cattle for SEQ kill now again on par, or a little better than saleyards rates.
The Eastern Young Cattle Indicator finished yesterday at 547.25c/kg, up another 4.25c on the week previous and 209.5c/kg better than this time last year.