The Eastern States slaughter cattle market appears to have found a level of stability, following the earlier dramatic price rises witnessed over the previous three weeks.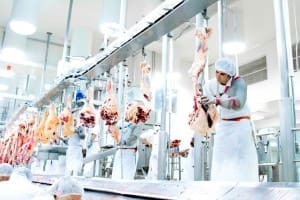 As reported on Beef Central last Tuesday, direct consignment slaughter cattle grid offers in southeast Queensland shot up 50-60c/kg dressed weight for many descriptions since late August, in some of the most dramatic slaughter cattle price movements seen in recent memory.
While pricing movements in southern Australia, where seasonal conditions have been much better, have been nowhere near as acute, they nevertheless followed the same trend.
This week, however, SEQ grids are showing much less volatility, and appear to have found some equilibrium in price and supply. Some grids have gone up another 5pc/kg on a week ago, while others remain unchanged over the past seven days.
Best SEQ public grid prices we saw yesterday for the key grassfed indicators were 355c/kg for heavy cow, and 380c/kg for grassfed four tooth heavy steer. Other works grids across the region remained 5c/kg behind those rates, however.
The big price movements seen earlier have had an immediate effect on slaughter numbers.
The eastern states weekly kill reported this morning by NLRS showed a five-states slaughter of 171,998 head for the seven days ended Saturday. That's a substantial 3000-head rise on the previous week, and sits not far from the all-time record weekly kill recorded a few weeks earlier.
The big difference however, is that the current high rate of kill is being fuelled heavily by the current 'price bonanza', whereas a few weeks earlier it was all about chronic oversupply in a drought-impacted market. In essence, big kills now appear to be heavily price-driven, rather than supply-driven, and that's happened in the space of three weeks.
The big money on offer has flushed cattle out across Eastern Australia, with all states bar Tasmania recording higher kills last week:
Queensland's kill was up 1pc to 87,533 head
NSW was +5pc at 41,228 head
Victoria was +1pc at 31,720 head
South Australia killed 9335 head, +11pc, and
Tasmania was back 47pc to 2182 head, evidently due to a seasonal closure.
The figures for NSW were particularly significant. Not only was it a large increase on a week before, heading towards record weekly kill tally territory, but the proportion of female kill remains stubbornly high, at above 54pc.
Big numbers of females continue to flow out of dry areas of Queensland into NSW and Victoria for slaughter, with operators like Primo (Scone), Greenham's (Tongala) and Atron (Casino and Meramist, Caboolture) continuing to take large cow volumes out of Queensland, at competitive prices.
As often happens on a rising market, while saleyards appeared to push ahead of direct consignment in pricing after the big movements, weight and grade has since more or less caught-up, at least in Queensland and NSW.
Physical sales held at Toowoomba and elsewhere yesterday had cows defying the recent trend and declining a little in price. One meatworks buyer had Toowoomba cows he bought yesterday at, or below equivalent grid-purchased cows, even with grid discounts applied.
Having made that point, it looks like there will still be substantial saleyards numbers around this week (2500 at Inverell today, for example), in response to the recent price hike.
The big question now is, "Is there still some upside to slaughter cattle pricing, or has the market reached its peak, for the timebeing?"
Some feel there still might be some upside, but it's certainly been enough to motivate cattlemen to muster paddocks and get the drafting cane out. Adding to that, southern Queensland and northern NSW oats crops planted back on early April rain are now on their last legs, and producers who took the oats option are now having to move cattle, regardless of their thoughts on the market.
The common view is that if it stays dry, weight of numbers could see values gradually drift away again. If the reverse happens and there is widespread beneficial rain, the reverse is likely to happen, perhaps even strengthening further.
Regardless, processors remain keen to get their share of the pie, in an export market heavily-fuelled by strong demand and near-record prices in markets like the US.
While southern slaughter cattle prices historically start to come off the boil a little any time over the next four weeks, it remains to be seen whether 2014 follows that trend, or whether the current circumstances over-ride that a little. The size of physical yardings into October and November will influence that trend.
While feeder steer and heifer prices have lifted a little in response to the recent slaughter price movements, to this point at least, the broader store market in Queensland/Northern NSW has not yet responded significantly, due to the weather.
The EYCI closed yesterday at 361.5c, up 4c on this time last week.