RECORD beef kills that have been notched up throughout the drought-plagued 2014 slaughter year also means record offal production, and we've decided to change pace this week from our normal weekly kill summary to focus briefly on the fifth quarter.
With the number of cattle killed across Australia for the first nine months of 2014 at just below seven million head, up 12 percent from last year's already high base, it goes without saying that there has been an abundance of Australian offal and by-products to find homes for this year.
The challenge is clearly reflected in data for Australia beef and sheep co-product exports for the September quarter, which at a value of $571 million, was 27 percent above the five-year average for the period.
Co-products include edible offals, animal fats, hides and skins, and meat and blood meals.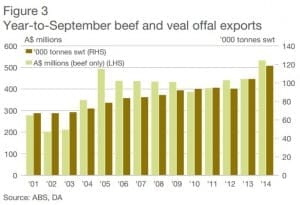 In the edible offal category, Australia exported 43,347 tonnes of beef and veal offals during the September quarter, up 14pc year-on-year and 27pc above the five-year average.
With Russia, a large offal buyer currently out of the market for political reasons, a lower A$ value has worked in exporters' favour in placing the abundance of offal meat into export markets at favourable prices.
Exports continued to the three major offal markets – Japan, Hong Kong and Korea – however Indonesia and South Africa emerged during the past few months to take significant offal market share.
Japan remained the largest market in terms of volume and value – taking 7460t (valued at $41 million) during the three months, up 4pc year-on-year. Skirt shipments to Japan grew 7pc year on year 2600t. Tongue exports remained strong during the quarter, with shipments up 7pc year-on-year, to 2520t. Intestines had the largest annual growth, up 22pc, at 920t.
The volume to Hong Kong, Australia's second largest beef offal export market, grew 7pc year-on-year, at 6700t. Hong Kong remained the largest tripe market, with quarterly exports increasing 6pc year-on-year to 6220t. Tendon shipments also increased, with volumes up 41pc.
Beef offal exports to Korea increased 5pc year-on-year to 6645t. Tripe and cheek meat shipments increased 41pc and 17pc, respectively, to 1650t and 1,640t.
Supported by a shift in the government's beef import policy from a quota to a price-based regulatory system in September 2013, Indonesia's offal imports have significantly increased, with year-to-September shipments a record 13,100t – up ten-fold on last year and 800t above the previous record in 2010. September quarter exports of 5721t included heart meat (2000t), tongue root (1100t) and liver (700tt) the highest volume cuts.
Australian beef offal exports to South Africa also grew significantly, with year-to September exports a record 14,600t, up 61pc year-on-year and more than four times the volume shipped ten years ago.
Egypt, primarily receiving liver, continued to grow as a valuable beef offal market, taking 1800t during the September quarter, more than double the same period last year.
With strong overseas demand, many offal items trended dearer year-on-year and compared to the previous quarter.
High international muscle meat prices, in particular 90CL grinding beef, have also pushed many consumers in South East Asia out of that market and towards lower-priced offal items, such as liver and heart.
Eastern States kill remains at extreme levels
There were no surprises in last week's Eastern States beef kill reported by NLRS, with the five-states seven-day tally reaching 174,282 head, barely 2000 short of the all-time record set the previous week.
The big driver, again, was near-record kills in NSW and Victoria, as dry conditions continue to take a toll further south, as well as in Queensland.
Victoria's kill eased just 1pc last week to 33,667 head, still 29pc higher than this time last year, while NSW was 6pc higher than the week before at a record 43,659 head. That's 12pc higher than this week a year ago.
Queensland's kill last week was down 5pc on the previous reporting period, but still managed to process 81,349 head for the week, +13pc on a year ago.
Tasmania also recorded one of its larger recent kills, knocking 5166 head for the week, virtually unchanged from a week before, while South Australia was responsible for 10,441 head, perhaps a record for the state. The figure was 6pc higher than the previous week, and 15pc above year-ago kills.
As discussed in detail in recent kill reports, many large northern exports sheds will close for business on December 19, taking two to three weeks off before opening the 2015 season either week commencing January 6 or 13. That could create a serious backlog of cattle looking for a home, if there is not some widespread rain in the meantime.
Grids steady, but few processors looking for cattle
With only three full weeks of slaughter operations left in the 2014 year, direct consignment grids are becoming unstable, as most large processors are now well -covered for cattle the remainder of the year.
As reported last week, a number of Queensland processors have ceased quoting for the current year, while others say they have heavy commitments to rosters with only very limited space available. The concentration of grainfed cattle hitting the market in coming weeks is only adding to the problem.
Best Southeast Queensland grid prices evident this week, for limited numbers delivery mid December, included four-tooth grassfed heavy steer at 370c/kg down from 395c/kg at the peak, and best heavy cow now at 345c/kg, also back 25c/kg.
US outlook
On Thursday, USDA released its US slaughter and production statistics for October.
It was another month of lower US beef production, due to the supply shortages that have bedevilled US meat markets for the past few months. While some reports suggest speculators are responsible for driving up US beef and cattle prices, the reality is that the current record price action simply reflects a dynamic whereby the US and world consumers are clamouring for more beef, while at the same time US beef production has been steadily declining for the last three years.
The decline in cattle slaughter was compounded by a sharp drop in pig slaughter numbers.
Total US cattle slaughter in October was 2.641 million head, 9.1pc lower than a year ago. Female cattle slaughter in the US has been steadily declining for much of this year as producers hold back productive stock in an effort to rebuild the herd. For the last six months, heifer slaughter has been 4.24 million head, down 9.3pc compared to a year ago.
In addition to fewer heifers coming to market, producers also have significantly limited the number of cull cows they have sent to slaughter in recent months. October cow slaughter was 468,000 head, 14.8pc lower than a year ago. In the last six months, US cow slaughter has declined 17pc compared to a year ago.
Cattle and beef supplies are down and there are two major drivers for the decline. First, there are fewer feeder cattle overall since a sharp decline in the beef cow inventory in recent years meant a dramatic decline in the calf crop during 2013 and 2014. Second, producers are holding back more female cattle in an effort to bolster calf crop numbers in 2015 and beyond.