DIRECT consignment slaughter cattle prices typically slipped 10c/kg in Queensland this week, as recent weather and logistics impacts leave a surplus of unprocessed cattle for processors to deal with.
The Port of Brisbane has indicated that loading and shipping operations are now returning closer to normal, after operations were seriously disrupted by Brisbane's floods earlier is month.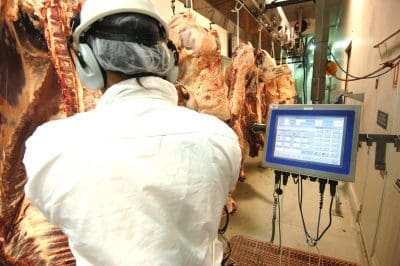 All available storage sites at the port for refrigerated containers were occupied last week, as beef shipments started to back-up after lengthy delays.
It meant that some Queensland processors had to suspend killing and boning operations after Thursday's shifts last week, because they had run out of available chilled and frozen storage on-site, and near the port. Click here to view earlier story.
A statement issued by POB this morning said the port was now moving closer to normal operational status.
The port's '24/7' operations resumed late last week, with container ships up to 350m in length now permitted, allowing normal scheduling procedures to be applied. Some operational limits, including daylight operations only, continue around Fisherman Islands and upstream of Pelican Banks.
Queensland processors say the delays and congestion in shipments was now starting to clear, with large container vessels bound for North Asia and the US loaded on Sunday.
Over the hooks offers ease
Recent delays across the Queensland and NSW processing sector caused by the combination of flooding, road damage and port and logistics impacts have left a backlog of slaughter cattle to process, pushing some direct consignment grid prices 10c/kg lower this week.
Both last week, and the week before, recorded national slaughter figures well down on the weeks prior to the arrival of the flood impacts. Additional to that, there are three consencutive short killing weeks ahead with Easter and ANZAC Day holidays, further reducing processor requirments through the end of April.
Shipping container access limitations remain yet another factor in the equation, and it's not unusual to see a small decline in offers around this time of year, as a few more cattle hit the market in Queensland.
Best offers from competitive Queensland processors this morning had four-tooth grassfed heavy ox at 820-825c/kg (depending on processor location) and heavy boner cows 755-760c. Those rates are still up 10-15c on grids seen as recently as mid-February.
Southern states are again more or less on par with those rates.
There were delays in NLRS slaughter reports for the week ended Friday – statistics will be added to this report when they come to hand.