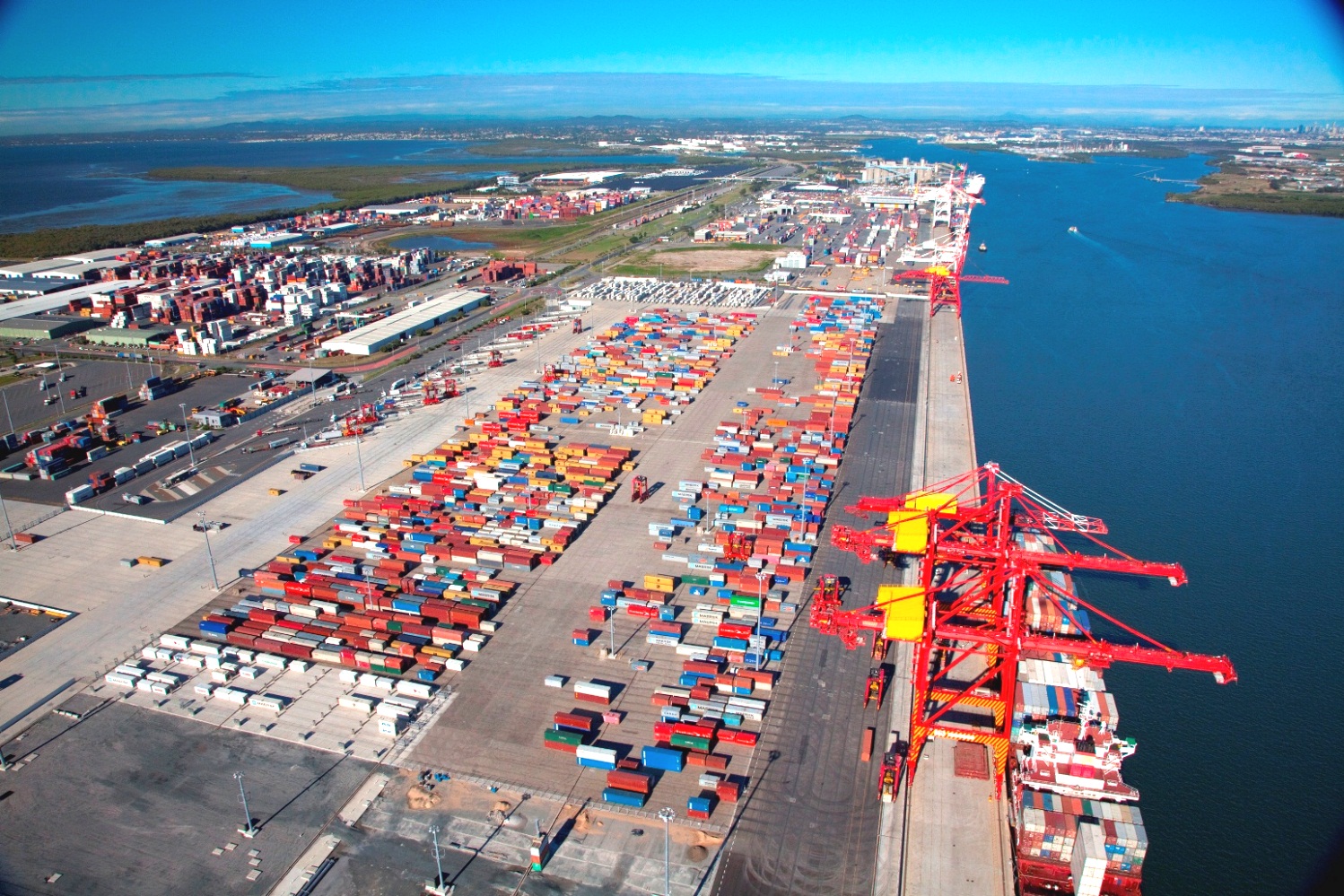 SOME beef processors in Queensland and NSW plan to suspend operations on Friday, as a result of the backlog of chilled and frozen beef now building up in containers at Port of Brisbane, and nearby bulk cold storage facilities.
Arriving and departing container shipping traffic through the Port of Brisbane remains heavily constrained this week, limited to a few small vessels to selected destinations only.
As reported on Beef Central on Monday last week, the Port of Brisbane was shut on Saturday last week due to record flooding in southeast Queensland, and is only gradually coming back into service.
In a statement issued yesterday, port authorities said there were still well over 160 underwater debris obstructions identified downstream of the river's Hamilton reach, and 60 navigational aids near the port rendered inoperable.
"This debris is being removed and aids fixed or replaced as soon as possible, when it is safe to do so," the authority said.
Because of its location close to the concentration of beef processing facilities in Queensland and northern NSW, Port of Brisbane accounts for an estimated 60pc of all Australian chilled and frozen beef exports.
The latest events are being see as the 'straw that broke the camel's back,' given there was already significant stress on global beef supply chains before last week's flooding events.
To make matters worse, reports are circulating suggesting Russia's attack on the Ukraine will also impact container trade for the foreseeable future (see details below).
Here's what Beef Central has learned this morning:
Teys Australia has cancelled tomorrow's (Friday's) kills at its Lakes Creek and Biloela plants in Central Queensland, and its second shift at Beenleigh next week, as the stockpile of chilled and frozen containers reaches tipping-point. JBS is yet to make a call on plant closures for next week, but told Beef Central it was a day-to-day proposition at present, as its available container storages were close to capacity. Processing operations next week remain uncertain for these, and other large export processors, including Bindaree, Kilcoy and Oakey.
Grain and grassfed slaughter cattle are now starting to back-up for processors affected by the port issues and container storage crisis.
One company with access to 500 'plugs' (chilled and frozen container powered storage sites) through Qube Logistics at Port of Brisbane said it had now filled all available spaces. Casual powered storage spaces were now impossible to find.
Some logistics operators are hopeful that the first large container vessels may leave the port on Sunday, but the backlog would take weeks to clear.
Compounding the immediate problem is the lack of empty containers to deliver to meat plants, caused by the lack of incoming ships to ports. Some vessels carrying empty containers originally intended to berth at Brisbane are bypassing the northern port, and sailing to Melbourne. Those empty containers would then be loaded onto road or rail freight and shipped north, to processors that need them, at considerable expense.
Bulk cold storage for beef (pallets on cartons, not in containers) capacity around Brisbane is also 'basically full' for the same reason. Some processors have been ringing around commercial cold storage providers this week looking for space, without success.
Most large Australian beef processing plants have on-site storage for only two or three days' kill, meaning the only solution during the current log-jam crisis was to stop production.
The only way the current challenges will be resolved is for Port of Brisbane to completely re-open, relieving the pressure on holding and storage capacity.
"But this will take weeks, if not months to properly clear, because the industry was already coming off a really poor start, even prior to the arrival of the floods," one processor said. "The port was already housing excess container stock, even before last week. The minute the flood impact arrived, it over-loaded the system, virtually instantly."
Shelf-life issues
One large processing contact said the delays were already starting to disrupt supply for long-term beef customers overseas.
"Shelf life will also become an issue for chilled product, especially into more distant export markets, like the EU," he said.
"We like to get product into the EU within 80-90 days of production, but that's getting challenging, with current issues," he said. "It limits the amount of time the customer has to use it, after it arrives."
The ongoing logistics and container access challenges are also adding considerable cost to processors bottom lines.
One company said containers being regularly delayed because of ships being out of rotation had cost half a million dollars to his company's bottom line, due to unforeseen storage costs, which had never been seen before.
The current local problems would only be exacerbated by long shipping delays at East and West coast ports in the United States, due to COVID-related logistics challenges.
"If you start with a chilled product that already has 30 days age on it before it leaves Australia due to current challenges, it might sit on the boat off the west-coast ports of Oakland or Long Beach for another 30 days before its unloaded. It just accumulates right down the chain," one exporter said.
"Certainly in my 30-year working life in processing, this is the most significant logistics challenged the industry has faced," he said. "And it's not going to tidy-up and time soon. There will be a lot of meat companies from next week that will be seriously questioning whether they should put chilled product on the water to America, given the delays involved at both ends."
"Given the current economics with record high cattle prices, good luck with finding alternate markets that will pay as much for the same product, or freezing the product down to escape the chilled shelf-life issue."
Crisis management
The last three months, with COVID-related impacts on plant manning power in January, the direct impact of folds last week, and the latest logistical problems, would test the mettle of many meat processing companies in Australia, one processor said.
"Since January, we have effectively become disaster management centres – not meat processing centres," he said.
Long delays as the port recovers from last week's severe weather
In an update issued yesterday, Port of Brisbane said Brisbane River conditions had improved somewhat this week, however river velocity and turbidity continued to be a challenge due to the large amount of stormwater emptying into the river from the lower catchment areas.
The assessment of port navigational areas was ongoing, with debris being removed and aids fixed or replaced as soon as possible when it was safe to do so.
The Regional Harbour Master suggested the response and recovery process was in line with, or perhaps slightly ahead of the response to the 2011 floods.
"While the disruption is challenging, all parties are working collaboratively to accelerate the process," a spokesman said.
Sydney's Port Botany has also experienced operations problems this week, caused by heavy seas and other factors, as the Sydney region experiences its own flood event, however it remained open this morning.
Ukraine conflict likely to impact global shipping operations
As if the recent local challenges for export freight movements were not enough, it's now looking likely that Russia's attack on the Ukraine will have major impacts on global sea freight trade in coming months.
Container xChange chief executive Christian Roeloffs said his company expected the war to add to the stretched nature of global container supply chains, bringing yet more inflation, disruption and delays.
"Overall, the situation for container availability is likely to worsen, but this will vary by port and region. Central and Northern Europe is already congested, and any further trigger to the cargo flow will only worsen the state of container pileups," he said.
More demand was likely on the Asia-Europe trade for maritime shipments and equipment out of Asia, due to modal shift.
"For example, the Asia-Europe rail and road routes through Russia and Belarus are reportedly closed and/or being used by militaries. Borders with the EU are closed. The closure of air space across Russia and Europe has also reduced air-freight capacity," Mr Roeloffs said.
"Parts of the Black Sea and Sea of Azov are now dangerous or unpassable. There have been missile attacks on vessels and ship arrests and lane closures for commercial shipping. The Ukrainian seaports of Odessa and Mariupol are closed/damaged/under attack. Trade and container movements have ceased. Cargo and equipment are stuck at ports.
"Due to ongoing disruption to shipping in the Black Sea we expect container build-ups at ports to exacerbate at storage areas across the region."
"Maersk has pulled out booking shipments to and from any Russian ports (with exception of foodstuffs, medical and humanitarian supplies) and other carriers have started following."