BEEF processing in southern Queensland and northern NSW is in a state of chaos today, following record flooding and rainfall over the past four days.
Between 350mm and 600mm of record rain has fallen across large parts of the coastal region, representing the largest concentration of meat processing capacity in Australia.
Most of Queensland's larger beef processing plants are closed today, with some hoping to return to work tomorrow or Wednesday, while others are uncertain whether they will operate this week at all. To top things off, Port of Brisbane, at the mouth of the Brisbane River, has suspended all operations today.  POB is easily Australia's largest beef export port. See today's separate report in port and shipping disruptions.
Current circumstances are easily the worst seen for beef processing logistics and operations since eastern Australia's January 2011 floods.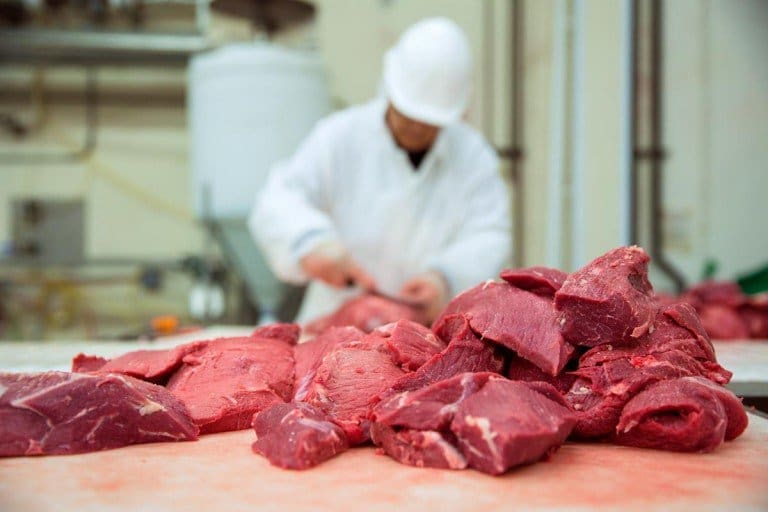 Many processors have already had a tough start to operations in 2022, having been exposed to staff shortages since re-opening for the new season in January, due to COVID sickness and close-contact issues.
Even beef plants not directly affected by the weekend flooding are being impacted in a number of indirect ways.
The challenges come from a variety of fronts:
Direct damage to plants themselves, or surrounding infrastructure
Inability for processing staff to get to work, or in fact get home via local road networks (see graphic references below)
Transport disruptions caused by major arterial road closures. The main north-south Bruce Highway connecting Brisbane with Cairns remained shut thus morning, with Main Roads advising it may re-open to light traffic only on Monday afternoon. The Warrego Highway heading west from Brisbane also re-opened this morning to some traffic, limited to light vehicles at this stage.
Large beef processing facilities typically have chilled and frozen on-site storage capacity for a couple of days' kill only, before consignments are trans-shipped to each company's larger pre-shipment storage facilities near the Port of Brisbane. Major highway road closures mean some plants will not kill early this week because their on-site storages are now near full, Beef Central was told.
Spoilage may be a possibility at some sites where power disruptions or staff access issues have occurred, Beef Central was told. Some, but not all plants have access to emergency power generators. Some plants apparently have chilled carcases waiting to be boned since kills late last week.
Access to potable (food processing grade) water may be a problem for some processors, with several southeast Queensland and northern NSW water treatment plants threatened by water damage or inundation.
Simply getting consignments of slaughter cattle off-property and delivered to some abattoirs will continue to cause problems in coming days.
Beef Central did a ring-around among some of the regions major processing operators.
JBS's flagship Dinmore plant, on the flood-impacted Bremer River west of Brisbane, was in the epicentre of the flood and rain impact. It will remain closed for 'some time', being currently without power, apart from emergency generators for cold storage.
"If Dinmore operates at all this week, it will be a miracle," JBS Northern chief executive Anthony Pratt told Beef Central.
Lessons learned from the 2011 floods meant swift action and protective measures activated by Dinmore staff had kept damage at JBS Dinmore to a minimum, Mr Pratt said.
"Our staff did a magnificent job in managing the situation, pulling pumps out of low lying areas to higher ground, sandbagging critical infrastructure and other preventative work," Mr Pratt said. "It meant the plant suffered only minor direct impact."
Few cattle were in the Dinmore yards at the time the flood struck, but those that were, were safely  shifted to higher ground.
Bruce Highway transport access for carton meat is causing blockages at JBS plants further north. Townville is closed today, but plans to kill tomorrow, while no other JBS plants (Beef City, Rockhampton), will kill before at least Wednesday, due to the inability to shift boxed meat to Brisbane port storage.
Teys Beenleigh has suffered no direct flood damage, Beef Central was told, but there had been some disruptions for staff commuting from the Beaudesert area. Teys Beenleigh is closed today and tomorrow at least, with decisions after that to be made later in the week. Teys plants at Biloela and Rockhampton are killing today and will continue, subject to advice about Bruce Highway access.
Lower rates of kill this year due to herd size is working in some processors' favour, in providing relatively more on-site cold storage.
Staff ferried by helicopter
Graphic accounts have emerged of extraordinary circumstances this weekend at some other Queensland plants.
The large Kilcoy Global Foods grainfed export plant north of Brisbane, which normally kills seven days a week, evacuated more than 100 staff by helicopter yesterday, after the river rose by four metres in an hour. Plant operations were apparently suspended mid-shift.
Key Kilcoy management and some 100 staff and have remained on-site at the plant for the past two days, with canteen staff working around the clock to support them.
After visibility improved enough for helicopters to operate yesterday, staff were ferried from the plant to Kilcoy and Caboolture.
"It was a heroic effort by many in the Kilcoy community," a KGF spokesman said.
No direct damage was sustained at the plant, despite the conditions. The plant completed a boning shift this morning, with some staff living closer to the Sunshine coast being helicoptered in to support operations. A night boning shift is planned tonight, and normal kill/bone shift operations are likely to recommence tomorrow.
With many commercial feedlots located on all-weather roads, access to slaughter cattle is likely to be less problematic for Kilcoy (grainfed only) than some other processors this week.
"We are still trying to get answers to questions about road access for heavy vehicles," the spokesman said.
General manager of the Northern Cooperative Meat Co at Casino in northern NSW, Simon Stahl said his plant had experienced enormous rain since the intense low had shifted south.
"The safety of our staff is priority one. Equipment can always be replaced," Mr Stahl said.
Many NCMC staff lived at Lismore, where conditions were considerably worse.
He said the business was 'hopeful' of raising enough staff to do a small kill tomorrow, "but we just want to see the rain ease up first, and how many staff we can raise. We'll make a decision this afternoon," Mr Stahl said.
"But everything else is secondary to preserving life at the moment. A lot of people in this community have friends sitting on roofs of houses. If they are not in the right head-space, it might be better to have a day or two off, until it all clears."
Nolan Meats director Terry Nolan said his family's Gympie abattoir had suffered considerable flood damage, including the by-products area and admin office, which went under a metre and a half of water. Nolans will remain closed for at least a week, he said. Unrelated to the business's operations, a Nolans staffmember passed away after being caught in local flooding on the weekend.
Australian Country Choice on the Brisbane River in Brisbane's inner east expects to kill as normal tomorrow.
Beef Central was unable to contact staff from other plants in the flood impact zone this morning, including Stanbroke, Meramist and Coominya.