RECORD high cattle procurement costs have continued to outflank some gains in export meat sales revenue, calculations made in Thomas Elder Markets' latest processor margin model.
Analyst Matt Dalgleish puts the July processor margin at a loss of $305 per head, after a somewhat 'improved' figure of negative $239 the month before.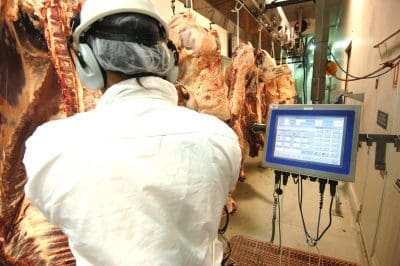 "After successive months of clawing back some losses, beef processors got stung in July with higher input cattle costs outweighing gains recorded in beef export market prices and the benefit of higher co-product prices," he said.
July saw 6-7 percent increases to slaughter cattle prices at the saleyard, and 3-4pc in some processor grids – a bonus to producers, but reflected in higher production costs to processors.
"Sometimes the higher domestic cost can be offset by gains in export prices and/or the increased value of beef product and offal sold offshore. Unfortunately, this wasn't the case for Australia's beef processors during mid-winter with export price increases averaging only 1-2pc gains on the month, and average co-product values lifting by 2pc," Mr Dalgleish said.
The July result brings TEM's annual average processor margin calculation to a loss of $297 for the 2021 slaughter season. Worth noting, however, the TEM processor margin model can be adjusted retrospectively, as updated input data is made available. For example the June 2021 figure was revised from a loss of $253 to $239, as updated prices and processor operating costs were factored into the model.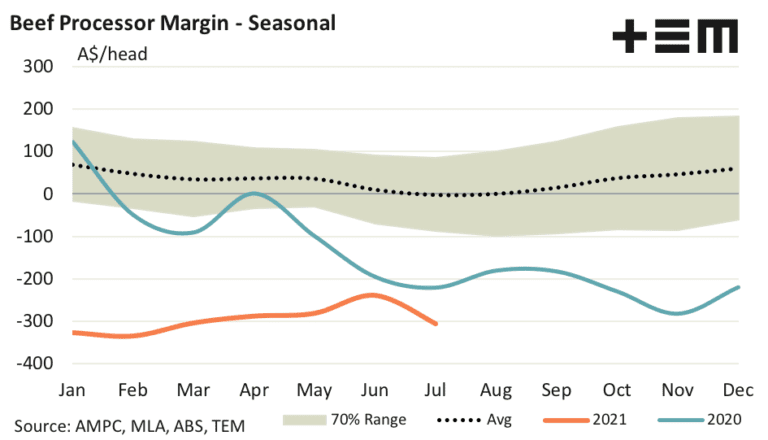 August figures are likely to show some improvement, processors have told Beef Central, because of the declining value of the A$ during the month, making our exports more competitive, and the continued progress being made in export and domestic manufacturing beef prices over the past month, as discussed in this earlier article.
Grids show little change
Direct consignment slaughter grids have finished August showing little movement, since a rise of 10c to already record-high numbers early in the month.
In southern Queensland, offers seen this morning have four-tooth HGP-treated heavy steers at 680-710c/kg, and good heavy cows at 640-655c/kg. With September approaching, some processors are reporting a winding-down of numbers arriving out of the state's north and northwest, forcing grids issued by plants in Central Queensland to rise 10pc to match rates from processors in southern parts of the state. Normally Central Queensland is 10c/kg behind.
Generally mild conditions and some early grass growth is seeing a few more slaughter cattle coming forward in Queensland this week, processors reported.
The opposite is the case in southern states where processors are still struggling to raise numbers.
Southern processors have been prominent at southern Queensland and northern NSW saleyards in the past couple of weeks, content to add the 15-20c/kg freight bill to already expensive cattle to bolster numbers. Cows and grass ox appear to be the main target.
A northern NSW export processor has offers out this week for cows and bulls only, with cows carrying desirable fat ranges 640c, and heavy bulls 550c.
Southern NSW and South Australian grids remain at record highs, with heavy steers hitting 810c/kg in some grids on four-tooth grass HGP-free steer, and cows at 680c/kg.
Reflecting the very tight supply conditions in the south, cows sold at Wagga sale yesterday reached a record high of 438c/kg liveweight, or around 830c/kg carcase weight.
In grainfed markets, some forward contract processor offers on 100-day cattle for late December delivery have eased a little, in anticipation of Christmas/New Year plant closures. Southern Queensland contract price for November and early December remains around 770c/kg, easing later in the month.
Slaughter numbers ease
National slaughter results for the week ended Friday saw numbers fall below 100,000 again, where they have remained for much of the year. The weekly tally reached 98,820 head, down 4pc on the week before. Numbers were only 3pc higher than this time last year (week 36), but August kills last year fell in a huge hole after widespread rain saw vendors pull large numbers of cattle off the market.
The female portion again accounted for barely 41pc of the total (40,985 head), suggesting herd rebuilding continues, at pace. A female kill of 47pc is considered the tipping point between rebuilding and liquidation.
Queensland's kill last week reached 53351 head, down 6pc from the week before (which ranked as the second highest tally this season). NSW also eased, down 2pc to 26,645 head. Victoria continued its long decline through the winter, falling yo 11,008 head last week, its second lowest weekly tally since the 2021 season got underway. South Australia was basically unchanged at 2483 head, while Tasmania also produced its second lowest kill this year at 2229 head.   Western Australia accounted for 2917 head, down 3pc on the week before.