WHILE better than earlier this year, trading conditions for beef processors remain at around a $300 loss per animal slaughtered, the latest Thomas Elder Markets margin model calculation suggests.
Some factors are going in processors favour at present, while others are going against them, TEM's latest processor margin model indicates.
The annual average loss for 2022 year to date sits at $319 per head and the trend so far this year is closely matching the pattern set in 2021 (see graph).
After hitting a loss per head of $321 in March, the model has seen margin losses ease toward $300 per head in April and May.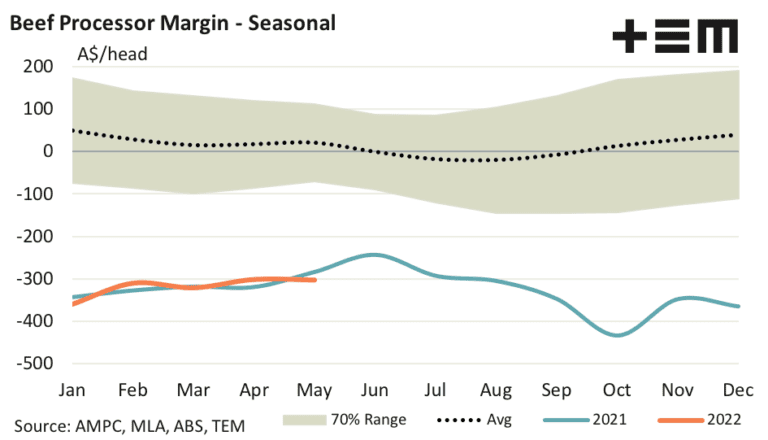 Cattle prices in Australia have begun to creep higher, reflecting higher input costs for processors, but some strong gains in beef export prices (particularly in the US) have helped offset the higher cattle costs.
Average co-product and offal prices have lifted about 2pc over May, helping to add some revenue to processors' bottom lines, but the release of the ABS electricity and wages cost index for the first quarter of 2022 shows power costs are up 5pc and manufacturing sector wages have grown by 2pc (see today's separate report on rising energy cost impact on processing).
Labour issues have been a particularly challenging factor for meat processors across the country this season, and the situation shows little sign of improving any time soon, TEM said.
Trained staff are in limited supply, COVID continues to be a threat to productivity (particularly in WA) and the current scheme of bringing in foreign workers is costly and ineffective.
"Bearing in mind that many processors are running at 50pc-60pc capacity presently, it begs the question how processing throughput can increase as the flock/herd increases with such a bottle neck on labour in the meat processing plants," TEM's Matt Dalgleish says.
2022 kill revised downwards
As reported on Friday, MLA has revised downwards its forecast for beef processing numbers for calendar year 2022, after a slow start to the year.
Significant challenges around processor capacity and throughput have impacted the full potential for production which has resulted in revised slaughter numbers to 6.15 million head for the year, down from 6.7 million forecast at the start of the year. If it proves true, the number will be the second lowest kill seen in Australia in 34 years, as the lingering impact of drought continues to be felt.
As favourable seasonal conditions remain through 2022 and the herd rebuild continues, the national herd is expected to grow by 6pc to reach 27.6m head. By 2024, the herd is expected to grow a further 4.6pc by 2024, MLA's Projections Update said.
"Southern Australia will continue to drive the national herd growth with persistent, substantial rainfall in the southern cattle regions of Queensland, NSW and Victoria," MLA's market information manager Stephen Bignell said.
"For northern Australia, they will require an above-average wet season in order to turbocharge their rebuild following a disappointing 2021-22 wet season."
Global economic outlook mixed
The global beef market appears likely to be pulled in two directions over the next 12 months, based on consumer confidence and outlook. An OECD economic outlook report issued this morning suggests there will be an overall loss of momentum in global economic growth over the next 12 months.
The result is due mostly to revised global growth forecasts due to the impact of the war in Ukraine, rising inflation, lower consumer confidence and continued supply-chain disruptions.
However the trend is not expected to be consistent across Australia's main beef export customers.
The OECD's Composite Leading Indicators (CLIs) suggest stable economic growth in the United States and Japan, but a loss of economic growth momentum in the European Union, the United Kingdom and Canada. Among major emerging economies, the OECD indicators now point to economic growth losing momentum in China and Brazil, but stable in India.
Direct consignment offers track steady for another week
Direct consignment processor offers maintained their remarkably consistent cycle again this week. There's been little real change in grid prices across eastern and southern Australia now since a 30c/kg reduction in typical prices before Easter – 11 weeks ago.
Several large Queensland export processors said they were reasonably well covered now for kills out to weeks commencing 10 and 17 July. One large southern Queensland operator was not operating at all through the saleyards channel on Monday and Tuesday this week., partly due to staff health issues expressed above, and paddock bookings into July.
In southern Queensland, competitive grids seen this morning have offers for heavy grassfed four-tooth steer at 775c/kg (780c in one case for HGP-free, or 770c implanted), and 715-720c/kg for heavy slaughter cow. In southern states, best heavy cows are making 720c/kg this week, with heavy four-tooth PR steers around 790c – not far off Queensland rates.
National slaughter
There was little change in national beef slaughter last week, with NLRS reporting a seven-day slaughter figure for the week ended Friday of 97,101 head – virtually the same as the previous two weeks. Queensland prodcued its highest kill of the 2022 year so far at 51,378 head, but this was still well-down on the previous year, and more than 15,000 head behind the equivalent week in 2020, when the industry was still only emerging from drought.
NSW last week accounted for 25,420 head, down about 5pc on the previous week, while Victoria's kill also fell, to 10,978 head, down 6pc on the previous week.