WEEKLY slaughter rates continue to recover from their slow start to 2022 caused by the COVID sickness issue in meat plants.
Last week saw a slightly reduced seven-day kill for the week ended Saturday, but remember it was a four-day working week last week, due to the Australia Day holiday.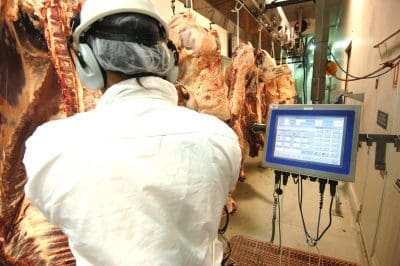 Nationally, last week saw production total 66,124 head, down only 9pc on the week before, despite the 20pc decline in potential weekly kill capacity. That suggests that overall, numbers being processed continue to strengthen in most states.
Several processors reported staff levels on the rise again this week, and killing capacity getting back close to normal. Others are still managing the challenge.
Female portion of the kill remained dramatically low last week at 35.6pc, suggesting that processors continue to prioritise male-heavy grainfed cattle that have backlogged during blockages earlier in January.
Queensland's kill eased only marginally last week – back 2pc to 28,059 head – as more plants in the state's central and northern regions returned to work for the year. Note that this figure is still dramatically lower than this time last year, when Queensland accounted for 36,800 head during Australia Day week, and 61,100 head the year before that, when the drought effect was still dominant.
Other states were impacted more heavily last week, with NSW back 24pc to less than 19,400 head; Western Australia dropping 14pc to 2645 head; and Tasmania, down 23pc to 3291 head. Going against the grain, mostly due to recovery in staffing levels after earlier COVID delays, were Victoria, lifting 6pc to 9634 head; and South Australia, lifting 26pc to 2450 head, despite working only four days.
What is clearly evident is the fact that processing plants that started their 2022 seasons earlier (i.e. week starting January 3) sustained their COVID absenteeism cycles earlier, while those further north which did not start their chains until closer to mid-January are still emerging from the challenges.
BOM forecasts for more rain totalling up to 100mm across parts of Queensland and northeastern NSW later this week could have some impact on slaughter cattle supply the following week, if only short-term.
Grids show softer trend
Early-season direct consignment processor grids continue to show a softer trend compared with late last year.
Offers this week remain patchy, with some larger multi-site operators currently withdrawn from making offers with a price beside them. However the general trend in Queensland is for 720-730c for heavy cows and 780-790c/kg for four-tooth grass steer, depending on location. Certified Grassfed steers are this week fetching 820-850c/kg and higher in Queensland, depending on the program.
Those figures are back 20-30c on cows and 10-20c on grass steers compared with final prices seen in 2021.  One large exporter has suspended offers again this week, evidently having topped up requirements for the timebeing. Some are still clearing the backlog of grainfed kills reported earlier due to COVID processing limitations, or still rolling cattle back due to sickness issues in-plant.
Quotes seen from southern states export processors this week have offers of 805c/kg on four-tooth steer and 720c on heavy cows.
Processor margins still heavily negative
Meanwhile Thomas Elder Markets' most recent monthly processor margin model shows processor losses in December remained dramatically in the red.
TEM's theoretical beef processor margin model indicated improved margins for the last two months of the year after the horror October calculation, when losses slipped to their worst ever at $434/head of cattle processed. A strong lift in beef export values helped reduce processor losses later in the year, despite a solid finish to the 2021 season for domestic beef cattle prices in Australia.
November saw processor margin losses reduce to $348 per head, according to the model. The very strong finish for young cattle in December meant that margin losses widened slightly to finish the year at $357, TEM calculated.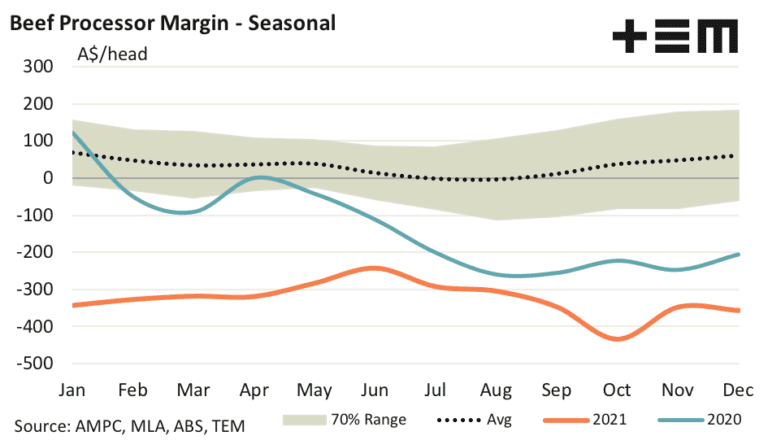 The annual average processor margin for the 2021 season came in as a loss of $326 per head, more than double the average annual losses recorded by processors in 2020 of $130 per head.
The long-term pattern for monthly processor margins shows that levels remain beyond the extreme loss boundary (see graph), despite the improved finish to the year. Historically, the previous toughest trading environment for beef processors was the 2016-17 herd rebuild phase when annual average margins recorded a loss of $129 and $121 per head, respectively.
However, given the increased cattle values over the last two decades, a more accurate measure of how extreme current per head processor losses are at present would be to compare them in percentage terms to the value of cattle. Current losses, as a proportion of the heavy steer price, have crept back inside the extreme range with the ratio sitting at -42pc for December 2021.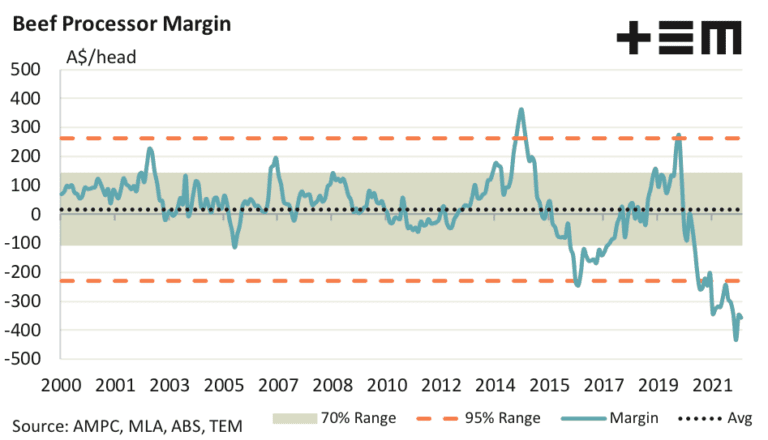 A scatter plot of annual average margins versus the annual cattle slaughter volumes shows the strong correlation between processor losses/profits and the variation in cattle supply.
Cattle slaughter in 2021 fell short of six million head, the lowest in more than 35 years, and the tight scenario has pushed processor margin losses to extreme levels.
Meat and Livestock Australia is anticipating adult cattle slaughter at 6.7 million head in 2022. Based on the previous relationship between processor margins and cattle slaughter TEM suggests this would indicate annual average processor losses for 2022 to be around $150 per head. Cattle slaughter closer to 7.27 million head area in 2023 should see margins begin to normalise and the model may start to record a profit.