There's been further rises in Queensland export processors' slaughter grid offers this week – driven in no small part by intense competition for local slaughter cattle from southern Australian processors who are being starved of cattle at home.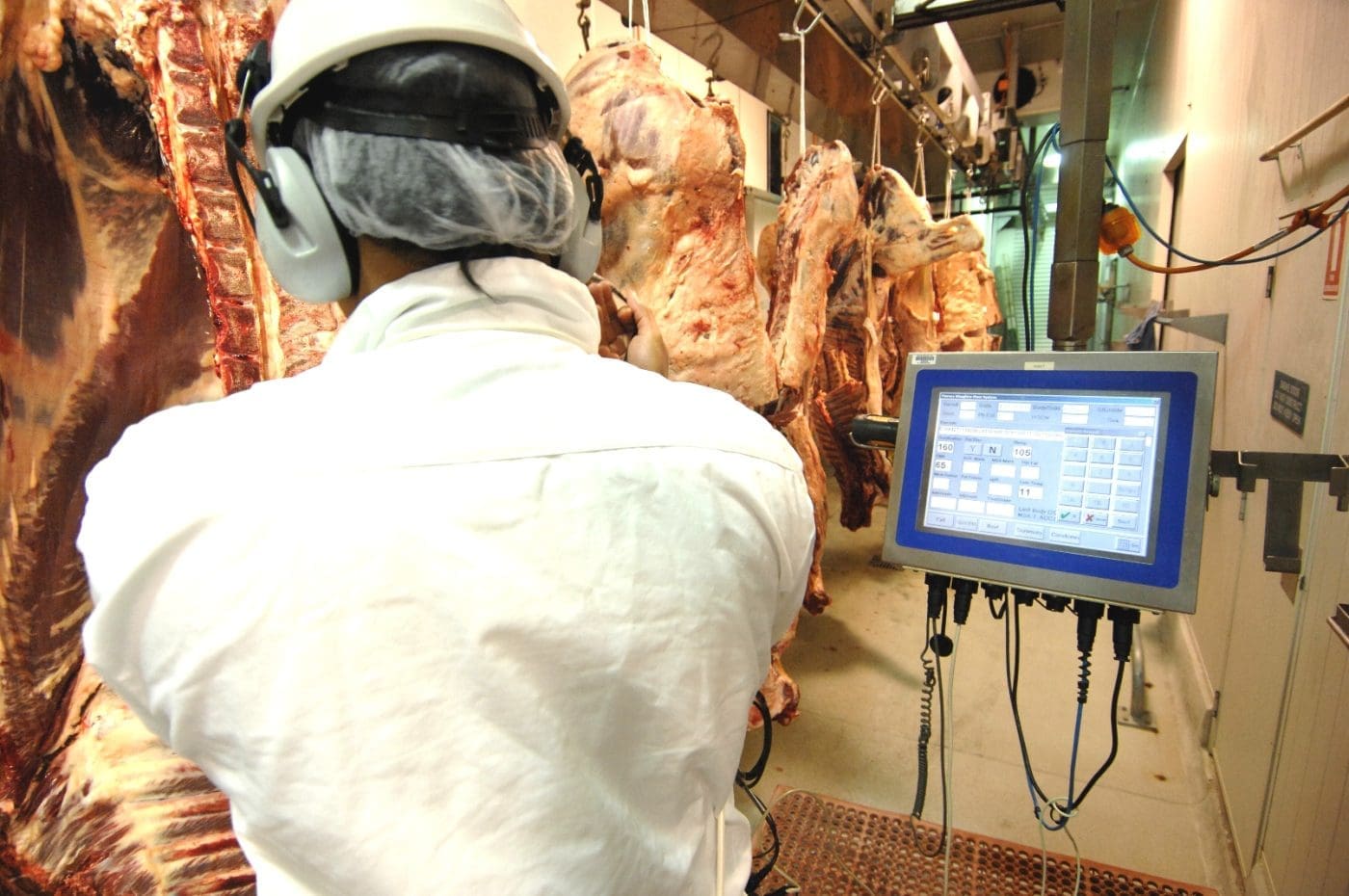 Two prominent cattle buyers suggested that five or six southern processor buyers (including Bindaree) operating at the weekly Dalby sale last week accounted for around 80pc of the slaughter cattle offered in the sale, once bulls were excluded.
And that came despite very low throughput in Victoria last week, with consecutive Public Holidays on Thursday (QE11) and Friday (AFL grand final) limiting operations to only three days.
While it's not particularly uncommon to see Victorian processors operating in Queensland at this time of year, the trend in 2022 has been acute, with five or six regulars lining up at many sales since August – including Midfield, Ralphs, Throsby, Bindaree and JD. That's despite an average freight bill of $150 a head to get the Victorian cattle home, meaning many slaughter cows could have cost as much as +800c/kg dressed weight equivalent landed Victoria.
"The south has been unusually influential this year, in how strongly the Queensland slaughter market has held up in recent months," one processor said.
"It just goes to show how acutely short of numbers at home they are due to weather and underlying herd recovery – especially as they only killed three days last week due to public holidays. If ever they had enough local cattle to get by, it should have been last week."
Processor losses grow
In further confirmation of deep operating losses for beef processors reported in last week's weekly kill summary (click here to access), Thomas Elder Markets has compiled its latest processor margin calculation, based on a typical processor model.
It showed an average loss in September per adult cattle slaughtered of $377/head, the worst figure this year (see graph).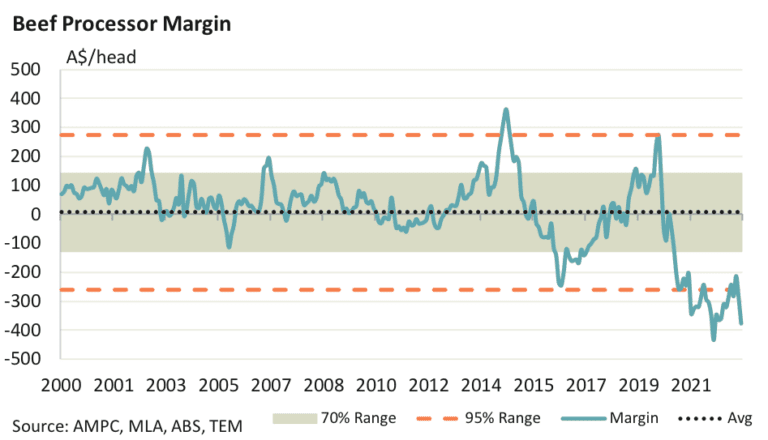 "Based on a September average loss per head of cattle processed of $377, the annual average margin for 2022 presently sits at a $298 per head loss," TEM's Matt Dalgleish wrote yesterday.
"A comparison of the annual cattle slaughter levels to the average annual margin highlights that the current level of beef processor losses are beyond what would be anticipated, according to the line of best fit," he said.
"With national cattle slaughter forecast at 6.6 million head for 2022, an annual average processor loss closer to $150 per head is what would be expected – but with margins heading south into spring, it will take a decent turnaround in processor fortunes for the remainder of the year to get the annual average losses back nearer $150 per head and this seems unlikely," Mr Dalgleish said.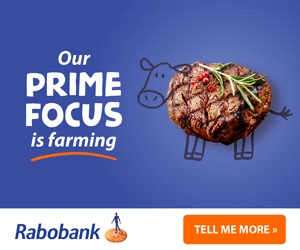 The beef processor margin model saw some improvement during July, as softer domestic cattle prices began to take some margin pressure off abattoirs. In July the model managed it's "best" month so far this year, with an average loss per head at "just" $214. However, since July improving cattle prices have seen the processor margin model head south again with successive months of widening negative margins recorded.
September was not the worst processor margin on record, however – that was in October 2021 when the calculated loss slumped to $434 per head.
While this week's drop in the A$ value relative to the US$ has helped the processors' equation in increasing competitiveness of Australian beef on the world stage, it will take time to flow through to actual trades, Beef Central was told.
It's looking increasingly like wet weather will continue to impact on slaughter cattle access heading deeper into spring, with more unsettled conditions forecast for large parts of eastern Australia over the next week.
A drier spell closer to November or early December could well see kills become very congested in the lead-up to Christmas, one processor contact speculated.
"There's a lot of cattle that have not been marketed yet, due to the wet conditions – particularly in the south. That could have an impact, if it does start to dry out for a few weeks," he said.
Qld direct consignment rates rise
Most Queensland processors lifted over-the-hooks rates last week, with heavy cows up 20c/kg, now quoted at 690c/kg on several competitive grids, and 750-755c on a four-tooth grassfed ox (some of those quotes HGP-free) – up 10-15c.
Southern states quotes seen this morning included 740c/kg on heavy cows and fourth tooth ox 815c.
Many southern states plants are still struggling to add a fourth working day to their weekly rosters – such is the lack of local cattle about – while a number of large Queensland plants are continuing to operate on four-day weekly rosters, due to the weather impact.