Beef processors are again notching up hefty losses on scarce slaughter cattle, as Australian beef remains largely out-of-touch in key international meat markets.
A flat China beef export market caused by further COVID shut-downs and overall economic malaise, combined with very strong export competition and volume out of the US into markets like Japan and Korea, due to near record drought-driven US grainfed beef production is making heavy going for export beef processors at present.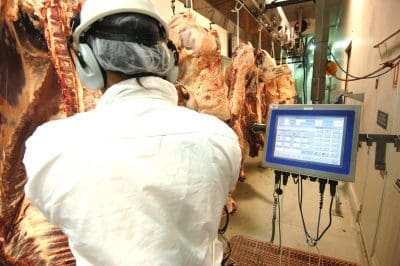 Conversations held earlier today suggest slaughter cows in Queensland this week may be a $180/head net loss proposition, while further south in Victoria, those losses on cow may have reached an eye-watering $400-$450 a head (see current direct consignment and saleyards equivalent carcase prices below).
In some cases, some of those cow losses among smaller processors may be being offset through specialised by-products like foetal blood, currently worth around $600/litre.
However big trading losses are also being written on steer, and especially grainfeds, and including some of the 'special' cattle on longer-fed brand programs, Beef Central was told. One contact suggested some grainfed steers this week were currently a $300 loss proposition.
Beef Central has written previously about the impact that record-high beef production in the US caused by drought liquidation is having on global beef trade and Australia's competitive position.
Kills tighten further
Thursday's one-off national public holiday for Queen Elizabeth will further restrict beef production this week, but for many processors who are now very current in terms of cattle bookings, it will not be a bad thing.
Illustrating the impact of the weather on logistics and stock movements, there has been a dramatic 13pc decline in national kill over the five weeks ending 9 September.
Many eastern states processors are taking bookings for kills as soon as next week.
Cattle moving
One positive is that cattle movements are again picking up, after the delays caused by rain over the previous three or four weeks.
One contact en route to Roma store sale this morning remarked on the sheer number of livestock stock transport vehicles he was seeing on the Warrego Highway today – heading in both directions.
"That's deliveries that should have been done to feedlots and processing plants one, two, three or even four weeks ago, during the wet weather," was his conclusion. More on this in a separate story tomorrow.
Despite that, slaughter cattle supply remains very tight across large parts of eastern Australia as warmer weather and green feed takes away any great incentive to sell. Sooner or later, cash flow will come back into calculations, however, with bills to pay.
"But the ball is still firmly in the producers court," one cattle buyer contact said this morning. "When they need to, they will think about selling a few, but not before. Many have built up a big cash reserve, given recent prices."
Southern grids firmer
There has been little or no change in direct consignment slaughter cattle offers in Queensland this week, while some southern grids have risen further.
Queensland processor quotes seen this morning have heavy cows at 670c/kg (having fallen to 600-620c only eight weeks ago, although limited business may have been written at those levels).
Four-tooth export-weight grass ox are at 735c/kg in southern Queensland today (some HGP-free quotes 740c), having drifted as low as 695c in July.
Spot 100-day grainfed prices this week are around 770-780c/kg – a long-way from their brief February highs around 870c, but still not reflective of current export grainfed meat trade values, Beef Central was told.
Some southern states direct consignment offers have risen 20c/kg this week, with best heavy cows at 740c/kg and four-tooth YP steers 815c/kg. But in reality, those figures were 'just numbers' and very little business is actually being written despite those attractive figures, several southern processors told Beef Central.
Some reports this week had saleyards-bought cows out of Wagga and other centres valued as high as 810c/kg equivalent, on leg. Southern processor operators continued to operate strongly in Queensland this week sourcing paddock and saleyards cattle to fill big gaps in kill rosters at home.
There was no weekly slaughter summary for last week available by the time this item was published. It will be added here when it arrives.