THE recent upwards trajectory in slaughter cattle grid prices following earlier rain has continued this week, with most northern offers lifting another 20c/kg since Friday.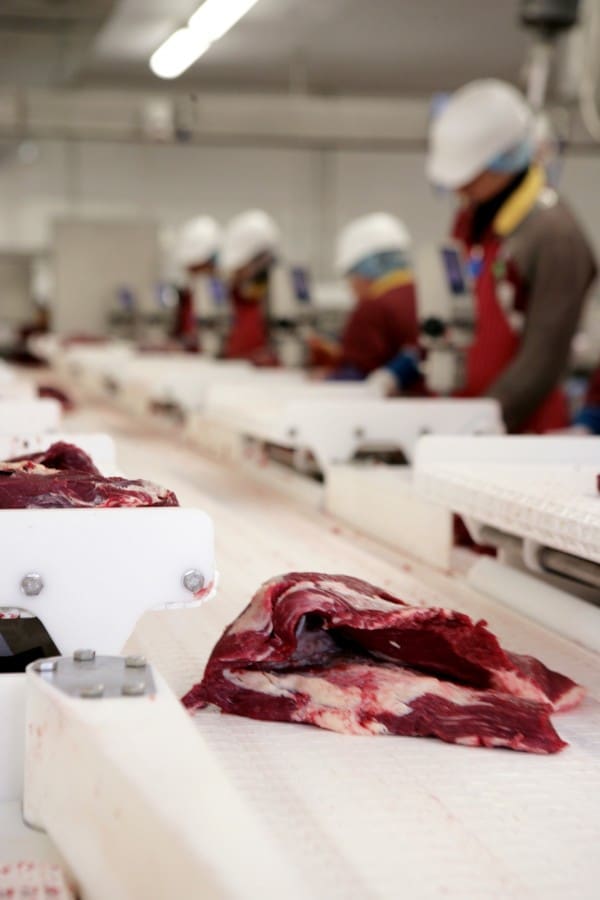 Best offers seen this morning for Southeast Queensland kills include 555c for four-tooth grassfed ox, and 480c/kg for the best of the heavy cows. Reflecting the more acute impact of rain further north, Central Queensland plants are this week offering the same money, when normally they are 10c/kg behind the southern parts of the state.
Offers are generally up another 20-25c/kg since this report last week, representing a hefty 35c/kg rise since mid-October when the latest rain event started, and 50-55c/kg (worth $180 on a 330kg steer carcase) better than the low-point in the market cycle around early July.
A large northern NSW export processor has offers this week for four-tooth heavy steer of 480c, and 460c/kg on heavy full-mouth cows. In NSW last week, grids reported by NLRS rose 5c on average for heavy steers to around 515c, and 10c on slaughter cows to 430c. Heavy cow grids in Victoria also rose 10c to around 390c, while most steer prices were unchanged.
Processing operations are being further disrupted by recent rain this week, with most Central Queensland plants anticipating only three working days, and sites in the southeast of the state struggling to raise numbers, and likely to work only four days at best.
That's despite some new supply inquiry since grid prices advanced late last week.
The BOM eight-day forecast anticipates further rain of 25-50mm across parts of Central Queensland and in Victoria in coming days, which could further disrupt proceedings.
Several processors this morning said recent rain across parts of Queensland and into northern NSW would now deliver a supply of finished cattle early in the new year, but November and December supply was likely to remain tough. The exception might be a few late turnoff cattle from producers in western areas of Queensland and NSW that have missed the recent rain, wanting to lighten numbers before summer sets in. Some processors are already taking December slaughter bookings in anticipation of the annual Christmas/New Year shutdown.
Tuesday and Wednesday December 18-19 are looming as popular last kill/last boning shift dates for 2018 for many plants in Queensland. Due to the kill/chill/bone sequence required in most processing plants, boning shifts normally finish one day after the last kill shift.
As illustrated in yesterday's carcase weights graph, published below, included in this story on MLA's latest quarterly Industry Projections update, there's been a distinct decline in average carcase weights as the 2018 slaughter season has worn on.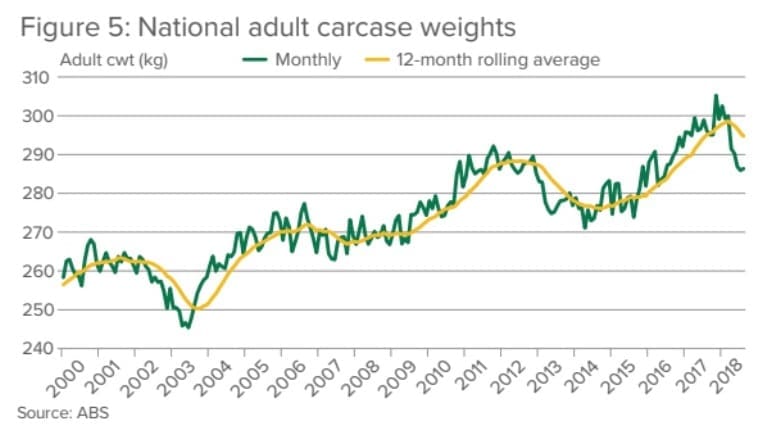 The impact of the recent rain also continues to be seen in the store market, with big yardings registered this week in centres like Roma (9500 today) and Wagga (6500 head yesterday). Many of those cattle are from dry western areas, looking for support from producers further east who have enjoyed the best of the recent falls. Young cattle have now lifted 20-30c/kg liveweight since mid-October. New found store buyer confidence could subside quickly unless there is some widespread follow-up rain, however.
Kills numbers ease
Last week's eastern states beef kill report prepared by NLRS reflected the rain impact, declining 4pc to 135,025 head.
Queensland was the worst affected, with numbers falling 7pc to 68,243 head, while NSW dropped 2pc to 32,063 head.
Victoria's kill eased 1pc to 25,324 head, while South Australia lifted 6pc to 4600 and Tasmania jumped 10pc to 4786 head.