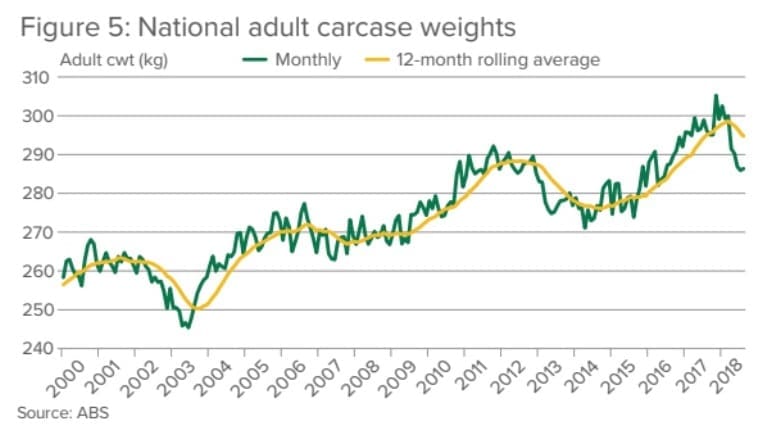 ONGOING drought and a poor rainfall outlook has seen 2018 Australian beef production forecasts adjusted upwards, now likely to finish 6 percent higher than 2017 at 2.3 million tonnes carcase weight, according to Meat & Livestock Australia's Cattle Industry Projections October update.
Elevated levels of adult cattle slaughter throughout winter and early spring has driven the increase, with national adult cattle slaughter for 2018 now forecast to reach 7.8 million head, 9pc higher than last year.
MLA's market intelligence manager Scott Tolmie said while October brought useful, though not drought-breaking rain to parts of the eastern states and restored some confidence to the store cattle market, widespread follow-up rain was needed for any lasting benefit to pastures and crops.
"Despite poor prospects for pastures entering into 2019, slaughter numbers will begin to be constrained by a shrinking pool of available cattle," Mr Tolmie said.
The female slaughter rate has risen to levels not seen since the last drought in 2015, though notably, this time off a lower base herd, which will have repercussions for cattle supply and production in coming years.
"Typically, the Australian cattle herd contracts when the proportion of female slaughter exceeds 47pc of total slaughter – a threshold first surpassed in May and the female contribution to the kill has increased since," Mr Tolmie said.
The high percentage of females contributing to slaughter continues to put pressure on national average carcase weights. Projected national carcase weights have now been revised downwards, to 290kg/head for 2018 (see graph).
Northern wet season critical
Mr Tolmie said the start of the northern wet season marked a pivotal time, especially this year.
"In 2018, the Eastern Young Cattle Indicator has traded at a discount to the finished market since April, as worsening seasonal conditions deter restocker buyers," he said.
"More recently, rainfall in some key eastern production regions saw the EYCI break through the 510c/kg carcase weight mark on 17 October. Looking forward, follow-up rain could see demand for young cattle spike, particularly females."
"However, the continuation of dry conditions or just 'one-off' rainfall events would likely see another wave of destocking, especially in the north, placing further downward pressure on prices."
Mr Tolmie said finished cattle prices strengthened in the September quarter, supported by solid export demand.
Increased beef production, a softer Australian dollar and robust demand fundamentals, particularly in established Asian markets, has underpinned a 9pc increase in forecast beef exports in 2018, to 1.1 million tonnes shipped weight, he said.
Despite increasing global competition, beef exports for the calendar year-to-September grew 12pc year-on-year, to 840,500t. On the back of record grainfed cattle turnoff, exports to Japan and Korea have recorded increases of 7 and 15, respectively.
Exports to China in the first nine months of 2018 surged 55pc year-on-year, while shipments to the United States were slightly down, heavily impacted by increasing domestic production.
Click here to view the October update of MLA's 2018 Cattle Industry Projections.
Source: MLA