SLAUGHTER cow prices continue to head into uncharted territory this week, in response to a relentless surge in international grinding beef market demand.
As competitive pressure continues to mount from US and Chinese bidders for Australian lean grinding beef, the benchmark US 90CL imported beef price this week pushed into previously unseen levels.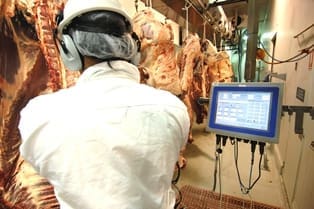 Yesterday's weekly 90CL indicator figure reached 960.1c/kg in Aussie dollar terms, CIF. That is up an incredible 120c/kg, or 14 percent in a week, and represents a 60pc rise since the start of the year, driven hard by China's added competitive pressure since its African Swine Fever outbreak.
Take a look at Beef Central's home page industry dashboard graph, to get an impression of the current near vertical graph trend (click here to view).
These meat price signals have motivated export processors to redouble their efforts to secure slaughter cow supplies, with some Queensland direct consignment quotes this week hitting an incredible 520c/kg for heavy cows. Other northern competitors have kept their top cell rates for cows at 500c/kg this week, but that appears to be tempered somewhat by those players having reasonably adequate supplies of slaughter cattle already booked and on-hand in the four-week run into the Christmas plant closure period.
In direct reflection of the concentration on the super-heated grinding beef market serviced primarily by cows, steer prices this week show little or no change in Queensland, with earlier rates around 565-600c/kg maintained.
NLRS over the hooks reports (note: this is a summary of prices offered by processors last week, not this current week) shows Queensland heavy cows lifted 10-12c/kg on average, with cows +300kg reported at 504c, and lighter descriptions +280kg 499c. NSW over the hooks quotes saw heavy cows 463-469c, up marginally on the week before.
Supply conditions and producer sentiment appear to be particularly choppy at the moment, with one large multi-site processor claiming to be short of numbers early last week, only to be flooded with cattle supply offers on Thursday and Friday, without any change in his company's offers.
Opinion was mixed about whether vendors were being motivated this week by the fundamental disastrous paddock conditions that look like extending at least until New Year, or the tantalising processor offers evident on cows in the market.
"In truth, it's probably a bit of both, but prices like these ease the pain for those producers who are again forced to sell-down," one contact said.
Another competitor disagreed, saying the same number of cows would be evident on the market even without the pent-up meat demand, and higher slaughter cattle prices. "It's not about price – it's still about drought pressure," he said.
The extent of fires across large parts of eastern Australia over the past ten days has perhaps distracted attention from the immediate movements in the market, another processor suggested.
Saleyards indicators
Yesterday's NLRS medium cow saleyards indicator (specifications: muscle score D, fat score 3, processor-purchased, weight 400-520kg) hit 250.25c/kg, up 25c/kg on a month ago and 41c/kg on this time last year (206.6c). That's easily the highest level since a brief period in 2016, when the US was desperately short of beef as it recovered from its own drought.
Several eastern states saleyards have seen good pens of cows exceed 300c/kg liveweight for the first time in the past ten days, with processor competition from across Queensland, NSW and Victoria.
Some 70 percent of cows sold though saleyards this year have been purchased by processors.
A sure sign that it is the grinding meat trade 'driving the ship' is that boner cows (where almost the entire carcase is bound for the grinding beef market) have in some recent saleyards action been making as much on a cents/kg basis as prime cows, where a range of whole muscle cuts are extracted for the domestic/export market cuts trade. That's calculated on a yield conversion basis, given that there is often a 3pc yield differential between quality and boner cows.
Processor margins
Beef Central asked several processor contacts about current margins on slaughter cows, given recent dramatic movement in meat and livestock prices.
"Even the fleas are making money on cows in the current environment, especially those with China market access," one large competitor said. He suggested profit on cows was at least $100 a head in a typical export plant this week. Some might be higher.
However before anybody suggests drought-hit producers are being harshly treated in current dire seasonal conditions, several processors pointed to the need to build a large cash war-chest for the inevitable fierce battle that lies ahead to secure slaughter stock, after it rains.
An export meat trader told Beef Central yesterday that the latest sharp rise in lean grinding beef prices had taken some by surprise.
"The big upwards move in the US price really gathered steam last week, jumping a serious number," he said. "The US Yellow Sheet comments yesterday were talking 10-15pc, but the actual prices that an exporter could write on meat are a fair bit higher than that."
The contact said the best indicator of what the China competitors for manufacturing beef were doing was the NZ market.
"That's because NZ has a duty advantage, and they have been engaged in the China market since the very beginning of the price cycle. Many Australian exporters have really only got into the market in the past three or four months."
"It appears to be a little bit wait-and-see in NZ at the moment, as the NZ bull turnoff season approaches. It's uncertain whether Chinese buyers are going to take that next step up – there's just a little nervousness around, at current very hot price levels."
"But the fundamentals haven't changed. China has a bottomless pit of meat disappearance caused by Swine Fever. And some in the market believe the US has not yet bought enough meat to cover its upcoming requirements."
The contact said that the traditional US90CL imported indicator price was in danger of being superseded by a new China imported 85CL (HGP-free) indicator.
"It's absolutely a possibility, because China has rapidly grown into such a fundamentally important part of the overall meat market," he said. "The world order has changed. Once, whatever the US did on grinding beef ruled the world, but it's just not the case any more. There's too many other factors in play."
Another often overlooked factor in the outlook for Australian manufacturing beef was the domestic market, he said.
"All the focus is on the US and China, but McDonald's is not about to run out of Big Macs in its Australian menu boards. They will continue to compete for available supply, no matter what."
"And the other interesting question is where do Coles, Woolworths and Aldi go to secure supplies for their vast mince trade?"
Another interesting feature is that the traditional spike in demand from China associated with Chinese New Year (next year at the end of January), no longer applied, as the sheer year-round demand being driven by ASF pork shortage had overwhelmed any seasonal demand influences in China.
Eastern states kill
Last week's eastern states beef kill reported by NLRS reached 156,415 head, the third largest tally seen this year. The number was up 1pc from an already large kill the week before, and 12pc higher than this time last year.
Queensland was unchanged from the previous week at 80,525 head; NSW was down 4pc to 36,600; Victoria was up 9pc to 29,427; South Australia was unchanged at 4830; and Tasmania lifted 26pc to 5033 head.
Outlook
There is little evidence to suggest that cows will have any major price declines in the short term, with robust demand for manufacturing beef set to continue.
With supplies only likely to tighten in the new year, cow prices should maintain their historically high level and could accelerate further in the event of widespread rainfall in 2020, MLA suggests.