SOME export processor cow grids have lifted by up to 20c/kg in the past week – partly in response to substantial improvement being seen in export manufacturing beef prices.
As Beef Central reported on Friday, export prices for 90CL grinding beef into the US last week were quoted in Aussie dollar terms at A763c/kg (landed US CIF), up almost 66c over the past four weeks and about 150c/kg higher than the start of the year.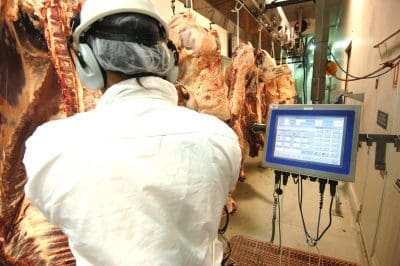 Most of the advances on slaughter cow prices appeared to happen on Thursday last week – pre-dating the dramatic events that have occurred since then across the JBS network through cyber-security breaches discovered on the weekend. To be clear, there has been no substantive evidence of direct consignment slaughter cattle or saleyards slaughter cattle price reductions since JBS stopped its slaughter chains across Australia on Friday.
Buyers attending this morning's Roma store sale said they could determine no change in tempo or competition, despite JBS's absence – partly because under the current reduced cattle supply environment as the industry enters herd recovery, there were still ample buyers to compete for the available stock.
While communication with the company this week has been difficult to impossible as a result of the IT breach, Beef Central understands that JBS has withdrawn from quoting on direct consignment cattle for the time being, and has not been conspicuous in saleyards early this week.
Slaughter cattle en-route to some plants on Sunday and Monday were evidently turned around to properties of origin when the cyber-breach news broke, and others already held at some plants' holding yards have been relocated.
Cow prices at record level
Some of the direct consignment price adjustments seen in the past week are about competitors aligning their offers with other processors – but regardless, most cow prices are now equal to, or better than previous record-high levels.
Competitive processors in southern Queensland this week are offering a record-equalling 620c/kg on heavy boner cows, and 680c/kg on four-tooth steer (some of those quotes HGP-free only), with some of those offers up 15c/kg on the previous week.
Those figures are up 30-50c/kg on offers seen just before Beef 2021 started a month ago.
Central Queensland operators are 10c/kg behind those rates, while in southern states direct consignment records are also being set. Grids in southern NSW this week are showing four-tooth grass steer at 695c/kg and cows 620c; while in eastern parts of South Australia, grids this week show steers 695c and cows 640c. A northern NSW processor has offers for kills this week at 570c/kg on heavy cows, the same as the week before.  Further south, Wingham Beef Exports has heavy cows at 600c this week, with wide fat tolerences.
Heading into June, it is unlikely that processors will see a spike in supply, despite the current very attractive rates on offer – JBS's absence excluded.
Delays in NLRS slaughter reports
MLA's National Livestock Reporting Service issued a statement this afternoon, saying it was unable to provide a weekly kill report for last week at this stage, due to 'unforeseen circumstances.'
Those circumstances are the same comms challenges Beef Central has faced in reaching JBS personnel this week, with both email and digital phone comms down because of the cyber attack. Without data contributed by JBS, state and national kill results are unreliable.
For the same reasons, we'd expect to see a dramatic decline in slaughter numbers for the current week, ending Friday, when the data is eventually made available.