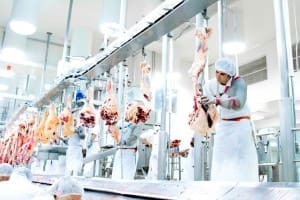 Recent cold conditions and parched oats crops in southern Queensland and northern NSW are exacerbating the continued extreme high rate of slaughter cattle turnoff at present.
Last week's Eastern States kill collated by the National Livestock Reporting Service produced a five-state total kill of 167,989 head – down just 1.1 percent from another extreme high kill the week before.
The size of the Eastern States kill heading well into the third quarter is without precedent. In a normal seasonal year, processors are starting to struggle for numbers with August in sight, but the current, relentless turnoff rate is being exacerbated by three things:
General lack of confidence in the prospects of a decent season heading into spring, with the prospect of El Nino now ranked at 60-70pc
The recent blast of very cold weather, which has stimulated heavy frosts as far north as the Central Queensland coast around Bajool. That, in turn, has sapped nutrient value in pasture, and has stimulated another mini-wave of cattle turnoff before cattle start to slip too far.
The extreme large oats planting that took place in late March to early April after encouraging rain (see earlier Beef Central report) is now in desperate need of a drink, especially in parts of southern and central Queensland. Reports suggest that only half the number of cattle are being run on some oats crops as normal, and large numbers of these young cattle on marginal oats are finding their way into feedlot pens, either as bought feeders or as custom-feds.
In the two states where female kill as a proportion of the overall tally is routinely recorded – Queensland and NSW – the figure has frequently been above 48 percent this year, and at times, especially in the case of NSW, well above 50pc. Last week NSW was still above 51pc female kill, although to be fair, some of that will inevitably be Queensland cows sent south for slaughter, due to favourable grid rate differences.
Queensland's female kill last week was a little lower, at about 44pc.
As at May 2014, monthly female adult cattle slaughter had been higher, year-on-year, for 23 consecutive months – a sequence not seen in Australia since 1997-98.
Individual state kills were little changed last week from the previous seven-day cycle, with the exception of South Australia, which has now eased 8pc in the past two weeks, declining to 7822 head last week.
All five Eastern states remain well above where that sat this time last year, however.
NSW accounted for 39,775 head last week, back 1pc on the week previous, but still 7pc higher than a year ago. Queensland was also -1pc last week at 84,633 head, still 5pc stronger than this time in 2013.
Victoria's kill reached 30,959 head, unchanged week-on-week, but a massive 30 larger than last year's equivalent kill.
Tasmania's tally also continues at high levels, logging 4800 last week, down 2pc on the week previous but 12pc higher than last year.
Larger Southeast and Central Queensland and northern NSW processors are still reporting heavy direct consignment cattle bookings right through August, with some now committed heavily well into September. Some are reporting a noticeable decline in cow weights, condition and quality over the past few weeks.
Grid prices unchanged
It's hard to remember a more stable long-term period for southeast Queensland grid pricing.
Many grids have changed little since the short-term adjustment back in early April, following rain, with many grids now virtually constant for the past 10 weeks or more
Again, there were no significant changes evident in grids over the past seven days.
SEQ processor cell prices sourced yesterday indicated grassfed four-tooth Jap ox at 320c/kg, 330c for milk and two-tooth, best cow 290c/kg. Grassfed MSA steer for slaughter ex-SEQ has held up relatively strongly, worth 375c/kg in one quote seen this morning, the same as EU grassfed steer suited to the Hilton quota.