One of the biggest oats plantings seen in recent times – perhaps ever – is unfolding across large tracts of grazing country from Central Queensland all the way to Tamworth in New South Wales.
One of the nation's largest PVR oats seed producers told Beef Central yesterday that demand was probably up 300 percent on where it sat a year ago, and all the commercial seed companies had now basically exhausted this year's supplies of favoured varieties.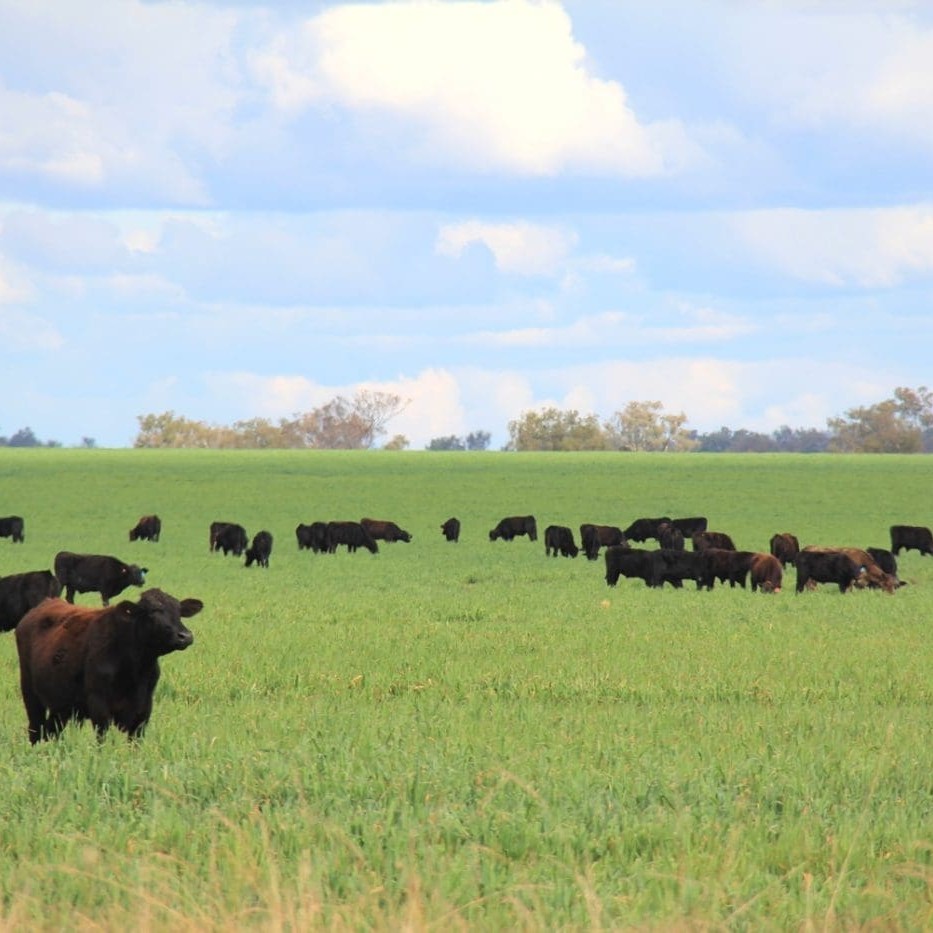 The situation has been sparked by this year's unusual set of seasonal circumstances, with extended drought capped-off by last week's widespread beneficial rain.
While many areas from Central Queensland to Victoria received up to 100mm of valuable moisture last week, the break has come so late that pasture growth in many areas will be very limited, due to shortening day-length and cooler nights.
"Many grass paddocks now will have some green shoot and pick, but they're not going to grow the quantity of grass to get them through the winter and fatten cattle," a large supply chain manager said yesterday.
The situation contrasts strongly with 2011 and 2012 years, where the sheer abundance of summer-grown grass feed in many areas meant oats was not a serious consideration for many producers.
The situation this year could hardly be more different.
Another factor in the current cycle is that many beef producers with access to cultivation had it worked-up for a summer crop, but failed to plant as the drought pushed deeper into summer and then autumn.
Processor livestock staff suspect there are perhaps still a few more cattle left in oats-producing areas of Queensland and NSW, making the gamble on planting a crop even more compelling this year.
All that has combined to produce an unprecedented focus on oats planting, as a means of utilising available soil moisture, and rapidly producing a body of feed to carry over into spring. That comes despite the considerable establishment cost associated with an oats crop.
The recent push into early-planted oats is most evident in southern and central Queensland, where the chances of follow-up winter rain are less than across the border into NSW growing areas, Beef Central was told.
The rush for planting early oats is nowhere near as evident in NSW growing areas south to about Tamworth, as it is in Queensland, because of the greater prospect of picking up some winter-rainfall, allowing for a later planting.
Look at the label, warns agronomist
Senior agronomist with Toowoomba re-seller, National Farmers Warehouse, Max Thomas, said this year's demand for oats seed had been 25 percent higher than he had ever seen in his 35 years in the business.
"We went from a situation where nobody wanting seed, to after the rain, when there wasn't enough," he said.
"As soon as it rained last week, people started planting, even though it was probably a bit early," he said. "There was a bit of late forage sorghum going in as well, but primarily the demand was for oats," he said.
"We've already sold out of seed several times this year, but we continue to find a little bit here and there around the ridges coming in. We had a call from a grain trader only this morning asking that if he germ-tested and bagged a hundred tonnes, whether we'd take it. Of course we said yes," Mr Thomas said.
"For those that are still looking for oats, there's still a bit out there, but quality and what you get is an issue," he said.
"There's a bit of a risk with southern varieties, but it's probably better than not having a crop at all. The key is to ensure it has had a recent germination test, and many graziers wanting to plant oats don't appreciate this. There's no standard for oats – it can be sold with 50pc germination, if the vendor wants, and the buyer is prepared to accept it. "
Demand came in two waves
Pacific Seeds business manager Maree Crawford said the drought had certainly heavily impacted on current demand for oats seed, as had the general run-down in stored forage and roughage across the beef industry.
'Over-the fence' trading in seed from grower to grower of PVR varieties was still an issue, but there was perhaps less black-market seed trading this year because growers had not been able to produce seed last year and hold it over, to sell in 2014, because of the drought. Seed held from earlier seasons would be likely to 'fall out of bed' on germ testing, she said.
Ms Crawford said demand for seed basically came in two waves this year: from December there was an initial demand period, when it became apparent that there was not going to be a prolonged summer grass-growing season; and this was followed by a second wave of 'late, reactive' demand immediately before and after last week's rain.
Some of the better-prepared growers had elected to go in with some late summer forage crops that would be used for fodder conservation, while others would opt for oats-only.
Price for the proprietary line has basically remained unchanged, but as stocks of those varieties have run out, cheaper southern varieties, less suited to northern conditions, have been selling for increasingly higher prices. One on-seller told Beef Central that some southern varieties had gone from 85c/kg to $1.85/kg, in a matter of weeks. There have been reports of some rejections of privately-grown southern-sourced seed, because of presence of black oats and weed seed.
One seed company warned that planting those southern varieties in Queensland now was 'doomed to failure,' because they are not suited for early season planting in warm soil conditions.
Rapid-growing early varieties like Comet and Taipan, especially selected for warm soil tolerance at germination, are being planted now, for first grazing from mid-May, through to September or October, rain-permitting.
Challenge in volatile demand
One of the real challenges, from a seed company perspective, was the enormous variability in demand for oats seed from year-to-year, depending on the quality of the grass growing season, and the shelf-life of oats seed, Ms Crawford said.
"In a year like this, I'd say we easily could have sold another 2000 tonnes of seed oats, if we'd had it," she said. "Shortages in a high demand year like this are almost inevitable."
She suggested that part of the solution was in much greater emphasis on fodder conservation, through silage or hay, through the good times, to take the edge off high-demand periods like this.
"Currently, in the good years, producers tend to rely on natural pasture, and don't think about putting in an oats crop. But that's precisely when they should be thinking about putting down some silage or alternative feed sources," she said.
"Because the way the last 12 months has unfolded, there's currently no bunks out there with any silage in them, no hay shed reserves – and that in itself has put massive pressure on oats this year."
"Everybody is in the same boat, with a critical roughage and silage shortage."
Taroom example of huge demand
A typical example of current demand for seed oats since recent rain can be found in Queensland's Dawson Valley, where Landmark Taroom's merchandise manager Luke Gadsby told Beef Central he had shifted a total of 162 tonnes of oats seed so far this year, an all-time record for the business.
"It's been a combination of regular customers doubling their plantings – perhaps going from eight or nine tonnes of seed to fifteen or eighteen – as well as new customers buying oats seed that haven't planted for years, if ever," Mr Gadsby said.
One very large local customer alone had taken 50 tonnes of seed this year.
Mr Gadsby said supplies of many popular varieties had now run out, and producers were taking varieties better suited to southern conditions, which had more than doubled in price recently as shortages had arisen.
Forage field days attracting strong attendance
A series of forage options field days across central and southern Queensland this week is attracting strong attendances.
The last of the three days will be held at Harry Perrett's Cattle Downs property, Wandoan, starting at 8.30am tomorrow, following earlier meetings at Emerald and Rolleston.
MLA's Mick Quirk said oats planting could be opportunistic, and in years like this it could prove to be very attractive.
"Part of the forages research project that forms the basis of the current field days is to try to determine how often that happens, economically, and to give producers a better understanding of summer and winter forages, and when they might be most financially attractive."
"Forage crops vary considerably in their economic performance, depending on a range of circumstances, and this year is a good example," Dr Quirk said.
"The project is about trying to come up with better production figures to provide tools to help producers better determine when a summer or winter forage crop may be most attractive."
Actual data has been collected from 20 or more case-story properties, and a full project report should be completed by the end of this year, together with some extension and decision-making tools.
DAFF recently published this useful Forage Oats Variety Guide, providing handy background information to help producers make appropriate selections for their region.