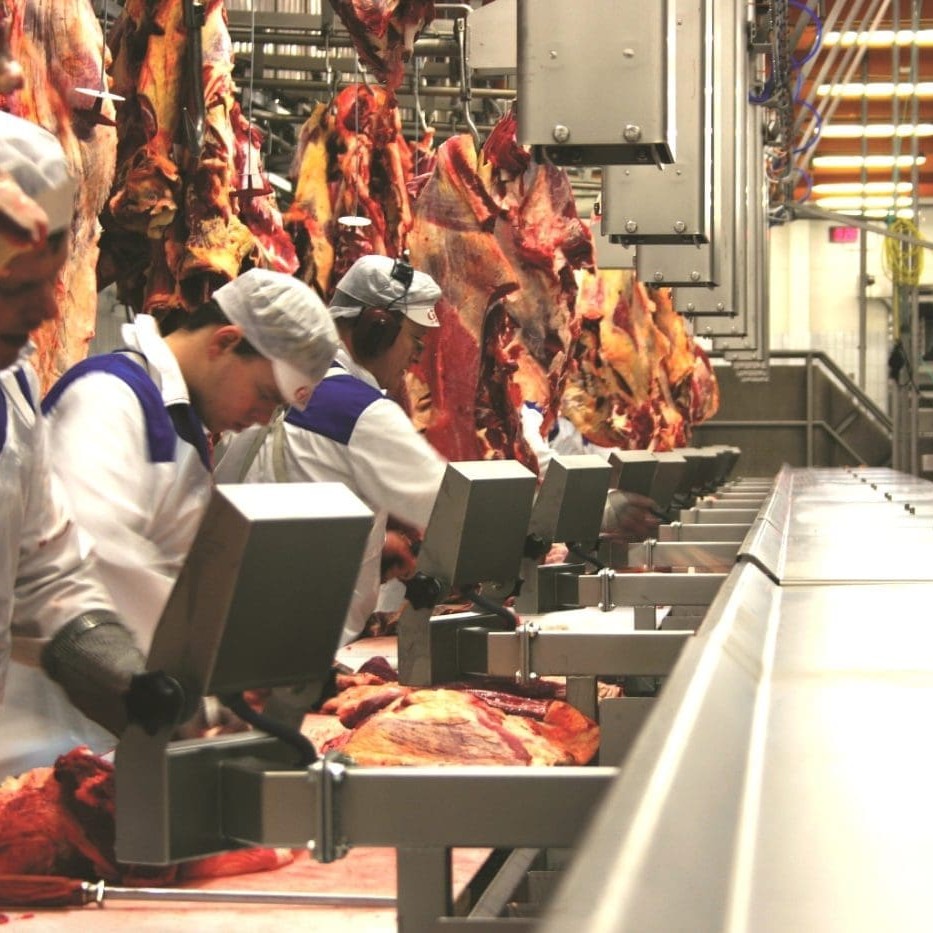 The installation of a new by-products area cleaning system is delivering dramatic water savings that will total almost one megalitre per day, together with improved labour and energy efficiencies for a large Queensland processing plant.
Euro Pumps Engineering has developed a range of high-efficiency abattoir Clean-in-Place (CIP) systems designed specifically for evisceration tables, head and offal pans, bleed tables and the boning area.
The company has recently completed an installation at a large export meatworks in southern Queensland* using a CIP system on evisceration and plugging tables, and head & offal pans. The project is not only delivering a higher standard of clean during production, but also uses only a fraction of the water that conventional systems previously used.
The new process also leaves the equipment in a far cleaner state for post-production cleaning, providing labour and materials savings, and potentially, better microbial swab results in Quality Control hygiene testing.
"There is a requirement in any abattoir that the evisceration table must be totally clean from blood, fat and protein with every single cycle of the table," Euro Pumps sales and marketing manager Ryan Clarke explained.
"The current method of cleaning evisceration tables is standard across the industry, consisting of a series of hot and cold spray bars mounted underneath at both ends of the table. For this system to do the required job, it relies on large amounts of water in order to provide an effective clean," Mr Clarke said.
"Water is a costly consumable for a processing facility to purchase, handle and disperse. It is clear that improving water consumption leads to considerable cost savings."
Aware of the industry-wide push across the processing sector to reduce water use, Euro Pumps has sought to re-engineer the process, developing a far more efficient Clean-In-Place (CIP) system.
The company's solution is a new approach to an Evisceration Table CIP system, which has now been manufactured and installed into a number of abattoirs across Australia, with great success.
Results show the system greatly improves the efficiency of how cleaning water is used.
"The current spray bar system that is in common use has to wash the whole table as it passes it, requiring a considerable amount of water, as it is under minimal pressure," Mr Clarke said.
Euro Pumps' new system is based on a unique nozzle assembly, driven by a powerful Euro Pumps pump system, using substantially less water to obtain a more effective clean.
A sophisticated Variable Speed Drive controls the CIP system, allowing for precise parameters to be set, and including the capability to program complex duty cycles or multiple tasks into the drive.
The new CIP systems installed at the Queensland abattoir for the evisceration table, plugging table, and the head & offal pans will reduce daily water consumption used in the tasks from 1158 kilolitres to just 264 Kl. That represents a daily water saving of 894 Kl.
The processor involved has identified additional water, labour and materials savings not quantified in the direct water use reduction. This is due to the fact that the evisceration table is so clean at the end of production shift that the post-production cleaners use substantially less water during the post-shift clean-down.
The reduction in water use has in turn reduced the burden on the plant's water treatment ponds, and reduced energy consumption due to less hot water being used.
Mr Clarke said Euro Pumps' CIP systems had been shown to reduce water consumption by an average of 60pc over conventional systems.
"The vastly improved standard of cleaning during production doesn't leave 'baked-on' protein," he said.
The system can also be converted for use as a post-production cleaning system, effectively delivering two systems in one. Euro Pumps guarantees the performance of its systems by offering a definitive maximum water consumption target for each CIP system.
Similar CIP systems can be developed for further-processing operations, beyond the abattoir stage.
* Identity withheld, at company request.