Saleyards numbers have exploded this week as a result of two holiday-shortened trading weeks, a solid lift in cattle prices, and the traditional arrival of a high turnoff period leading into May, as cooler weather sets in.
Some startling increases in yardings are being seen this week, as selling centres effectively cram two, and even three weekly cycles into one, following the recent holiday sequence.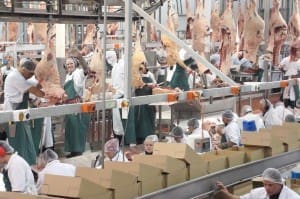 The trend has been made even more extreme by the unusual back-to-back Easter/Anzac Day holiday weeks this year – a circumstance that will not be seen again for another nine years, calendars show.
Even for sales that weren't directly affected by the holiday cycle, numbers have been way down, because vendors understood that processors' ability to kill cattle would be greatly curtailed by the sequence of 'dark days' in plants last week and the week before. Adding to the effect was abstinence from Saturday shifts during the holiday period.
Beef Central speculated about the likely rise this week in saleyards numbers in our previous weekly kill report posted last Wednesday. Here's what we wrote a week ago:
"If history is anything to go by, the reverse might apply next week. Saleyards numbers, after two quiet weeks, are likely to swell dramatically, spurred-on by the lift in meatworks rates, and the time of year for traditional strong turnoff. An oversupply situation could emerge, however, pushing comparative saleyards prices below direct consignment prices again. The proviso on that, as always, is no further rain disruptions."
That's proved to be true enough, but perhaps even more extreme that we had anticipated.
Roma store sale today, the nation's largest regular cattle sale, was drawing for a record 14,100 cattle, but ultimately, a little over 13,000 showed up.
Other Queensland physical selling centres are also expecting numbers sharply higher this week:
Toowoomba yarded 2300 yesterday, up 40pc on the previous sales
Blackall and Longreach sales in Central Western Queensland anticipate yarding this week around 3000 head each
Dalby is expecting very big numbers, with one agent anticipating a yarding above 7000 head tomorrow.
Even smaller centres like Charters Towers in the state's north has about 1600 fats booked for a sale tomorrow, after struggling to raise a sale earlier, while Emerald is talking 2300 head.
While Roma sale today is obviously a store, rather that dedicated fat sale, those eight Queensland sales alone account for almost 35,000 head looking for a home this week.
In southern states, the only NLRS sales reported yesterday were Forbes, which was up about 20pc in numbers to 2160 head, and Pakenham, which was down about 450 head on the previous sale a fortnight ago. That was a particularly large sale, though.
Kills slump
Take a look at Beef Central's home-page weekly kill graph (click here to view) to get an impression of the impact that the holiday cycle has had on recent processor throughput.
The seven-day eastern states weekly kill to Friday reported by NLRS accounted for just 90,818 head – the lowest kill since the holiday shorted week of January 3 – with all five states back by anywhere from 15 to 64 percent. Queensland's kill, for example, was back a further 26pc to 44,646 head – but remember that percentage decline was off an already low number the previous week, caused by Easter Friday's holiday.
Adding to the effect, a couple of significant Eastern Australian plants are also on normal seasonal maintenance closures at the moment, including the Kilcoy dedicated grainfed plant in southern Queensland.
Grids unchanged
Southeast Queensland grid prices remained unchanged this week, after the rises of 5-15c/kg seen across large exporters' direct consignment pricing systems over the previous fortnight.
Most Queensland exporters report a solid flow of forward slaughter bookings now out to July, particularly in Central Queensland, as cooler weather sets in, and northern mustering activity gears up in earnest. Grids could again come under some supply pressure in the next few weeks, particularly if some international market access dilemmas gain any momentum.
Best cows reached 320c/kg dressed weight a week ago on some large SEQ processor grids – the best money seen since late 2012, or very early 2013. Other SEQ quotes obtained yesterday included milk and two-tooth steer 360c/kg, four-tooth 350-355c/kg. Grassfed MSA steer this week sits around 370c/kg in southeast Queensland, with conventional yearling 360c, grassfed EU steer 410c/kg on some SEQ grids, and Certified Organic steer making 530c/kg dressed weight.
Early report out of Roma
In a preliminary report out of Roma store sale this morning NLRS reported a total of 13,206 head of cattle were trucked into the yards with a large percentage of them sold at Roma's Store Sale on Tuesday.
Prices held up well despite the very large numbers with lightweight steers topping at 225c/kg, while heavyweight yearling steers to feedlot buyers hit 198c/kg.
In early sales:
Elaine Pampling, Derbyshire Downs, Augathella, sold 325kg Charolais-cross steers to 225c/kg to return $732/head.
G & D Burey, Torwood, Mungalalla, sold 234kg Santa steers to 219c, returning $513.
R Clunes, Lorraine Station, Roma, sold 308kg Droughtmaster steers to 215cto return $664, while C & D Walsh, Townsend, Roma, sold 335kg Hereford-cross steers to 214c to return $762.
Tumbar Grazing Co, Tumbar, Jericho, sold 383kg Angus steers to 208c for 383kg to return $797, while Murphy Grazing Trust, Mossvale, Yuleba sold 302kg Charolais-cross steers to 208c to return $629.
Dart Pastoral Co, Thirlstone, Roma, sold 376kg Charolais-cross steers to 206c to return $776, while D & G East, Wyora, Winton, sold 310kg Charolais steers to 206c to return $640.
Bungoona Pastoral Co, Bungoona, Longreach, sold 275kg Charolais-cross steers to 204c to return $561, while Bryce Rolfe, Marie Downs, Roma, sold 349kg Charolais-cross steers to 200c to return $699.
Glengraco Grazing Co, Camelot, Yuleba, sold 282kg Hereford-cross steers to 197c to return $557, while Simmac Pastoral Co, Mt Marie, Morven, sold 276kg Angus-cross steers to 191c to return $527.
B & S Campbell, Leeson Station Winton, sold Charolais-cross steers to 190c for 307kg to return $584.