THE Churchill abattoir in southeast Queensland has been placed on the market, ending any speculation that the current owners might re-open the site after finding investor support for an upgrade.
The business has been placed in the hands of Mark Harrison from Queensland Water Brokers, who will market the asset as a private listing, either for sale or long-term lease. A price of $50 million is included in a sales prospectus.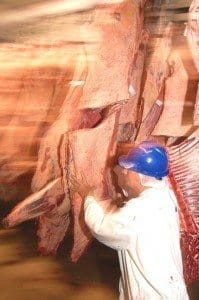 Mr Harrison told Beef Central this afternoon that his phone had been 'running hot' since an advertisement appeared in this morning's national financial press.
Churchill management issued a surprise announcement in August last year that the plant would close at the end of September, in a dramatic reflection of the parlous financial state of the Australian red meat processing sector at the time.
"While we will continue to attempt to attract investors, it is prudent to shut down our business, while we are able to make all payments/entitlements to our suppliers/employees," co-owner Barry Moule said at the time.
The company blamed shortages and high livestock prices for the closure, saying it had had a "devastating effect on the beef industry and the Churchill Abattoir business."
"Without the capacity to pass-on increasing costs, our customers have struggled to maintain cattle numbers, and without numbers, we do not have a sustainable business," the company said.
Churchill had processed cattle on a service kill basis for major client, Woolworths, for the previous 17 years. It previously operated as one of five state government owned service kill facilities scattered across Queensland.
While there have been a number of processing assets offered for sale across Australia in the past 18 months, Churchill is easily the largest, with capacity to process around 500 head per day. Up to 2300 Woolworths cattle per week went through the plant at times, but for much of last year kills were restricted to three or four days a week due to high cattle prices and shortage of supply.
It is unclear whether the 103ha site near Ipswich will attract potential buyers interested in re-opening the plant as a processing business, or re-purpose it for real-estate development. The sale prospectus emphasises that a move from domestic only to export certification would "enhance the existing profitable operation."
The sale documents suggested a cost of $35 million to complete an upgrade to export accreditation.
Last year's sudden closure left the nation's largest supermarket retailer without a Queensland beef kill, on just four weeks' notice. Woolworths quickly came to an arrangement to process its cattle on an interim basis at the nearby Teys Beenleigh facility.
In 2014, Churchill's owners announced investment interest from Chinese partners, which ultimately failed to materialise. The company re-opened investment talks with potential investors in 2016.
Queensland Water Brokers' Mark Harrison said the abattoir offered an affordable entry point into the Australian beef market.
"This is an opportunity that will allow one of the larger pastoral companies currently relying on corporate abattoirs to vertically integrate into the domestic market," he said. "With further expenditure to export certification, a global market can be exploited."