TEYS Australia will next week launch a new beef brand program through its Naracoorte, South Australia processing plant, designed to underpin quality, volume and year-round continuity of supply through the facility.
The project will be driven by a $30 million expenditure on plant upgrades, designed to improve efficiency and annual throughput.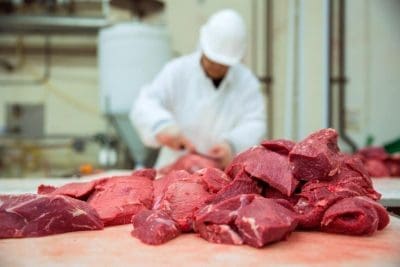 Full details on the new beef brand project will not be disclosed until next week, but Beef Central understands it will be a high-quality no-HGP beef brand built around provenance, using British and British cross cattle sourced only out of South Australia.
An important milestone is that it will be the first significant Australian beef brand designed from the 'ground up', using Meat Standards Australia eating quality scores, rather than 'conventional' AusMeat ciphers based on dentition. See Beef Central's earlier story on the industry's new Eating Quality Assured (EQA) cipher here.
Given the Naracoorte plant's location in the middle of SA's famous Coonawarra wine growing region, there's a strong 'foodie region' story to tell, which is likely to feature heavily in the brand identity.
It's understood the new brand will not operate under a certified grassfed program, but will be purely driven by eating quality outcomes. The program will be yearling-based carcase weights, rather than heavy export. MSA eating quality score 'cut-offs' have not yet been defined, but will be similar to other southern Australian premium yearling programs.
The product will be directed into both chilled export and domestic markets.
Supply consistency challenge
Key to the ongoing success of the new brand program will be working with dedicated livestock suppliers to manage the region's seasonality of supply. Naracoorte has never struggled to source quality cattle to kill during the summer half of the year, but it's a different story over winter.
Teys is already well-engaged with South Australia's ag department, PIRSA, to develop nutrition support systems designed to even-out supply through the year, using silage and other inputs.
Similar supply consistency programs have been applied successfully over the past few years in JBS Australia's successful Great Southern grassfed yearling program based out of Victoria, Tasmania and NSW.
Big investment in plant upgrade
Backgrounding the establishment of the new brand, Teys has announced it will invest more than $30 million in new infrastructure at the Naracoorte facility, delivering greater efficiency, throughput and around 100 new jobs, in a major boost to the region's economy.
Much of the expenditure will take place in expanded cold-storage facilities, increased marshalling area, increased portioning and packaging capacity and improved waste management facilities.
Click the link below to view a short video about the project.
https://drive.google.com/open?id=1w7buUe9oIPRm-_LXvD7lGT3w4oXjY-lw
Strong jobs growth
The company has already started employing new staff for the project. Teys will be pitching the opportunities for employment at the plant in centres like Mt Gambier, some 50 minutes' drive away, where local unemployment is as high as 12-13pc.
The company has also offered temporary employment opportunities for displaced meatworker staff affected by the recent plant fire at TFI Murray Bridge – at least until Murray Bridge returns to operations in a couple of years' time. The company has offered to assist with relocation expenses and accommodation.
The plant upgrade will effectively add greater throughput across a yearly cycle.
The aim is to run Naracoorte more or less year-round on five 8-9-hour shifts a week, rather than drifting into second shifts at certain times, which can be an expensive exercise due to penalty rates.
Naracoorte is currently Teys smallest plant, dropping to 660-680 a day during the recent national herd decline. The objective is to build that to 805-850 a day, using a single work-team, single weekly shift.
Historically, due to its location, Naracoorte has been a highly seasonal plant, often operating two shifts a day over the peak summer period, but dropping to minimum kill, single daily shifts at the other end of the year. That, in itself, provides challenges with staff retention, which the new brand project and plant upgrade are designed to overcome. Consistency of throughput will be the key.
In a statement, Teys corporate and industry affairs manager Dr John Langbridge said the company was proud of the legacy it had built at Naracoorte since coming to the region 20 years ago, and that the project would bring huge benefits not only to the local economy, but to the entire state.
"South Australia is known for its high-quality wines, seafood and other delicacies, and soon our beef will be in demand across Australia and the world," he said.
"The quality of beef out of the Naracoorte plant can be excellent – right up there with our best product out of Wagga or Tamworth. But the problem to this point has always been continuity of supply year-round," he said.
"It's been a matter of committing to the plant capacity, committing to the future through this new high quality branded product, and then going out to our suppliers and working with them to develop systems to help deliver on a year-round cycle."
"Through value-based marketing, we need to make it worthwhile for those livestock suppliers to develop systems that allow them to deliver outside the region's natural turnoff period," Dr Langbridge said.
Forward contracts with off-season premiums are likely to be part of that model, Beef Central understands.
Teys said independent economic modelling showed that the company already supported 2225 South Australian full-time jobs directly and indirectly, including 500 at the plant.
"We require 40 to 50 new workers right now, and the remainder over the next few months, both skilled and unskilled," Dr Langbridge said.
He said the company was 'incredibly proud' to be such a strong employer in the local community.
"We are committed to continue to invest in our people and operations to ensure that Naracoorte becomes the home of high quality South Australian beef, which will be recognised globally."
Currently it's estimated that Teys Naracoorte underpins more than $370 million in gross product out of South Australia each year, equating to 0.4 percent of the state's gross industry value.
Beef Central will publish more detail on Teys new SA band identity when it is released next week.