The company driving the development of mobile abattoirs in Australia is optimistic a second State will soon change its laws to allow meat processed on-farm to be sold to the public.
In June, AgTech start-up Provenir was granted a licence by the NSW Food Authority to operate its mobile, on-farm abattoir.
Provenir co-founder and CEO Chris Balazs told the inaugural AgVention field day at Kandanga in Queensland's Mary Valley on Friday the truck-mounted abattoir has since been operating on properties including the "8 Families" beef group in the Gundagai/Holbrook area of NSW, which produces grassfed beef according to Allan Savory's Holistic Management principles.
Mr Balazs said legislators in Victoria are also now close to passing laws to clarify the licensing of commercial mobile processing in that State.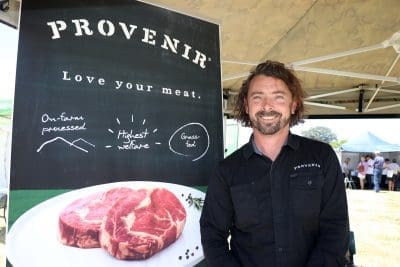 "We are one vote away," he told the forum.
"That has been five years of working with the Department of Agriculture and the minister to gain support for it, taking it to cabinet, and pushing it through the Parliamentary process."
"When we get that tick, which will probably be in two or three weeks, then our next event is talking to the Victorian regulators."
Provenir operates under what it terms an 'acquisition model' in which it takes legal ownership of the cattle when they step onto the mobile abattoir platform. However Mr Balazs said the model includes a partnership arrangement in which farmers are paid a premium and share in the value.
Meat is then marketed through the Provenir brand direct to customers who can buy a selection of meat packs online, and through a range of retail outlets in Victoria, New South Wales and Queensland.
Provenir beef has also been added to the menus of fine dining restaurants owned by some of Australia's best known restaurateurs including Neil Perry and Guy Grossi.
As its name suggests Provenir bases its business heavily around the provenance of the beef processed in its mobile abattoir.
Its central message is that by removing the need to transport cattle to an abattoir – and instead taking the abattoir to the cattle – transport stress is eliminated which leads to higher welfare and meat quality outcomes.
Now four months into commercial operation, Mr Balazs said the cost of processing each animal on-farm is more than the cost of processing in a static abattoir.
He expects that cost differential to reduce in time but said processing in a mobile abattoir would always be likely to be more expensive than processing in a standard abattoir.
Given its higher cost base, the Provenir business model is geared toward appealing to consumers who are prepared to pay a premium for on-farm processed beef.
In addition to focusing on high welfare and eating quality attributes, the Provenir brand also emphasises traits including full traceability, grassfed, free range, no added hormones, no antibiotics and no intensive feeding.
"Our economic modelling has to work on the provenance and we ask for a premium for that," Mr Balazs said.
Provenir also uses digital technology to share its provenance message with consumers. With a scan of a QR code on Provenir meat packs customers receive a detailed account of the how the beef was produced and processed.
"This is what we think is the future," Mr Balazs said.
"We need to go beyond just having a line item on a menu, or a nice idyllic picture of a farmer and a cow and that being enough to show that it is paddock to plate.
"We actually have to go to the next step and mobile technology is the way to do that, we tell each of the farmer's stories every time someone purchases their meat.
"They (the customers) QR code it and it goes right down land management techniques, livestock, selection of cattle, the story of the individual farm and why they do it.
"We have had some really positive feedback, and this is how technology can help differentiate the true provenance products."
Provenir was launched in 2017, and in the same year won the SproutEx Accelerator Program Award.
The company has marked a number of milestones in recent months, including:
– In August Provenir branded beef won the only gold medal at the 2019 Australian Food Awards conducted by the Royal Agricultural Society of Victoria in the non-MSA Branded Beef category, and received the highest beef category award – Best in Class;
– After being granted its first commercial license to operate in NSW, Provenir's mobile abattoir began commercial operations by processing cattle on the property of John Doyle at Berrigan, NSW. Mr Balazs said the mobile abattoir has been operating continuously on NSW properties since then.
– A crowd funding campaign in May raised over $68,000 and pre-sold over 220 meat packs.
The status of various State laws relating to mobile abattoirs was summarised in this earlier Beef Central article – Mobile abattoirs: soon to start rolling in Australia?.