WHEN a mobile abattoir concept won first place in an Australian ag tech startup competition last year, predictions of pending disruptions to the traditional red meat processing chain quickly followed.
However, while debate continues around the pros, cons and likely viability of mobile abattoirs in Australia (more below), there was a bigger and more immediate barrier standing in the way of the award-winning start up from actually starting up.
That was the fact that it is illegal for such a facility to operate in Victoria, where the company is based.
States govern abattoir licensing
State Government legislation dictates how and where abattoirs can operate in Australia.
All states allow mobile butchers to process animals on farms, provided the meat produced does not actually leave the farm.
However, legislation between states varies (as detailed later in article) in terms of allowing meat processed from a mobile facility to be taken from the farm on which the meat was processed or sold.
Victorian legislation does not currently allow mobile abattoirs to operate as an alternative to fixed-site processing plants.
However, since the SproutX startup event in Melbourne last July, work has been underway within the Victorian Government to fast-track legislation that would expand the definition of an abattoir from being a place to being a mobile facility also.
Legislation set for Vic Senate this week
Amendments to the Victorian Meat Act that would allow this to happen are due to go before the Victorian Senate this week.
The amendments are contained within what is called 'omnibus legislation' – a bill that packages together several other measures in a single vote – so could yet be 'bumped' to a later date, as has happened twice already.
But even if the Victorian Upper House does approve changes to the Meat Act this week, it is likely to be some time – perhaps as much as a year – before the underpinning regulations needed to enable a mobile version of an abattoir to actually operate in Victoria are worked out and put in place.
Multiple layers of regulations covering food safety, water quality, environmental planning, waste disposal, workplace health and safety, zoning issues, NLIS traceability etc, and requiring decisions from a range of different regulators and Government bodies, must yet be developed before the concept can proceed in Victoria.
However, with this week's scheduled vote the ball is certainly starting to roll at least.
Commercial viability?
Some are confident mobile abattoirs can and will provide a genuine way to lower costs, increase efficiency and improve animal welfare in Australia's red meat supply chain, by transporting the processing plant to the animals, instead of the other way around.
In Australia where cattle must often be transported long distances for processing, removing or reducing that cost would certainly be an attractive proposition for many producers.
FarmGate MSU, the start-up that won last year's SproutX event, says on its website that mobile processing will introduce a new category of red meat to the Australian market: 'ethical meat'; because it will remove the stress of live-animal transport from the processing process. This would allow brands using mobile processing to claim the "highest animal welfare and eating quality standards", with attendant value-adding/branding opportunities.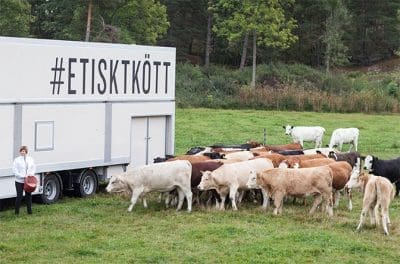 Swedish company Hälsingestintan has launched Europe's first mobile abattoir (pictured at top of page and right), which it describes as "a rolling, stress-free abattoir that actually goes to the farm, eliminating unnecessary transportation for the animal."
It includes two trailers pulled by a prime mover, and is designed to operate anywhere by providing its own electricity, water and cold storage for processed meat.
It can reportedly slaughter up to 30 animals a day, using a staff of four people. A Scottish Farmer newspaper report said the meat is then transported to the company's hanging hall for tenderising and cutting.
The company also says a veterinarian is always on hand to ensure high levels of animal welfare.
But others say their research of practical experiences with small and mobile abattoirs in other countries has highlighted complexities that will make the concept difficult to work in practice.
In one report published in October 2017, small-scale South Australian farmer Tammi Jonas said she visited a mobile slaughter unit owner in Kansas, but found the unit was in reality parked permanently in a shed.
She said she learned its viability had been impacted by a range of factors including difficulty in securing continuous throughput, the costs associated with moving from farm to farm (ie staff accommodation), and issues with compliance and zoning when working across multiple sites.
"Further research has led me to believe that mobile abattoirs might work in remote areas, where the farmers could bear a higher slaughter fee in recompense for the recovered opportunity and motor vehicle costs of long transport distances, but that in a region populated with small-scale livestock farmers such as the central highlands of Victoria, a fixed abattoir is more likely to be both viable and sustainable in the long term," Ms Jonas wrote.
In 2009 well-known northern WA cattle producer Annabelle Coppin investigated Mobile Slaughter Units as part of an overseas study tour.
She wrote in her resulting report that the Australian industry should recognise their potential benefits here, particularly for remote regions far from processing facilities. MSUs offered flexibility, lower capital investment requirement and niche marketing avenues.
However, the greatest challenges she found was the low throughput – the mobile and modular slaughter units she visited in the US could only handle between 10-50 cattle per day – which put pressure on economic viability, and the cost of regulation, which she found was a major inhibiting factor in the US.
"It's very encouraging seeing this move forward, legislation was our main hurdle and if we get this over the line, they could become another option to seriously consider," she told Beef Central this week.
"US regulation seemed far less of an issue compared to Australia, we have far greater regulations and costs associated with this.
She said the throughput challenge was a genuine issue and therefore she did not feel that MSU's will ever solve large supply chain challenges of beef processing in the north.
"However, I do feel they will benefit producers who are chasing high-value vertically integrated markets for a small section of our individual market share, which I believe, we so badly need here in our industry for market diversity.
"MSU's have to hit that market where the story is told (so they are not for everyone), that extra value will hopefully offset the inefficiencies of processing compared to conventional abattoirs. I still hope to have one here on Yarrie one day!"
Meat processors' view:
What do established 'bricks and mortar' meat processors think about the trend?
Robert Barker from the Australian Meat Industry Council said the industry view is that where legislation and regulations allow for the operation of mobile abattoirs, AMIC would expect that mobile abattoirs must comply with regulations at least as strict as those for fixed location abattoirs, particularly given concerns around waste management, potential biosecurity risks, food safety assurance, traceability and compliance with NLIS, environmental regulatory requirements, local council planning, and licensing conditions.
"For mobile facilities acting as meat retail outlets, they should be subject to the same number of audits, requirements for food safety plans, and licensing conditions, as any fixed retail outlet," he said.
Mobile abattoirs in other States:
While Victoria is close to passing legislation, some other states do already allow mobile abattoirs under existing legislation, according to Beef Central's inquiries.
Queensland: A spokesperson for Safe Food Production Queensland said mobile abattoirs would be assessed for accreditation primarily under the requirements of the Australian Standard for the Hygienic Production and Transportation of Meat (AS4696) and the Australia New Zealand Food Standards Code.
There were currently no mobile abattoirs accredited for operation in Queensland, the spokesperson said.
Western Australia: It seems possible that a mobile abattoir could currently be approved in Western Australia, provided the design can comply with the existing standards. Some have been considered in the past but had not proceeded past the conceptual stage, a spokesperson of the Western Australian Department of Health told Beef Central.
The spokesperson said in that State abattoirs need to comply with the Food Act 2008, Food Regulations 2009 and Australian Standard for the Hygienic Production and Transportation of Meat and Meat Products for Human Consumption(Standard).
"There is no reference to mobile abattoirs in the Standard. However, from the Department's perspective, there is no reason why mobile abattoirs cannot be approved provided they comply with the Standard.
"These could be fully self-contained units or have some fixed facilities at certain locations with a mobile unit moving between locations.
"Currently, there are no mobile abattoirs operating in WA and the Department is not aware of one that has operated in WA.
"The Department of Health has considered a number of mobile abattoir projects over a long period of time and none have proceeded past the concept drawing stage.
"With respect to compliance and enforcement issues, local government is the enforcement agency for most domestic abattoirs. However, the Department of Health (DOH) is the enforcement agency for State Regulated Export Registered – Tier 1 – abattoirs, and the DOH CEO is the Controlling Authority with respect to the Standard.
New South Wales: Robert Barker from the Australian Meat Industry Council told Beef Central he has been advised by the NSW DPI Food Authority that there is nothing in NSW legislation of regulations prohibiting the operation of mobile abattoirs.
"In fact I believe there have been mobile operators in the past, although they have tended to shut down after a short period of time due to the high costs in complying with regulations relative to the low throughput of livestock."
Tasmania: A Tasmanian Department of Primary Industries, Parks, Water and Environment spokesperson said mobile abattoirs cannot be used for commercial meat processing within Tasmania.
Mobile abattoirs can operate in Tasmania to provide a service for homekill processing, which is defined in ourPrimary Produce Safety (Meat and Poultry) Regulations 2014, whereby meat is produced from an animal slaughtered on behalf of the owner of the animal on premises where the owner resides and for consumption on those premises.
Accreditation under the Primary Produce Safety legislation is not required in respect to such activity.
Northern Territory: A Government spokesperson told Beef Central there is nothing in NT legislation that would currently allow a mobile abattoir to operate in the Territory.
Beef Central has also made inquiries to the food regulatory authorites in South Australia but has yet to receive a detailed response, and will update this article when those details are provided.