A FIRE which destroyed one of the largest beef processing facilities in the United States on Saturday (Australian time) has the potential to disrupt beef and cattle markets, analysts say.
Fire, believed to have started in a carton manufacturing area, swept through the 6000-head per day Tyson Foods Garden City facility in Kansas, closing the plant indefinitely. The plant employs about 3800 staff.
On Monday Tyson announced it would rebuild the plant, and will pay employees in the interim.
"Officials are still assessing the damage, so it's too early to establish a timeline, but work to clear damage has already begun," a company statement said.
The closure is already disrupting US cattle markets, at least temporarily.
US Live cattle futures prices fell the daily limit on Monday morning, as the closure means less demand for cattle in the immediate term.
Len Steiner's Daily Livestock Report suggests the event had the potential to cause significant disruptions to both US beef and cattle markets.
Based on annual data collected by Steve Kay's Cattle Buyers Weekly, a publication that for decades has kept meticulous records of US plant packing capacity, the Garden City plant near the town of Holcomb, Kansas can harvest about 6000 head of fed cattle per day or 30,000 head per week, representing about 6pc of overall US fed cattle packing capacity.
"That's a significant number, considering there is very little capacity slack in the beef processing industry at this time," the Daily Livestock Report said.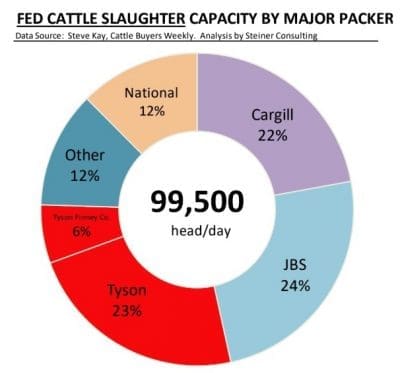 The chart published here shows US fed cattle packing capacity among the main competitors. Top packers currently processed somewhere between 84pc and 88pc of all fed cattle in the US, DLR estimated.
Tyson Foods is currently the biggest beef packer in the US, accounting for around 29pc of fed cattle packing capacity in the country.
"Given its size, the company is a major supplier to both US retail and foodservice customers," Daily Livestock Report said.
"The short term effect is that with 6pc of processing capacity going dark there will potentially be less beef available in the market."
"End-users that normally would get product from this plant now will be serviced by others, but that will limit supplies in the spot market. Higher prices will be necessary to either ration-out some demand or cause other packers to run extra shifts. Supplies in the spot market will likely be very light, which normally results in a bidding war from those that are short," DLR said.
The fire happened at a time when US retailers are gearing-up for Labor Day holiday promotions, a time when US beef demand generally gets a boost.
"The USDA Choice grade beef cutout has been trending higher recently, and this disruption will likely cause prices to advance further," DLR said.
As for the impact on fed cattle prices, it was generally negative, although the extent of the impact would depend greatly on how long it took to bring the plant back to full production.
"As distinct from pigs, where supplies can quickly back-up and result in dramatic price declines, beef feedlot operators have a bit more flexibility. But the effect could quickly increase, the longer this plant stays out of commission and it becomes necessary to adjust the flow of cattle through the entire supply chain," DLR said.
"For that to happen, higher prices will be needed at the consumer level and lower prices at the producer level."
A Tyson spokesman said the company was taking steps to move production to alternative sites.
"Tyson Foods has built in some redundancy to handle situations like these and we will use other plants within our network to help keep our supply chain full," a statement said.
There was enough capacity in existing beef slaughter plants to absorb those cattle typically slaughtered at the Garden City plant. One estimate suggested US beef packing plants were collectively running at 91pc of capacity. Absorbing the kill from Garden City would push those plants up to 96pc capacity.
"We can do it. We've done it before," one analyst said, noting the industry was set to harvest about 26 million steers and heifers this year, compared to 29 million in 2000.
The Australian meat processing industry has itself been impacted by several fires overt the past two years.
In January last year, Thomas Foods International suffered a serious fire at its Murray Bridge beef and lamb processing plant. Twelve months earlier, one of the nation's largest pork processing facilities, Swickers, near Kingaroy in Queensland, was destroyed by fire.
Processors' insurance premiums have surged, in the wake of the fire events.